Ghost Nets – the indiscriminate killers of marine wildlife



Every year around 640,000 tonnes of fishing gear such as lines, nets and pots is lost or discarded into the oceans and this already shocking figure is increasing. These  discarded nets, lines and other fishing industry gear becomes known as 'Ghost gear' because of its ability to continue killing wildlife long after the fishing boats have left it behind.
Around the UK this lost and discarded fishing gear is the second largest source of marine debris with over 1250 kilometres of nets alone being lost in UK waters each year.
Over 150,00 seals and cetaceans (whales, dolphins and porpoises) are estimated to be killed annually by lost fishing gear along with thousands of sea birds, turtles and sharks.
Why Is so much Fishing Gear lost or discarded?
There are many reasons that fishing gear is lost or discarded at sea:
1. Entanglement with other vessels gear, snagging on wrecks or on natural topography such as reefs and rocks
2. Fishing nets and lines breaking loose or having to be cut free for vessel safety reasons
3. Risky deployment in poor sea conditions
4, Illegal discarding of unwanted fishing gear while at sea to avoid safe disposal costs back on shore
What is Sea Shepherd UK's Ghostnet Campaign?
As part of a wider effort by Sea Shepherd to combat the issue of discarded fishing gear, Sea Shepherd UK launched its Ghostnet Campaign in January 2018 to concentrate on known problem areas around UK coastal waters but in 2020 our campaign is going global with our divers already being deployed to the waters of Bahrain.
The Ghostnet campaign utilises highly experienced volunteer divers and Sea Shepherd UK's fast boats to survey UK waters looking for discarded fishing gear (DFG) and recover it for safe disposal or recycling. The divers are deployed to a potential or reported ghostgear site on one of Sea Shepherd UK's four Rigid-Hulled Inflatable Boats (RHIBs) where underwater 3D scanners pinpoint wrecks and sites to dive. Our crew look for wrecks located particularly near intensive netting and creel fishing areas as the equipment often becomes snagged on wrecks and rocks and we check nearby areas as the water currents move the ghostgear along the sea bed to other underwater features where it may become entangled.
The divers will survey the wreck to ensure that the net or pot can be removed safely and that it hasn't been down there so long as to have actually formed a habitat for marine life. Enormous care is taken not to damage the wrecks and we work in conjunction with the UK's Maritime Management Organisations (MMO), Natural England and Historic England who have approved our method statements and we obtain official permits whenever applicable.
Nets, lines and discarded creels are brought to the surface using lift bags which are attached to the ghost gear and then inflated to carefully lift them to the surface.
Often, we will have to revisit a wreck several times to remove all of the gear snagged on it. Once safely into the boat, the nets are then carefully disposed of on shore or taken for recycling by one of the innovative companies using them to manufacture clothes, footwear or even kayaks!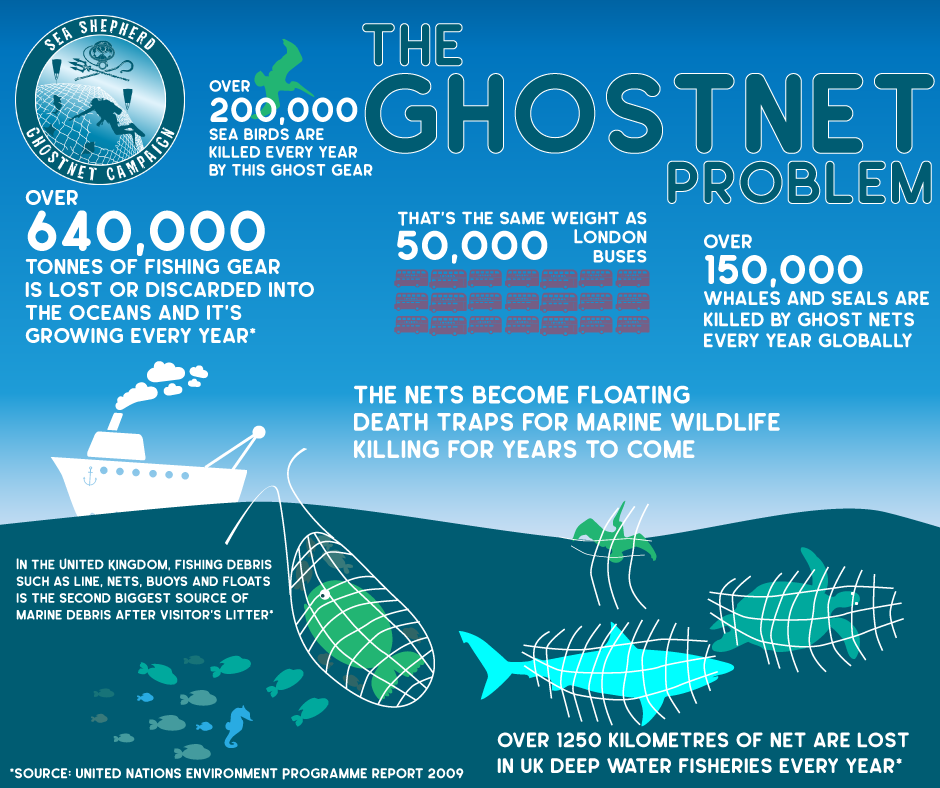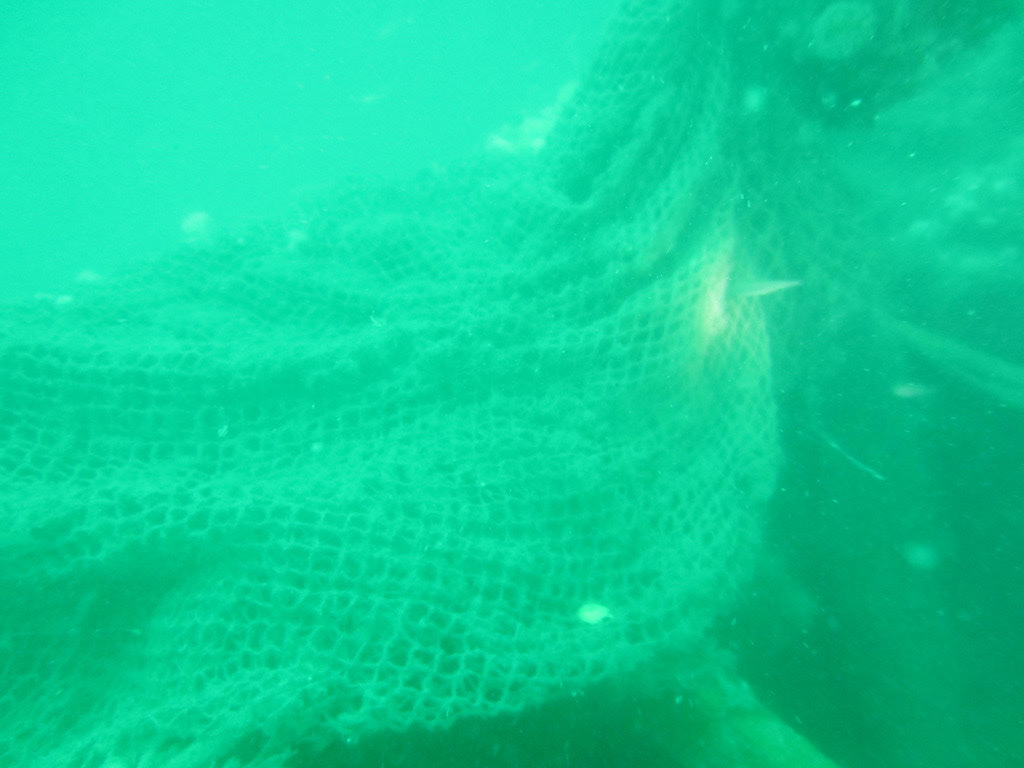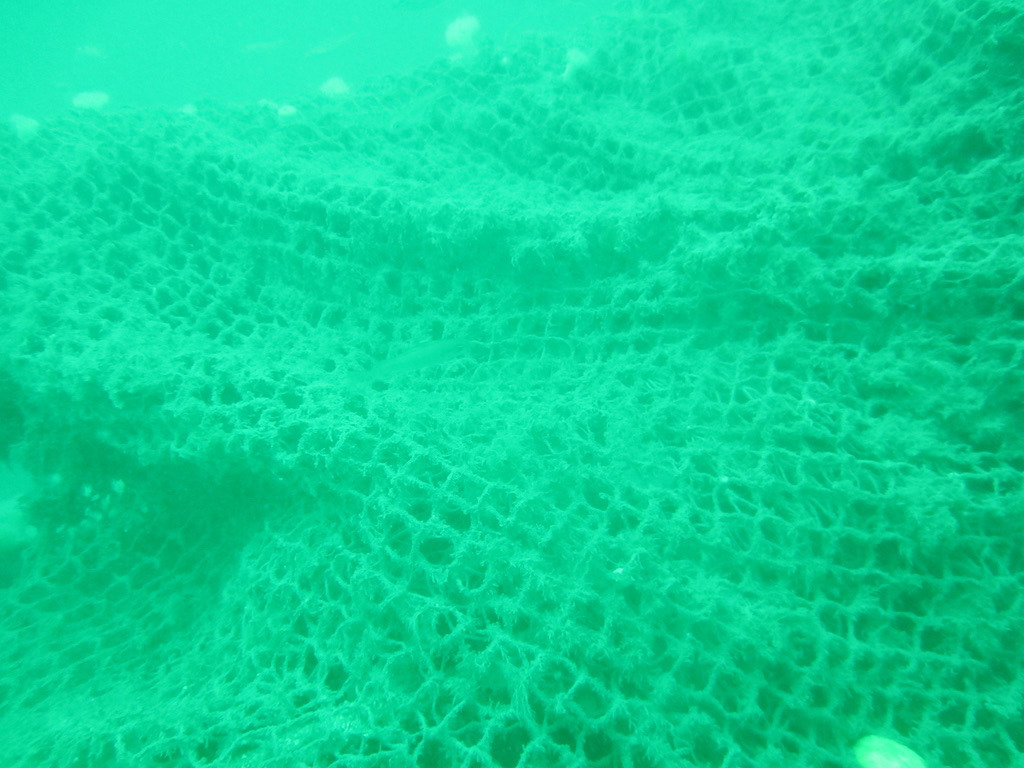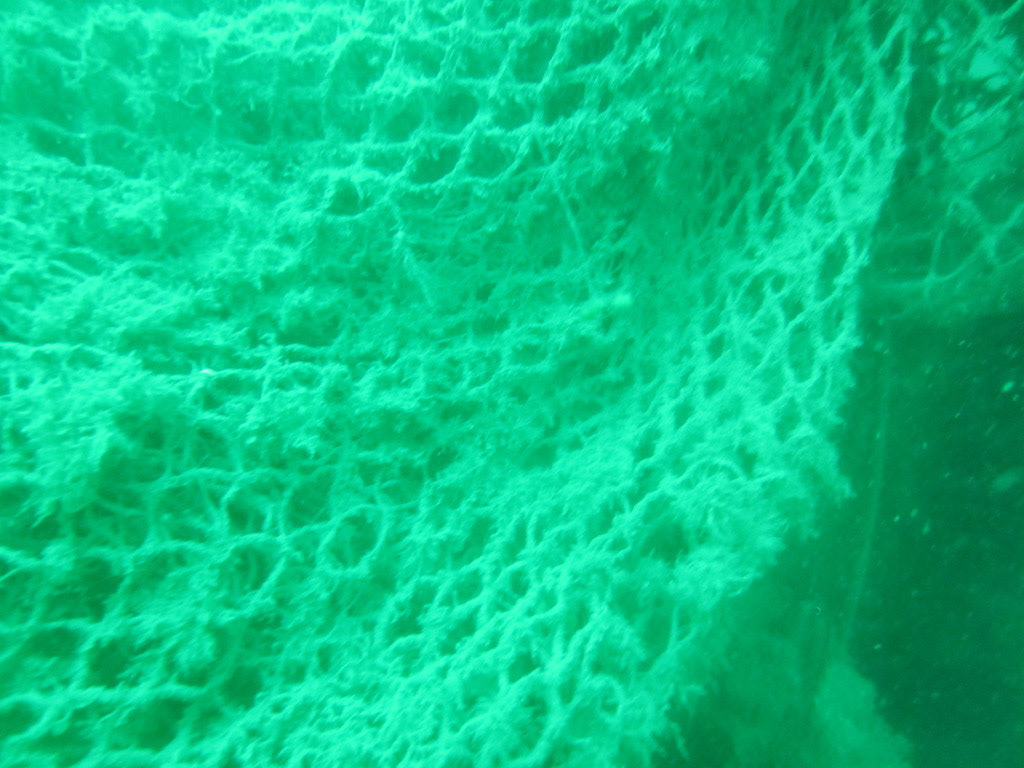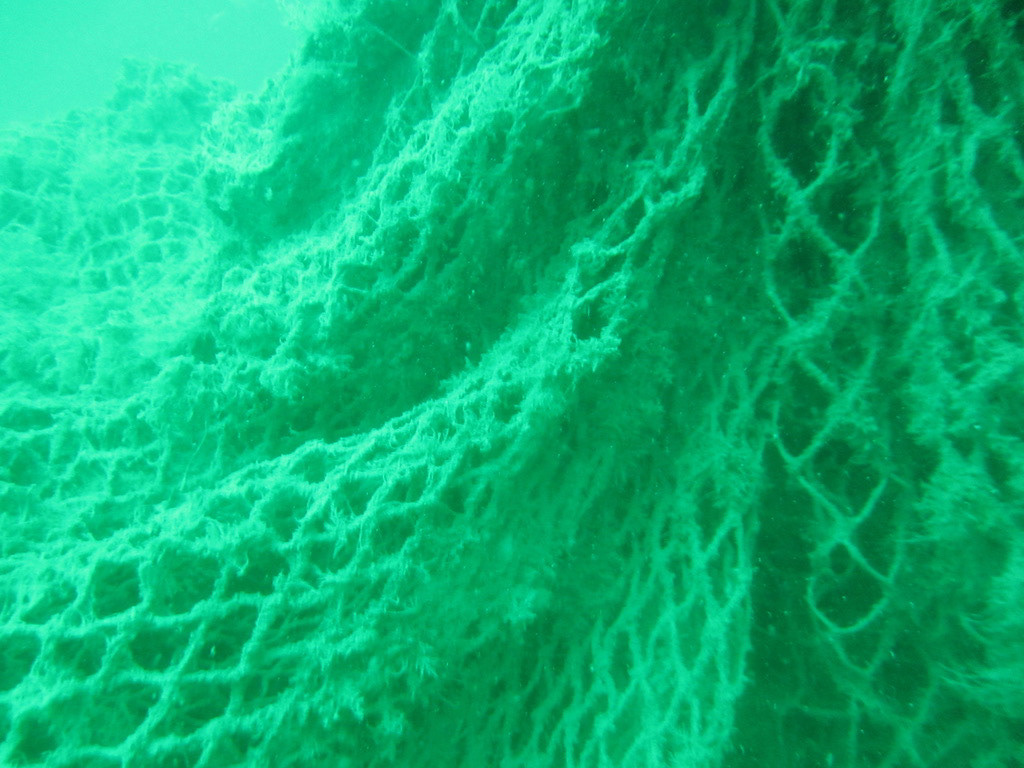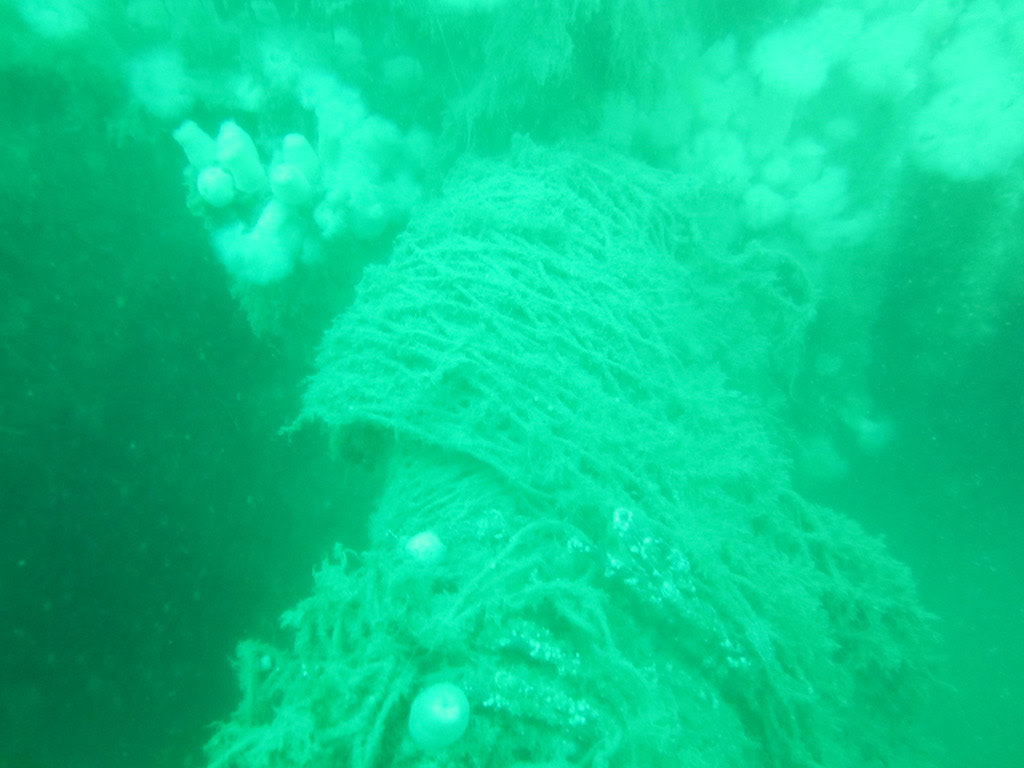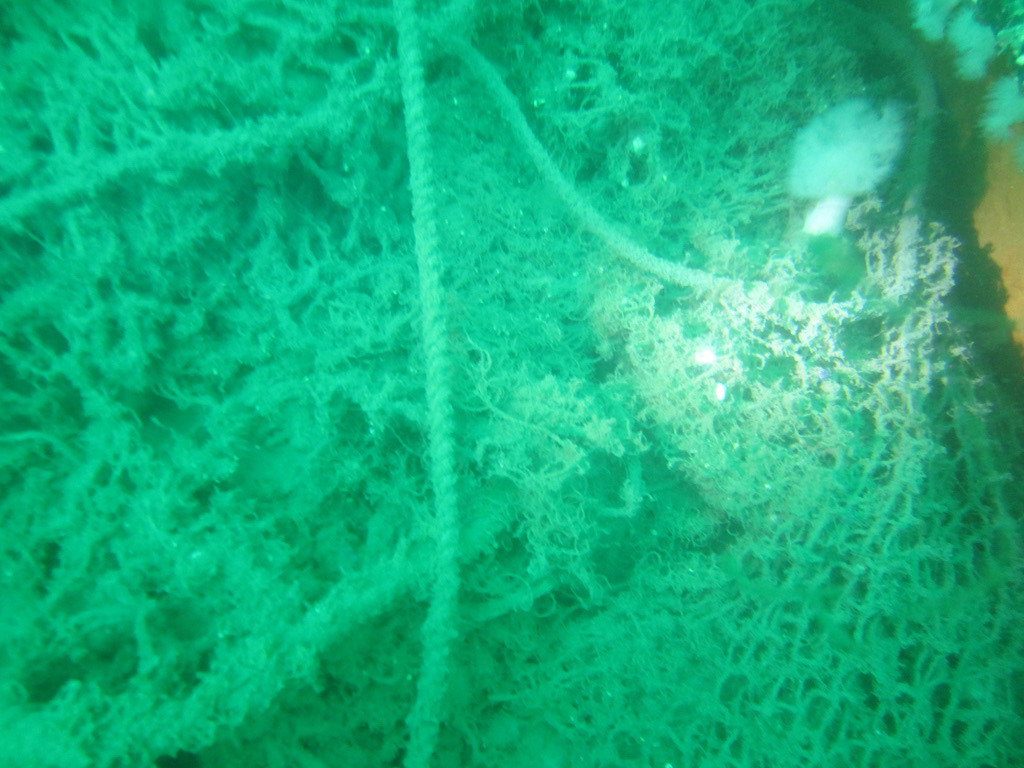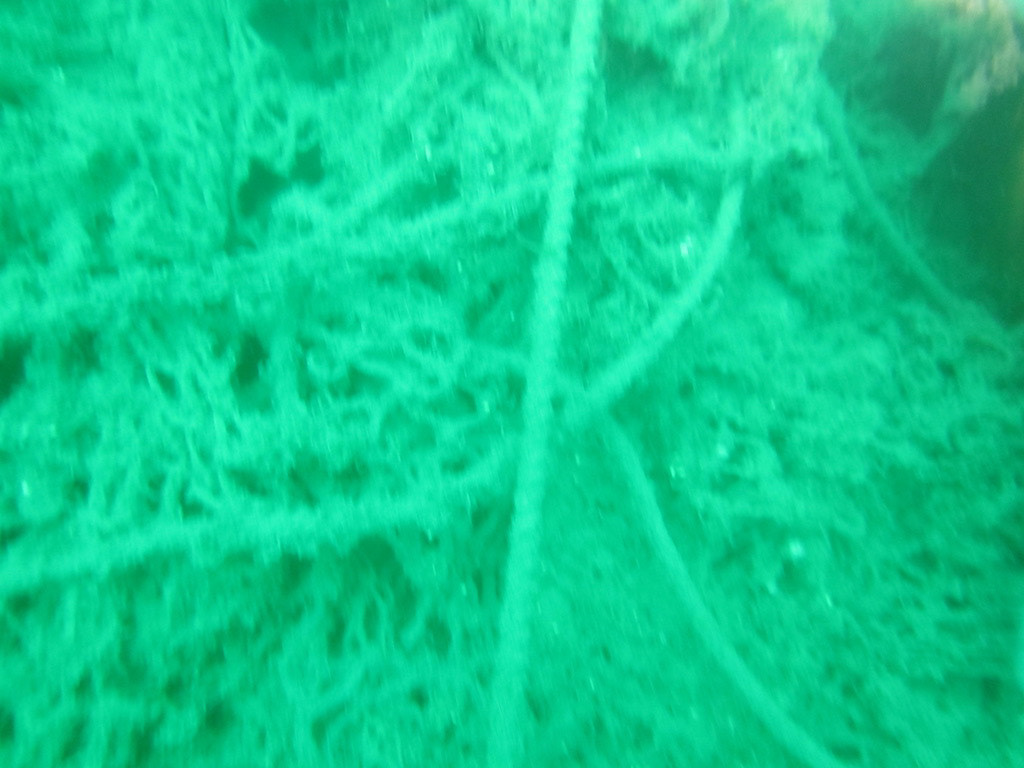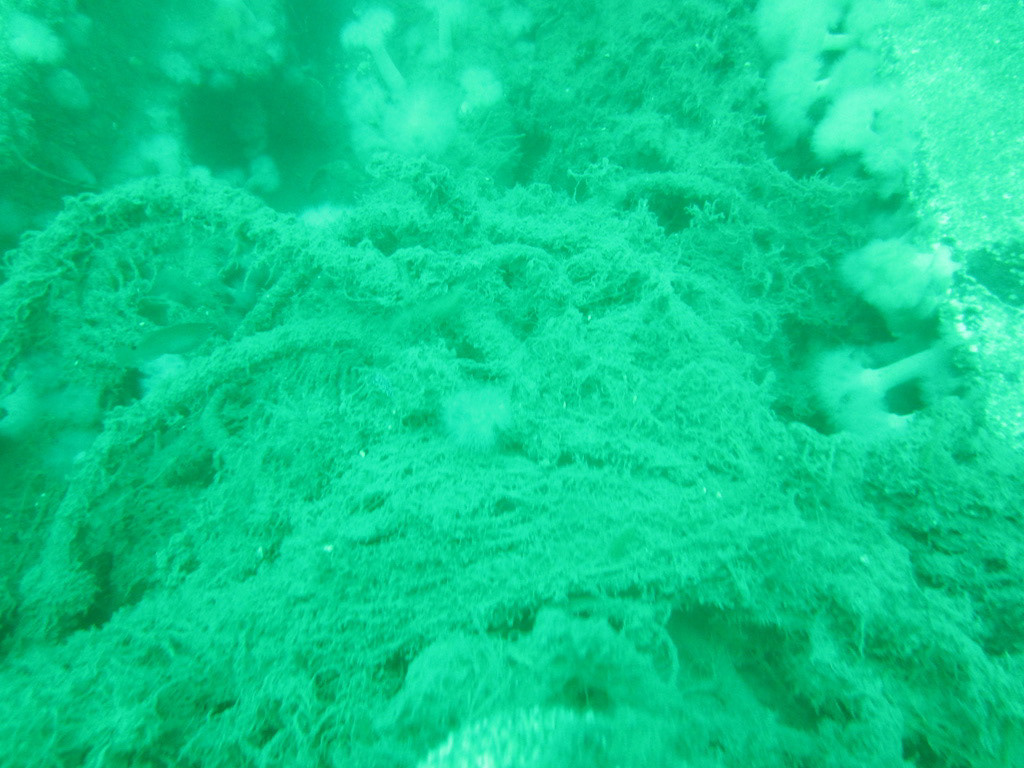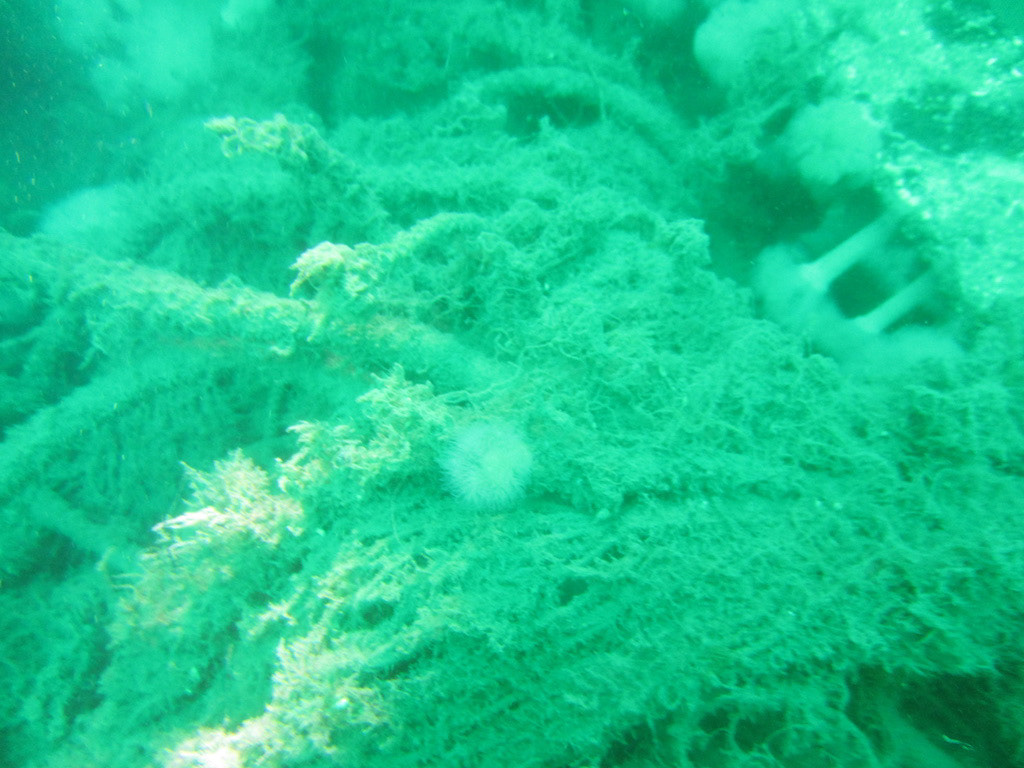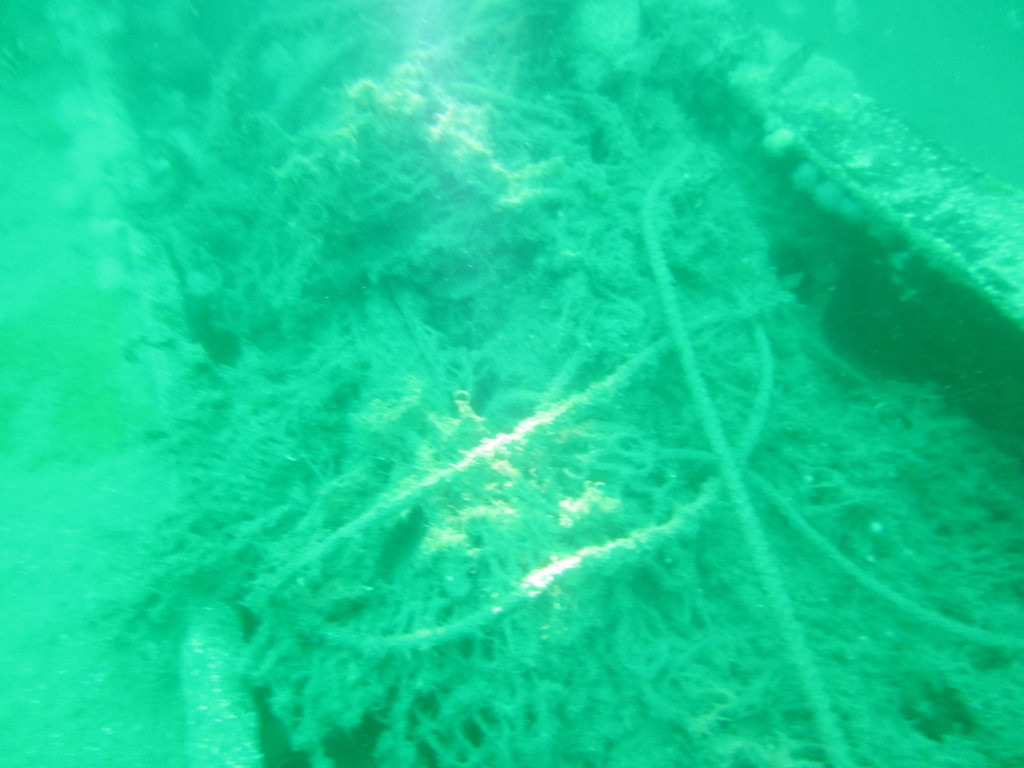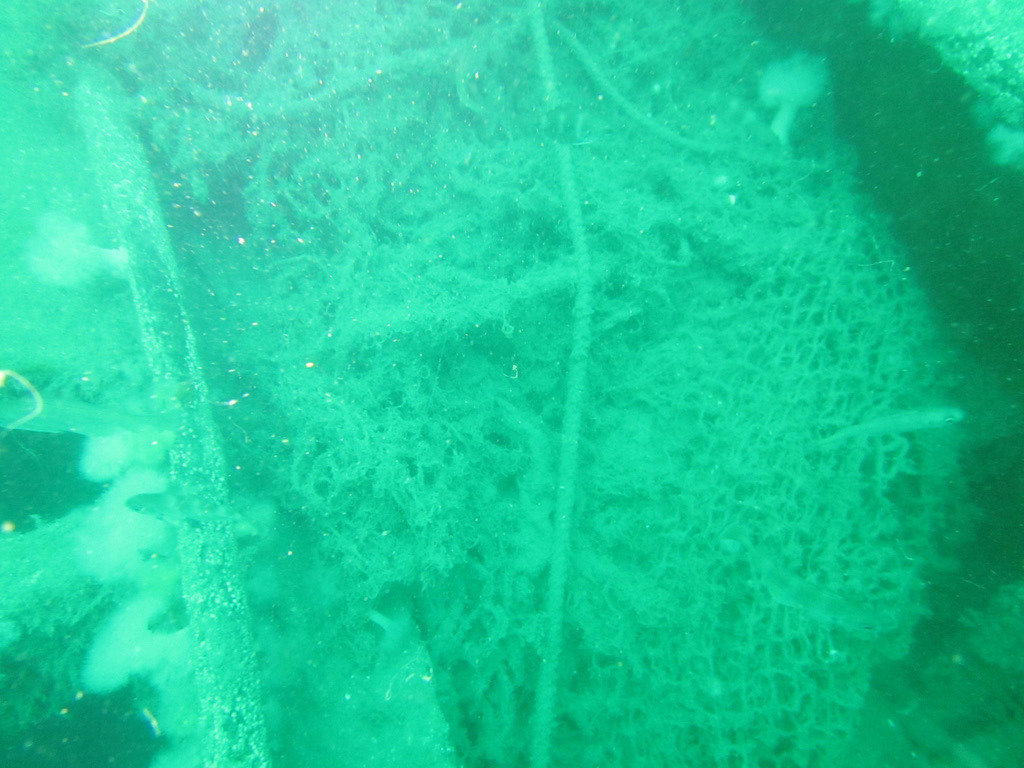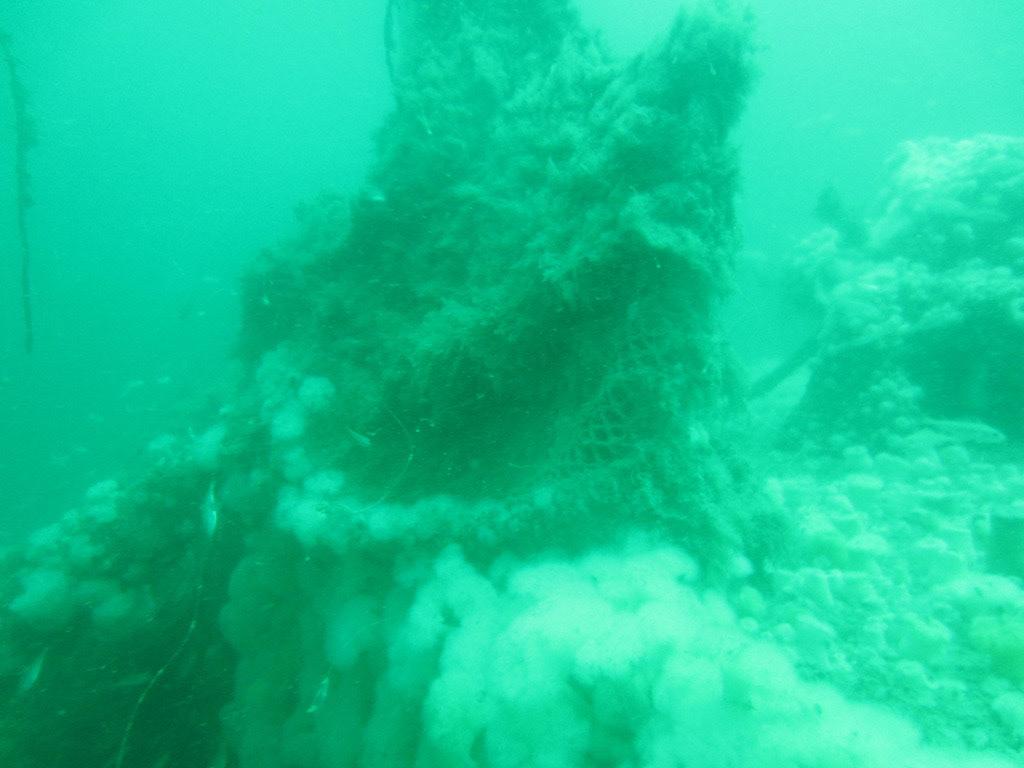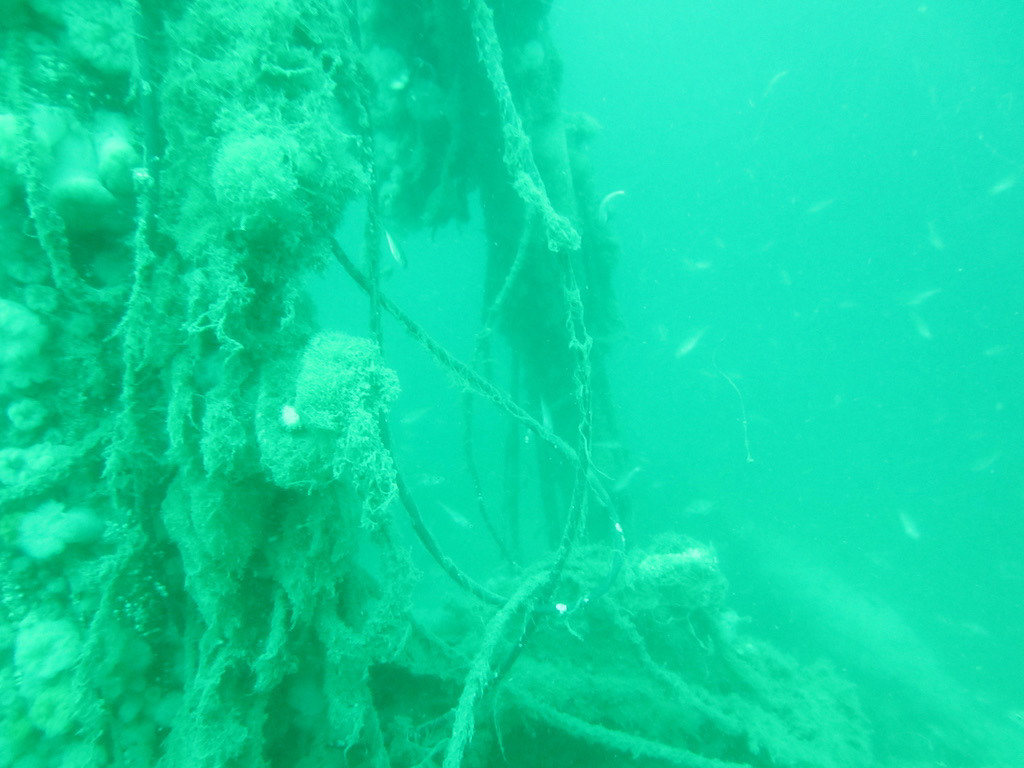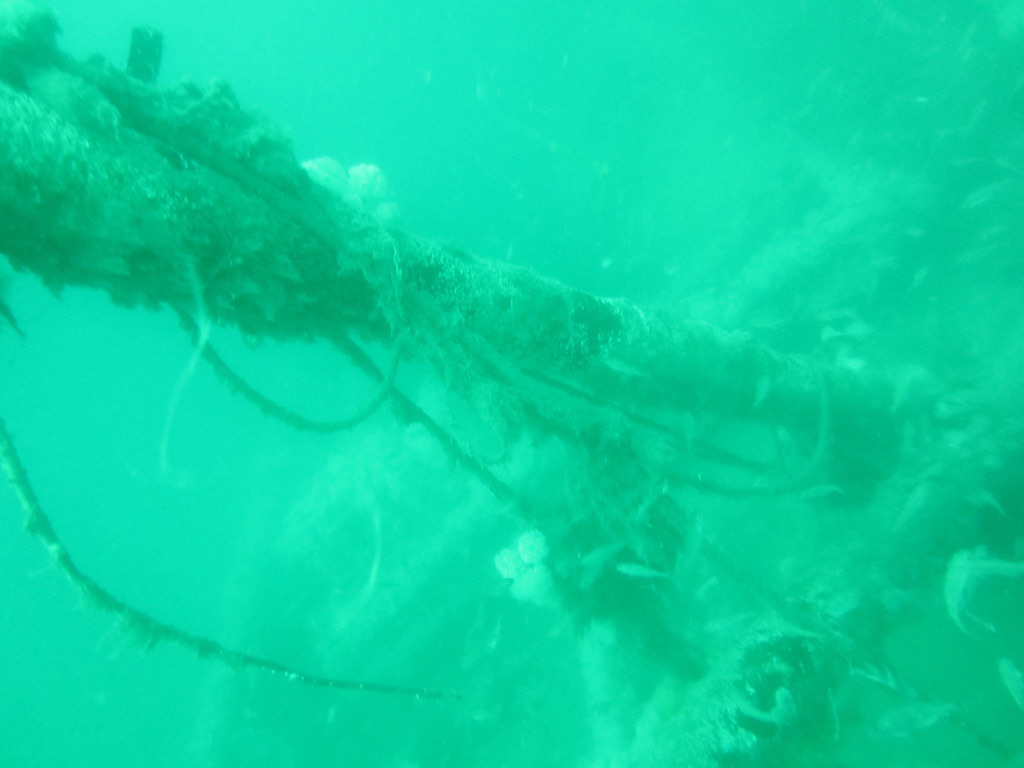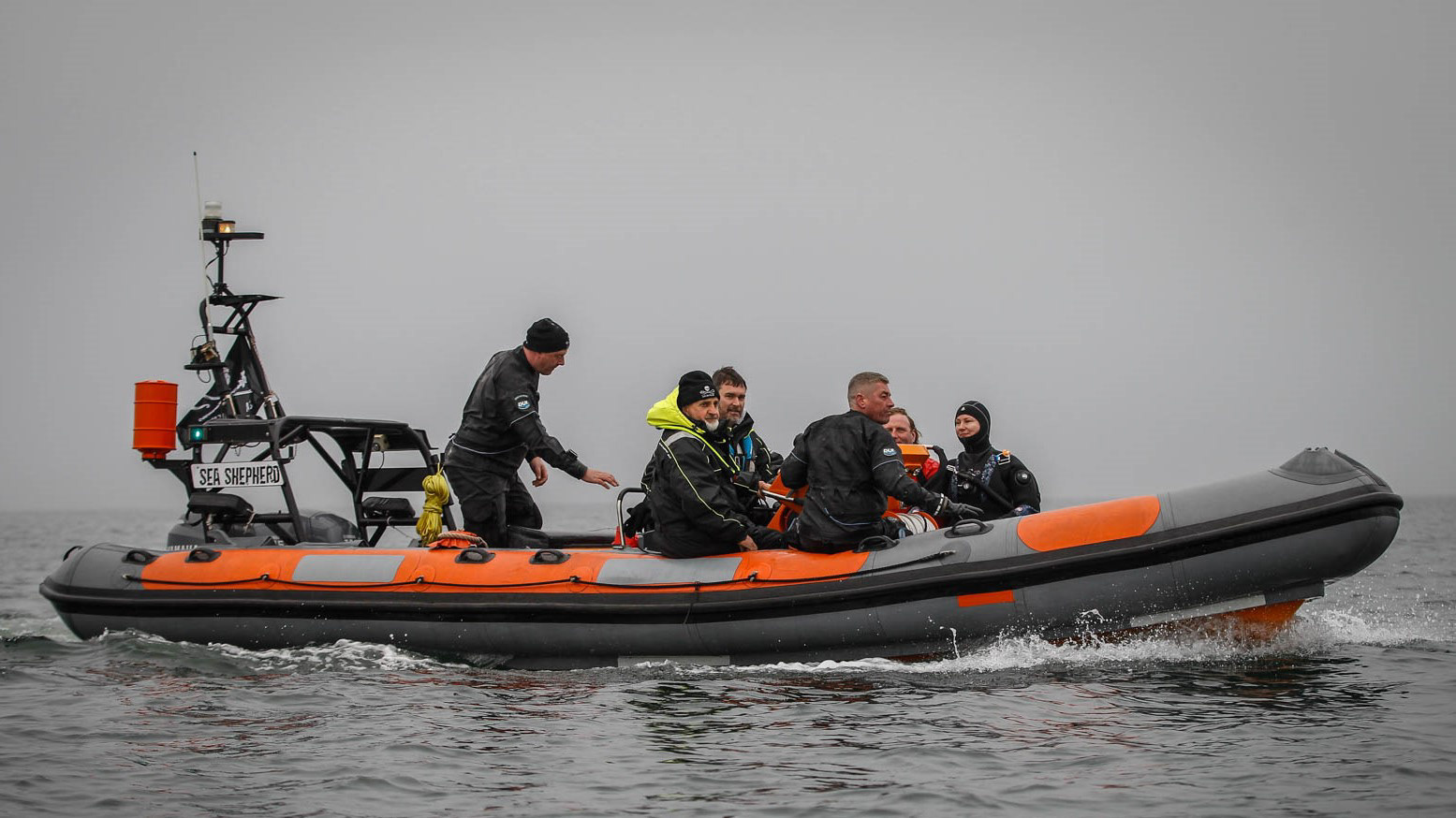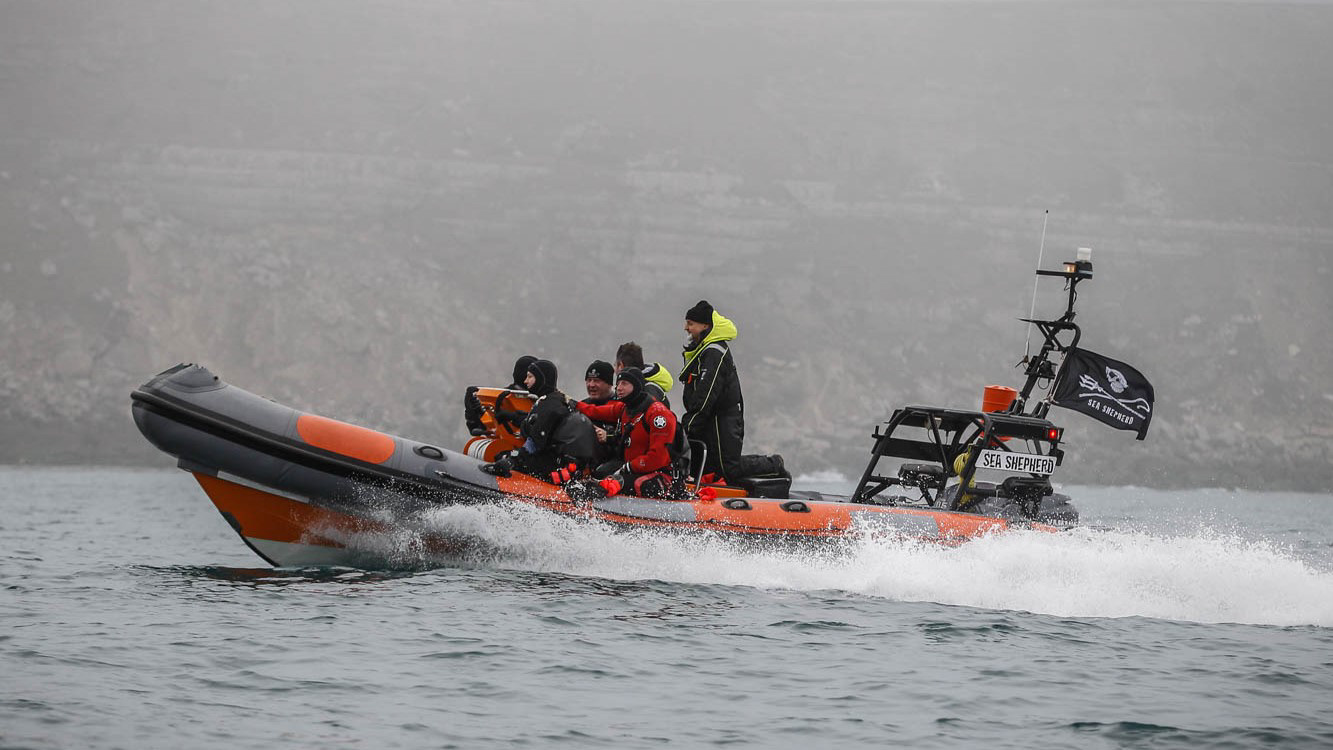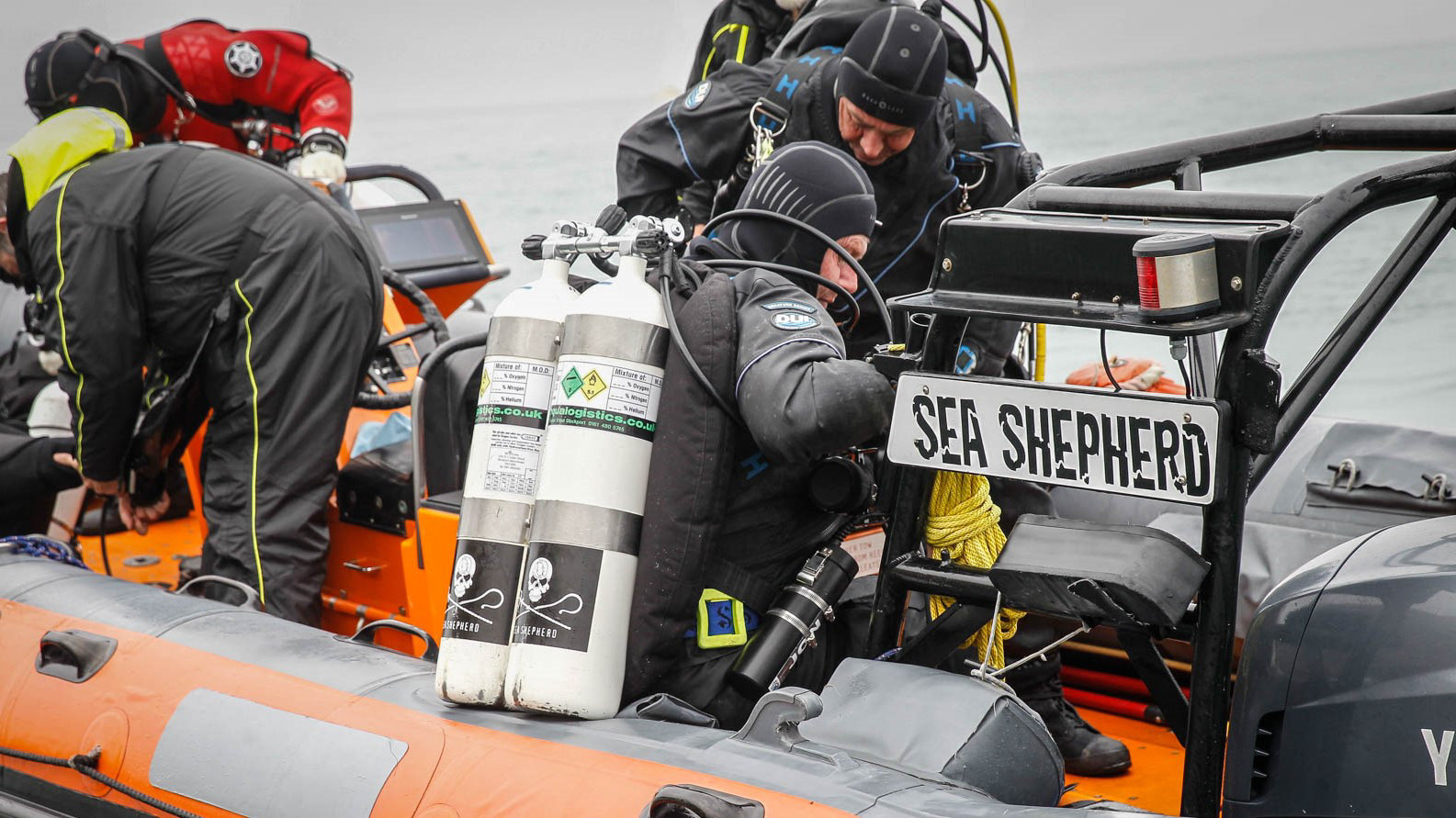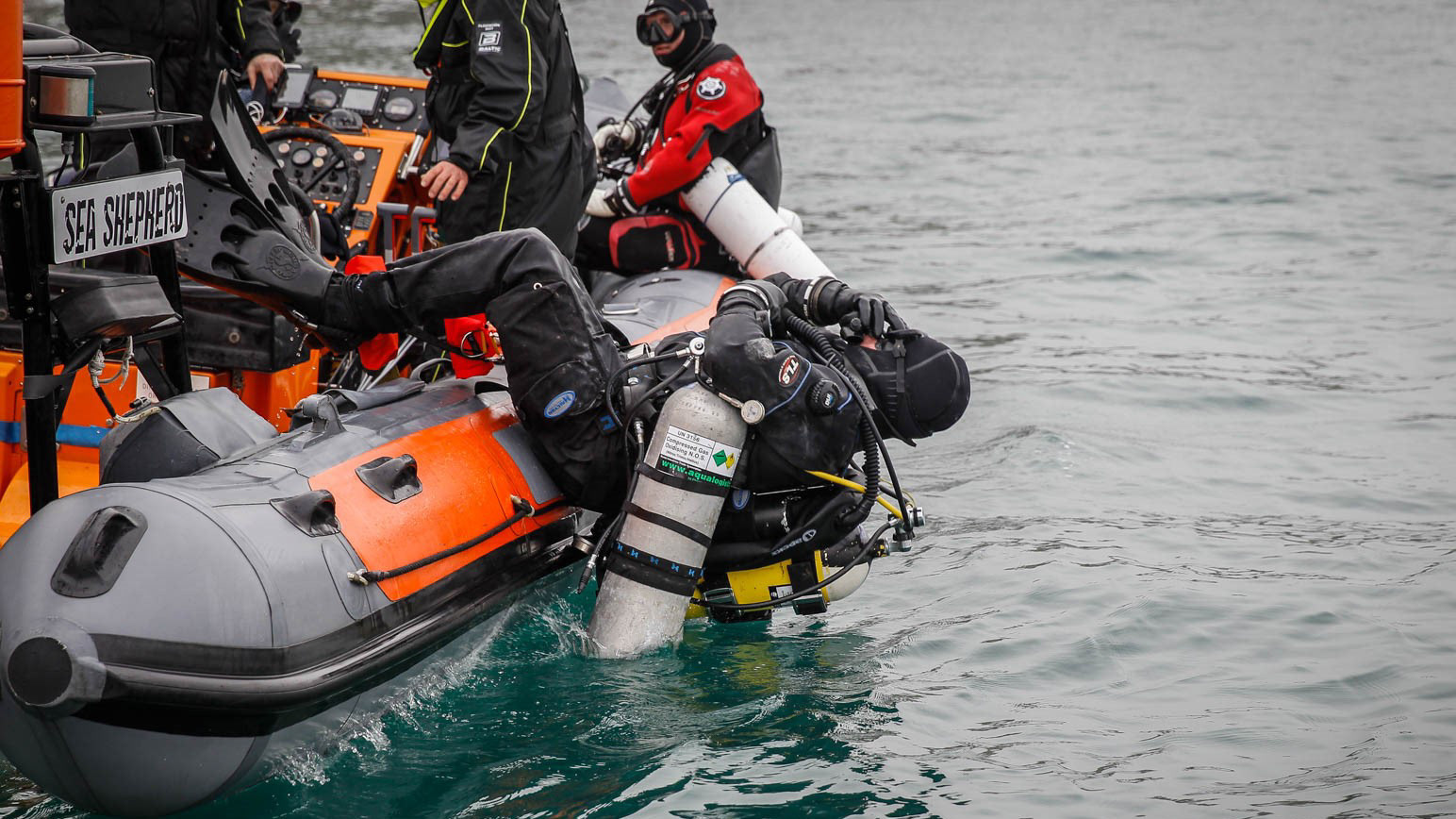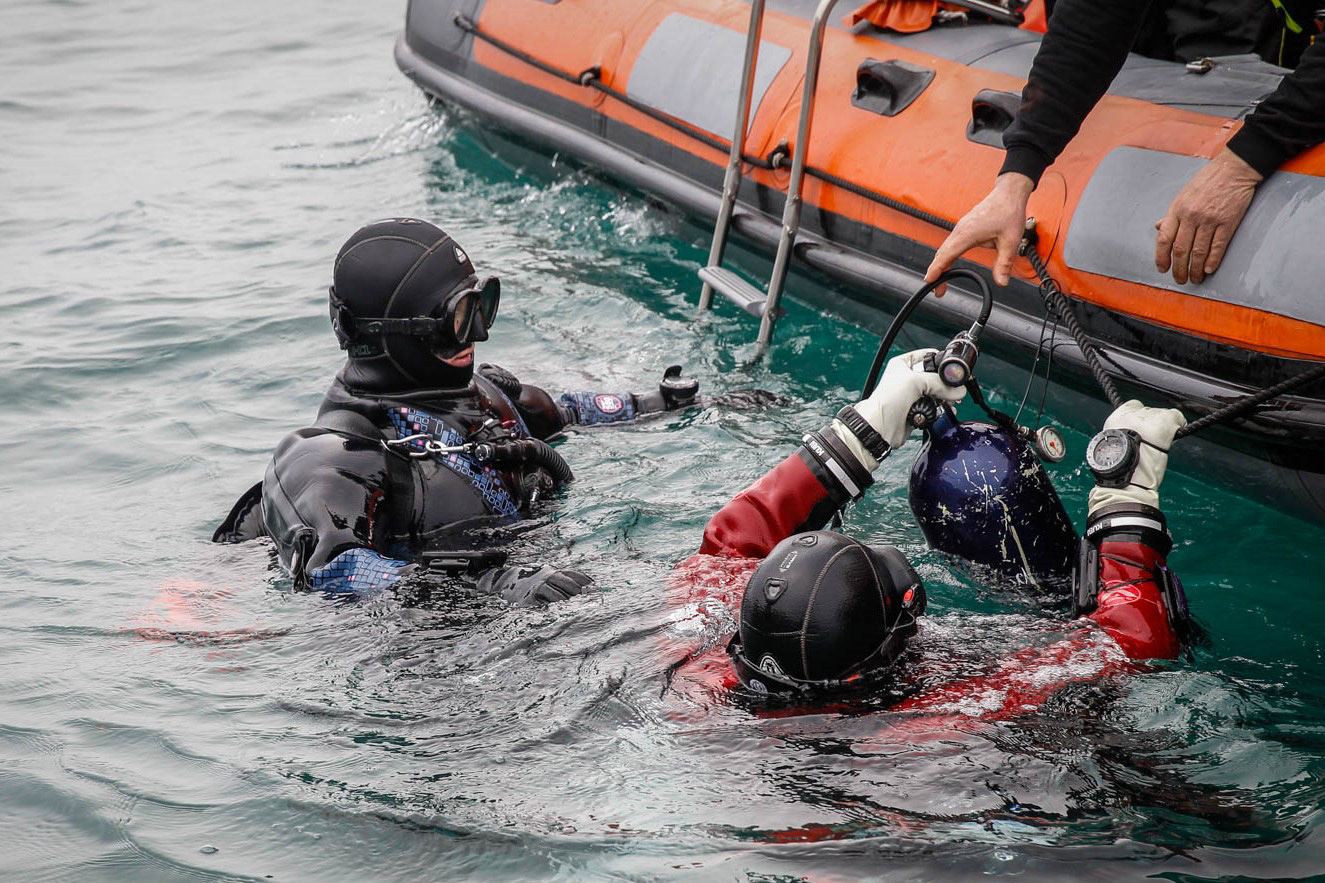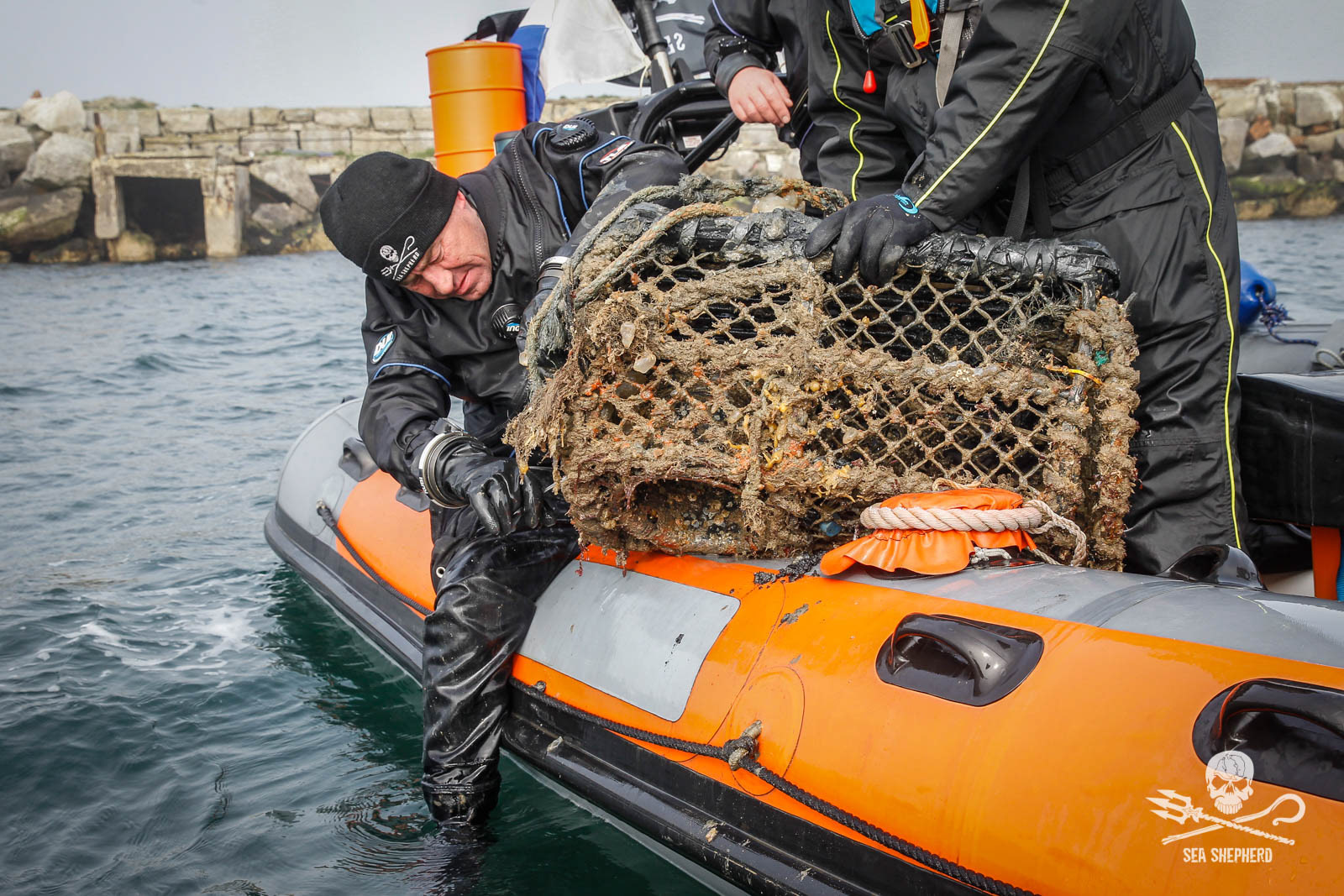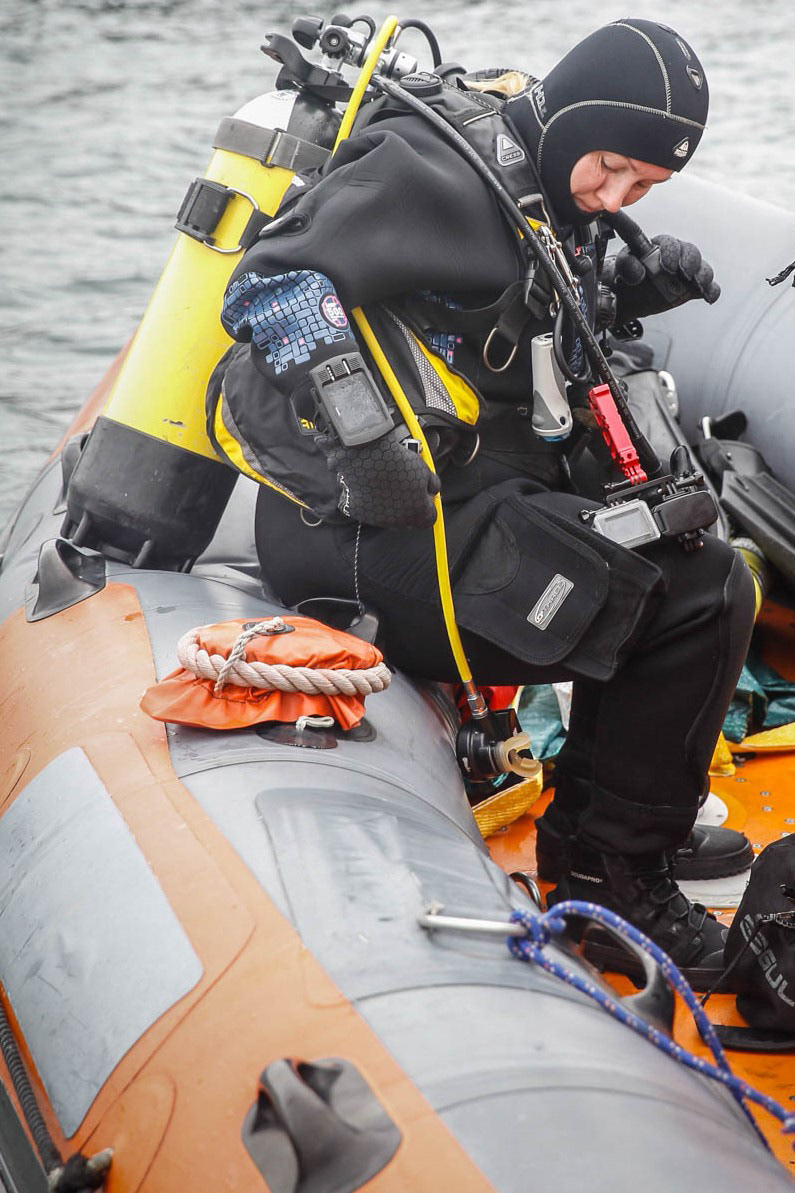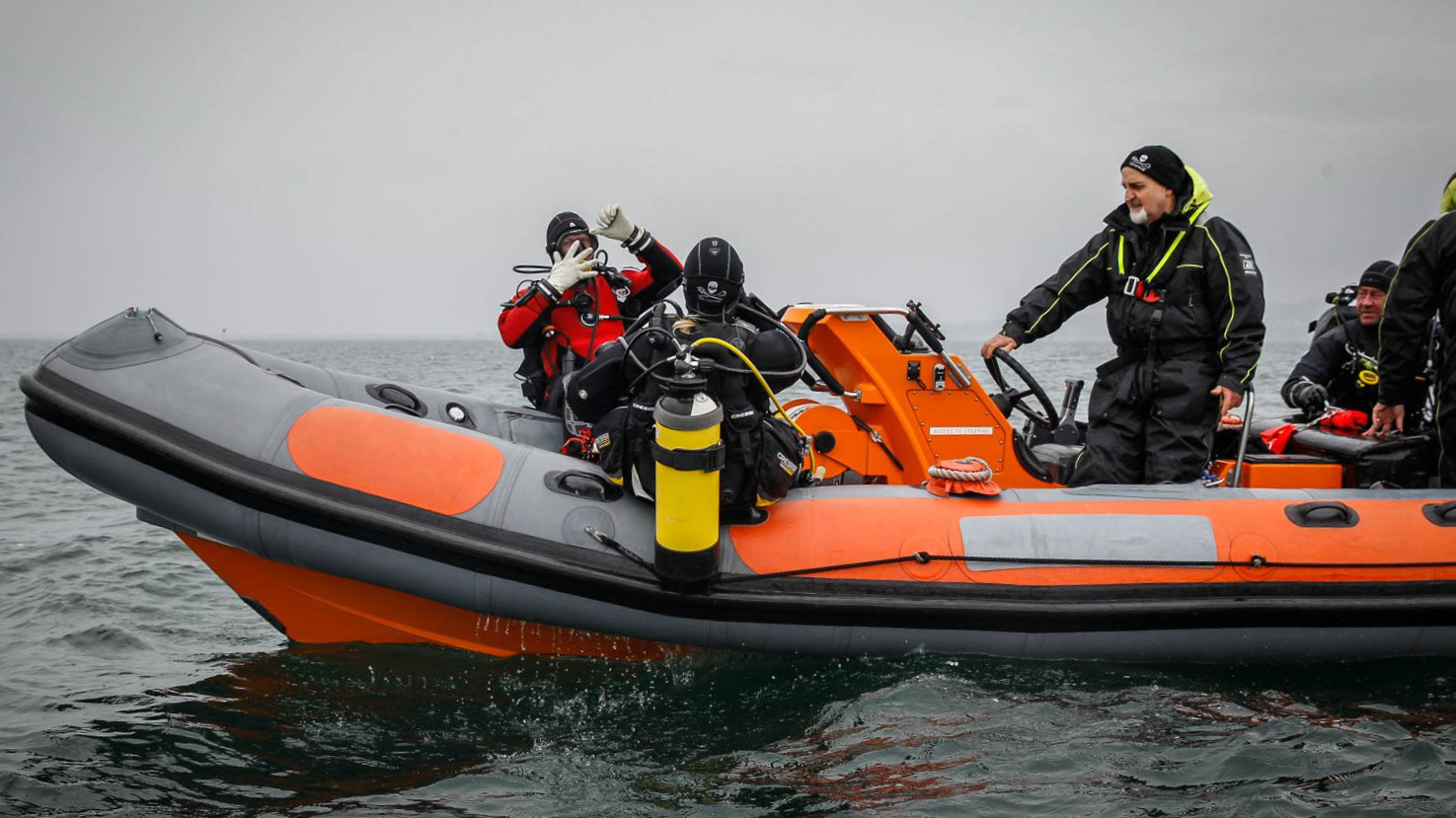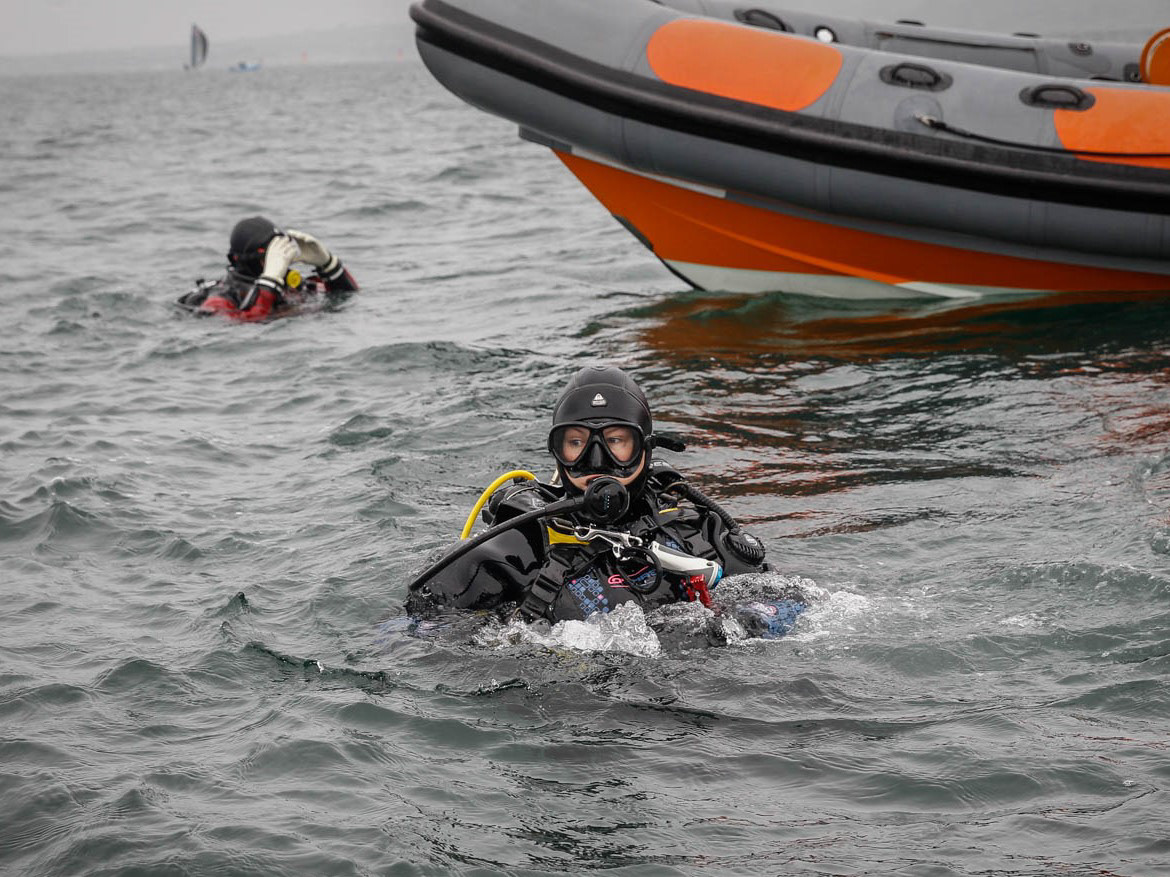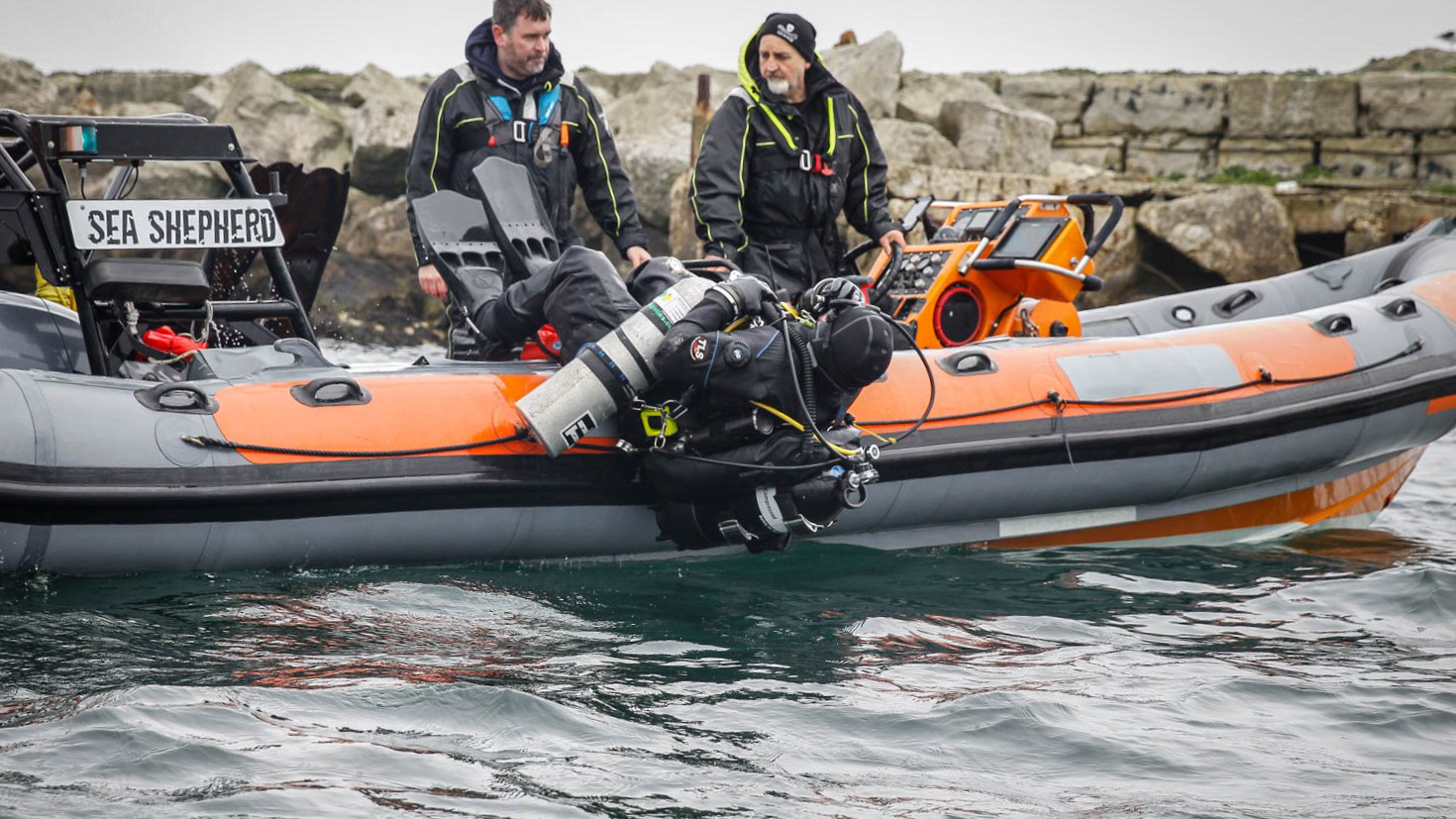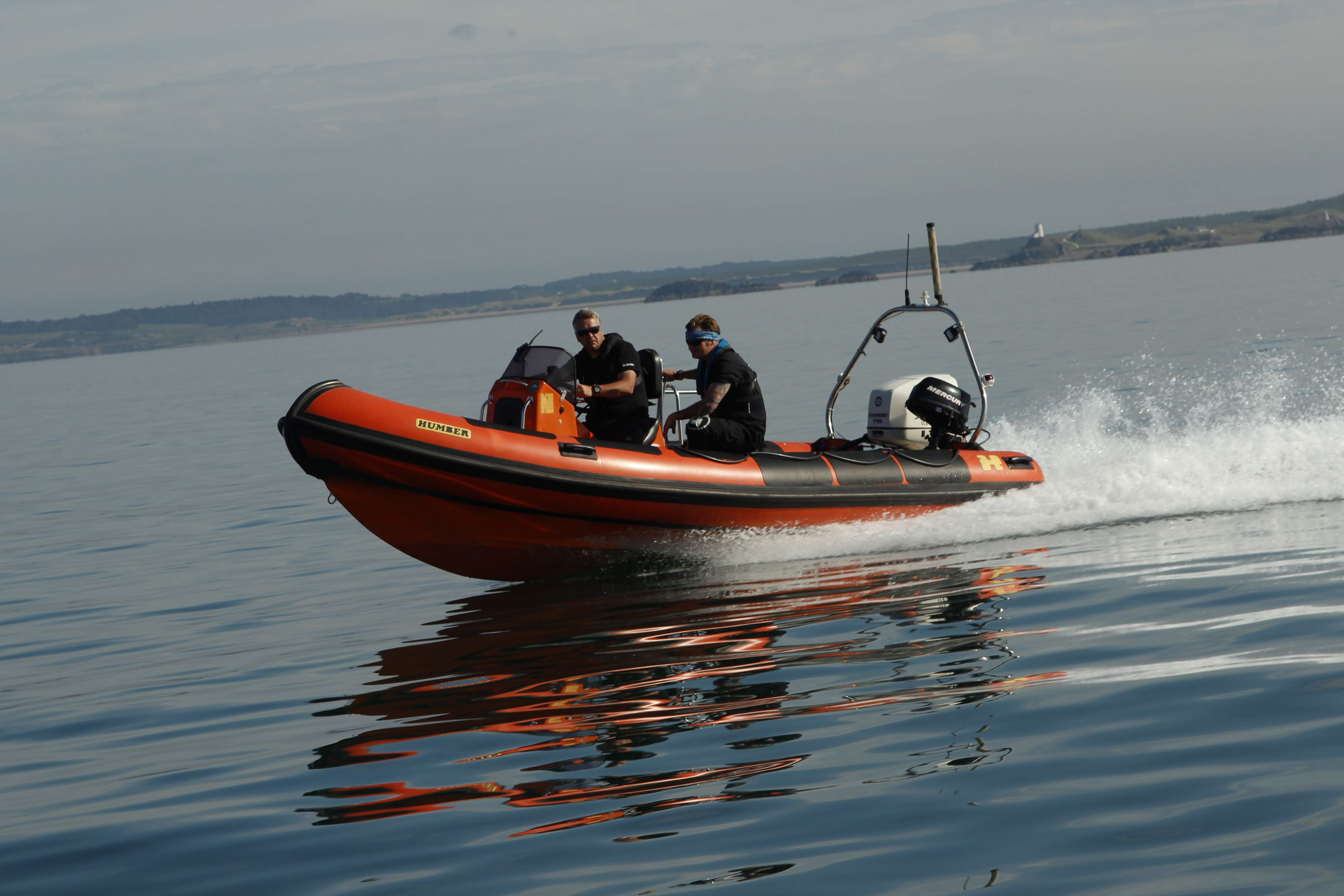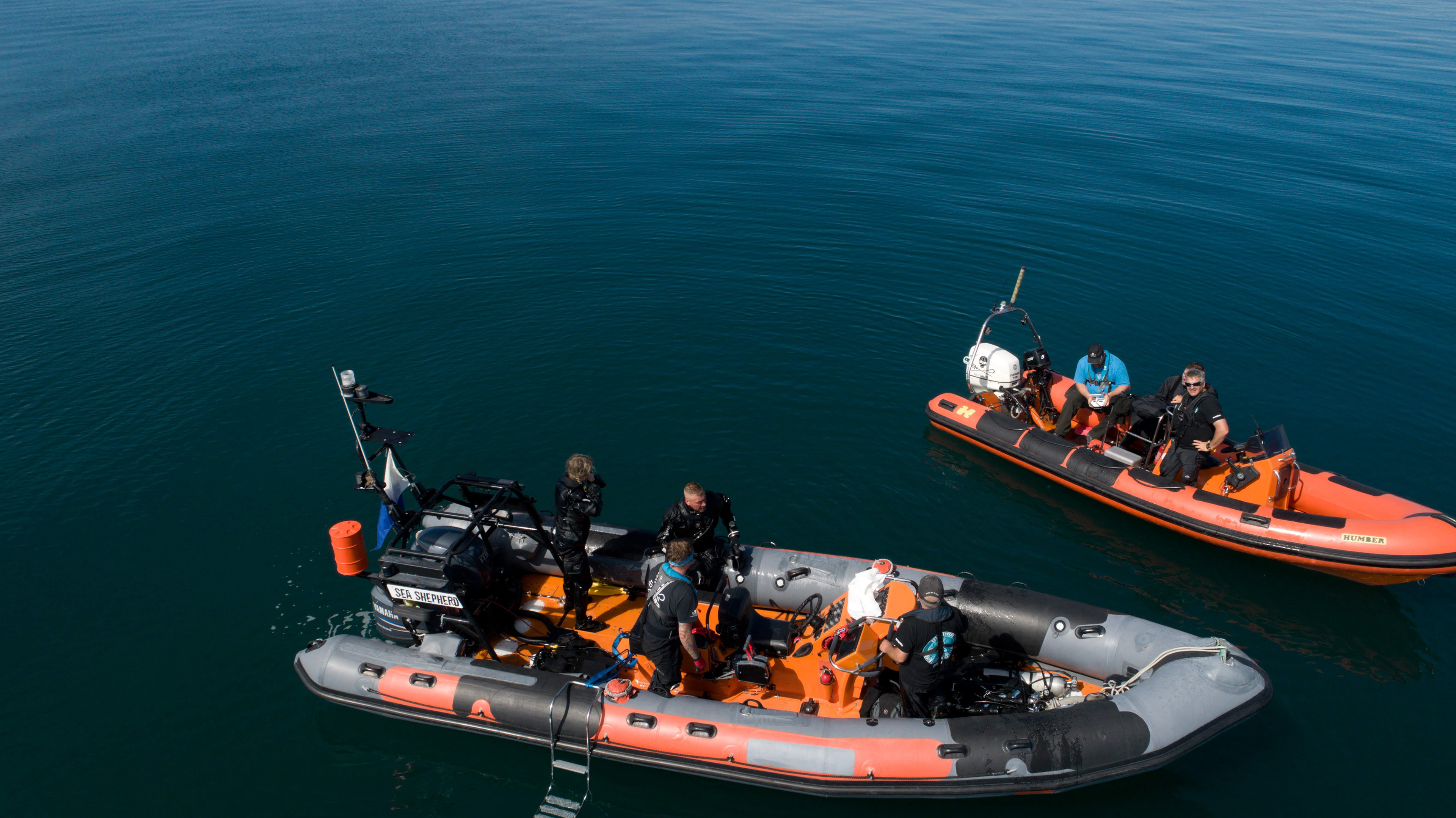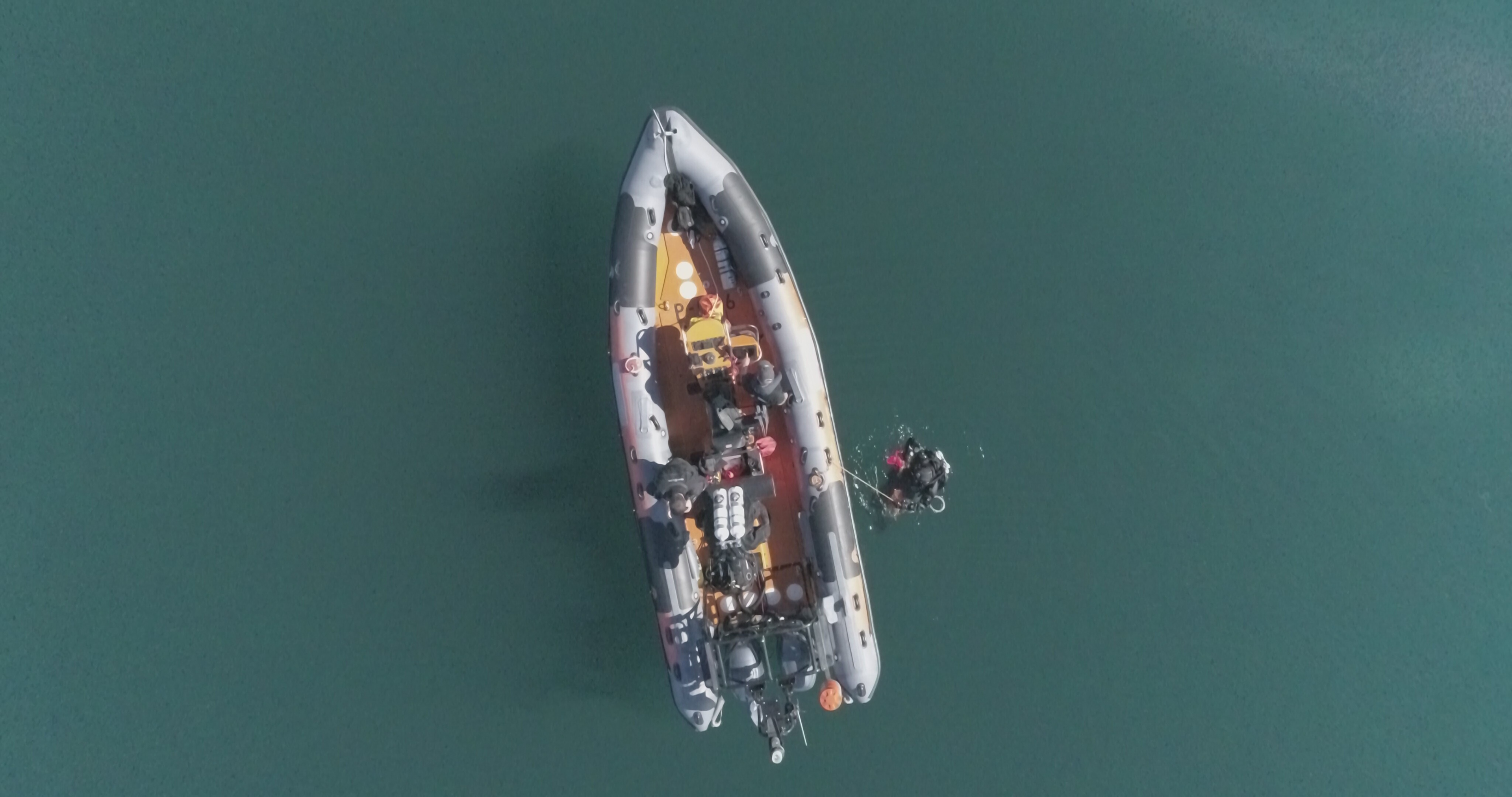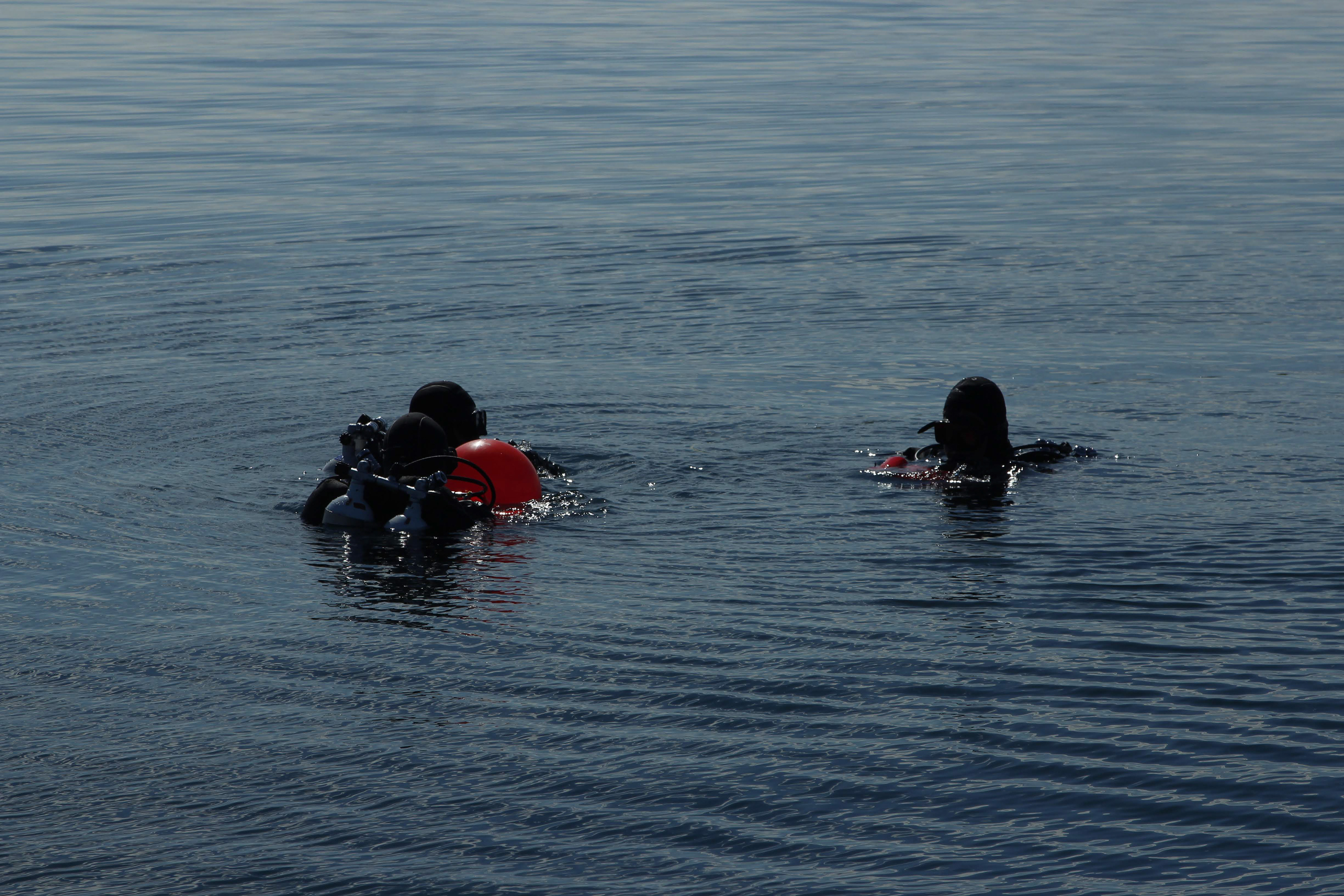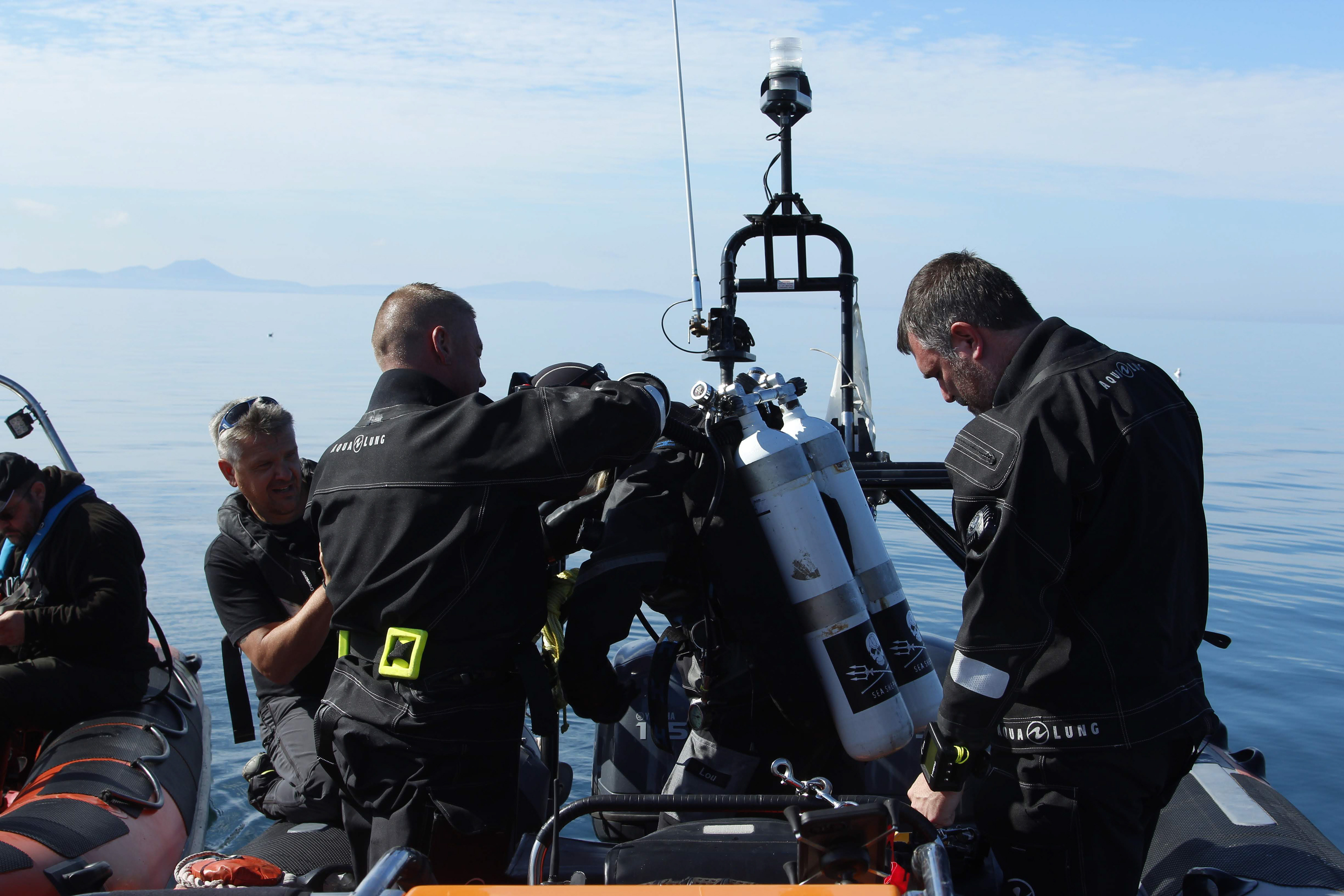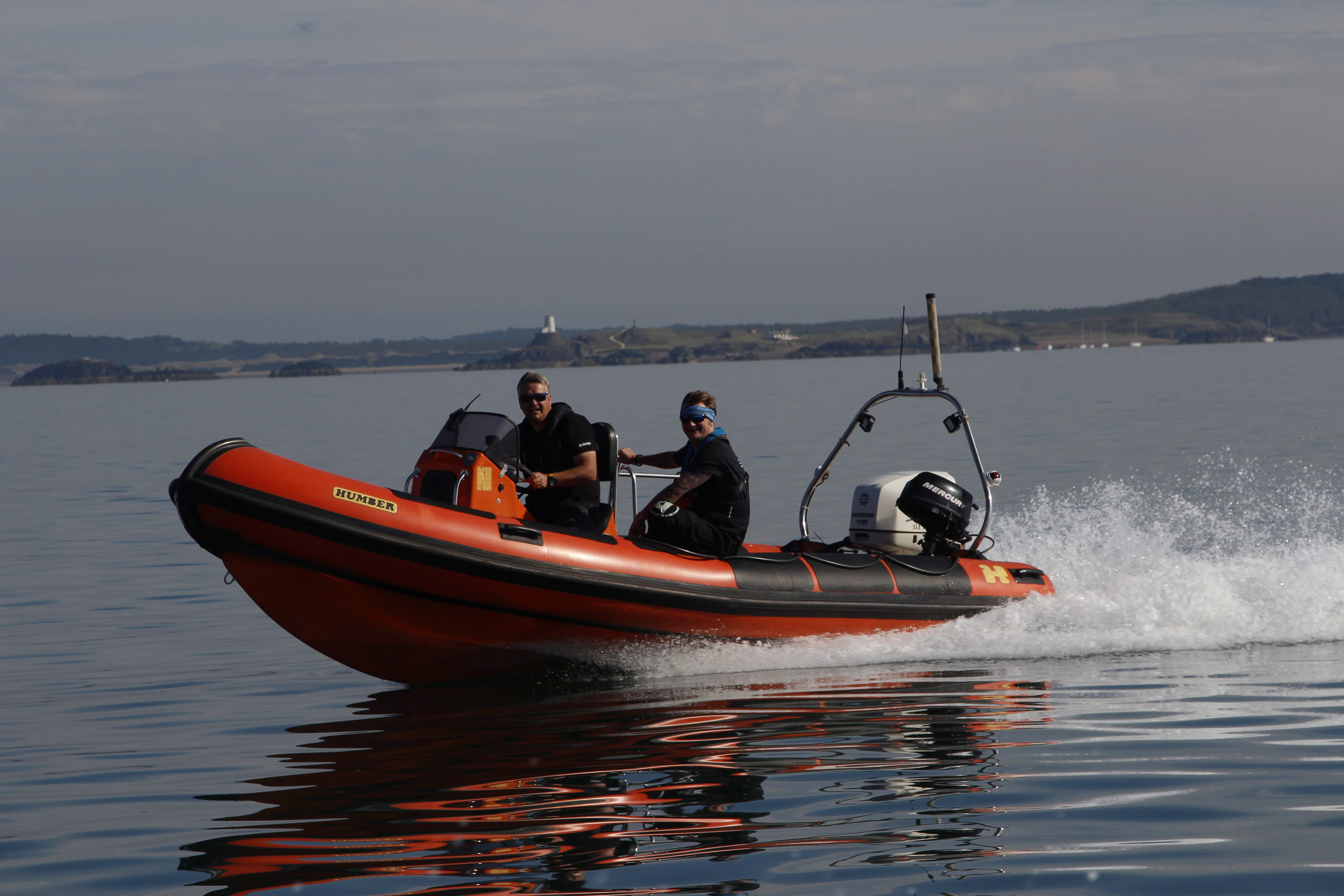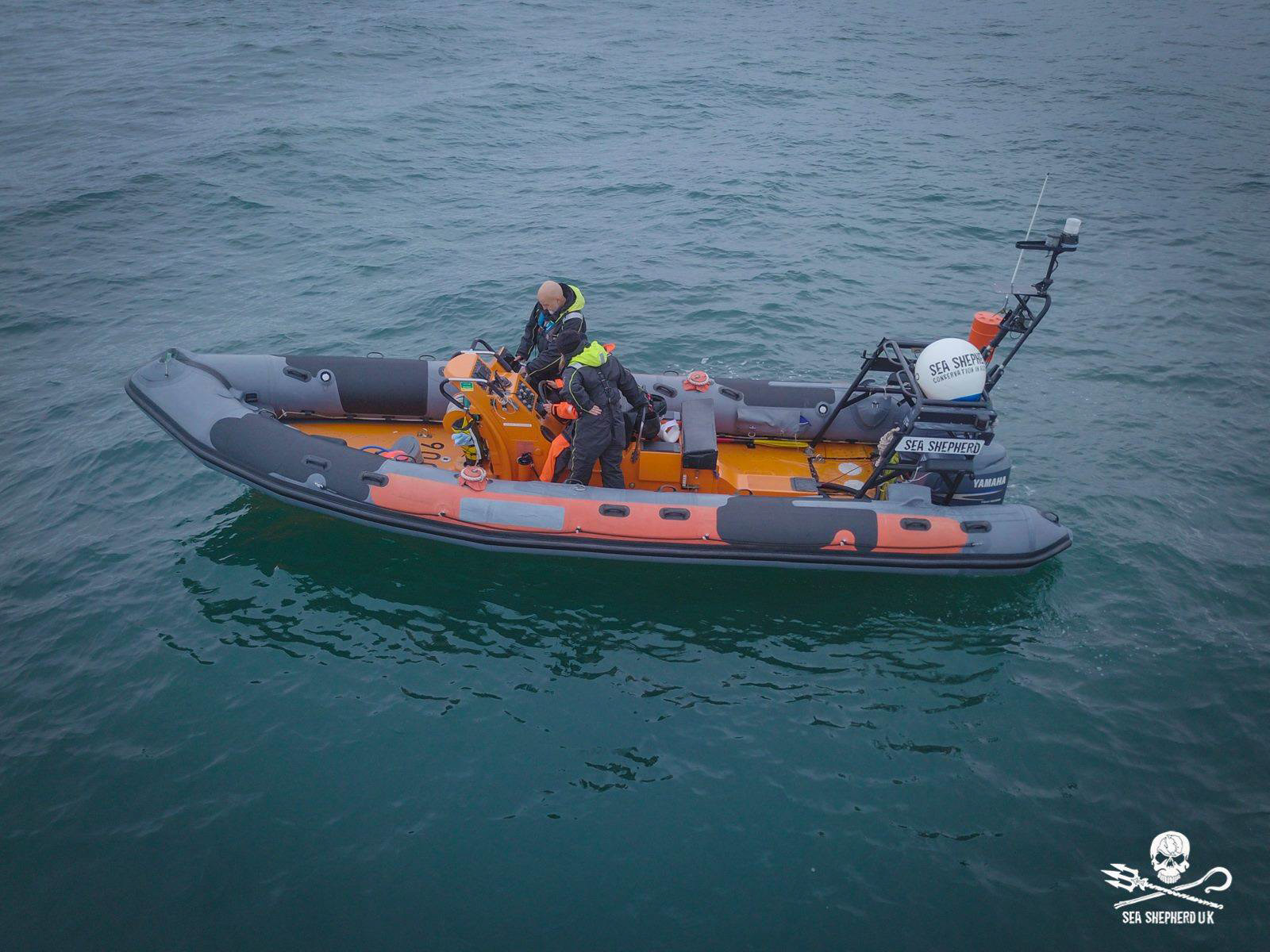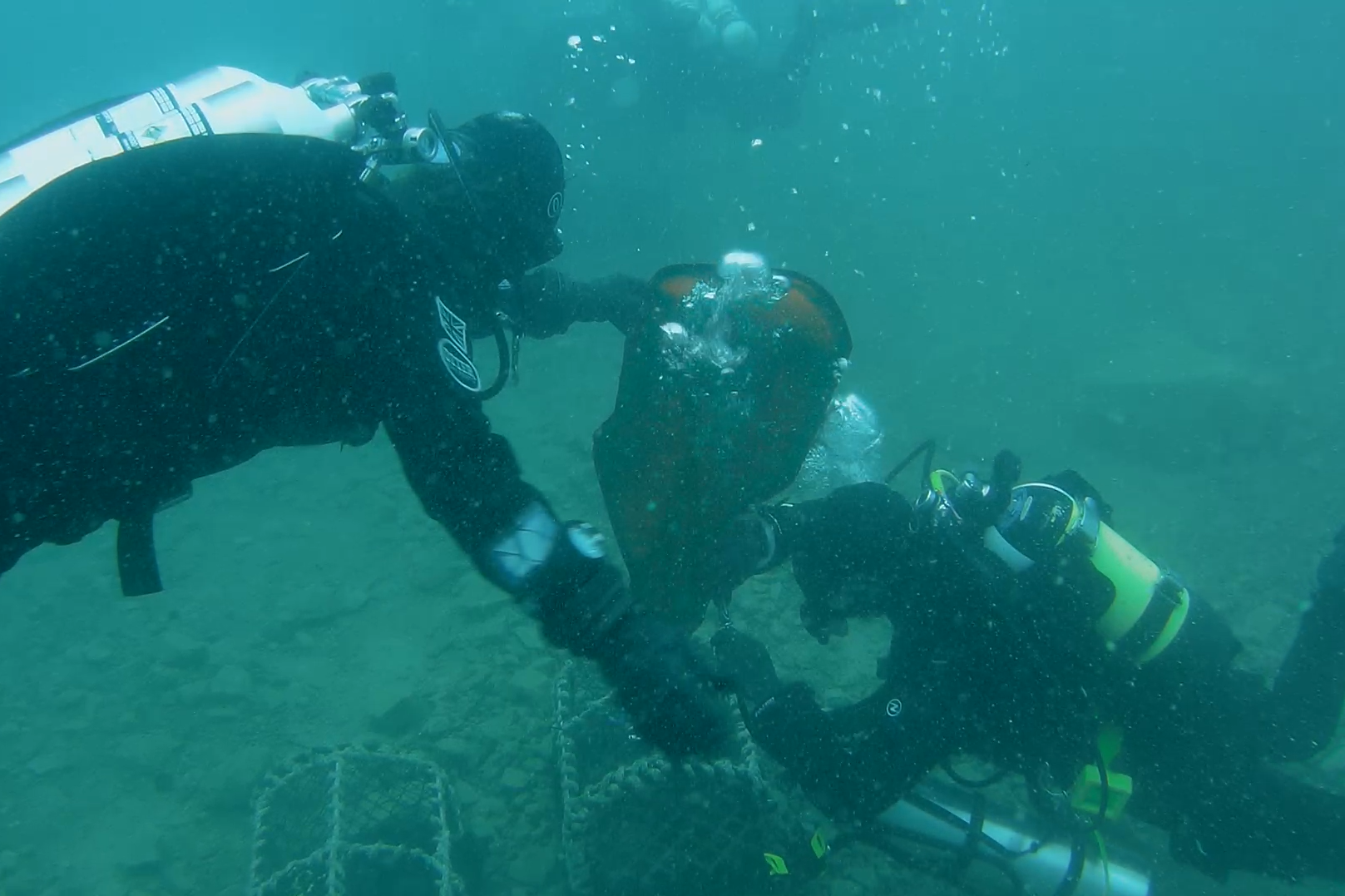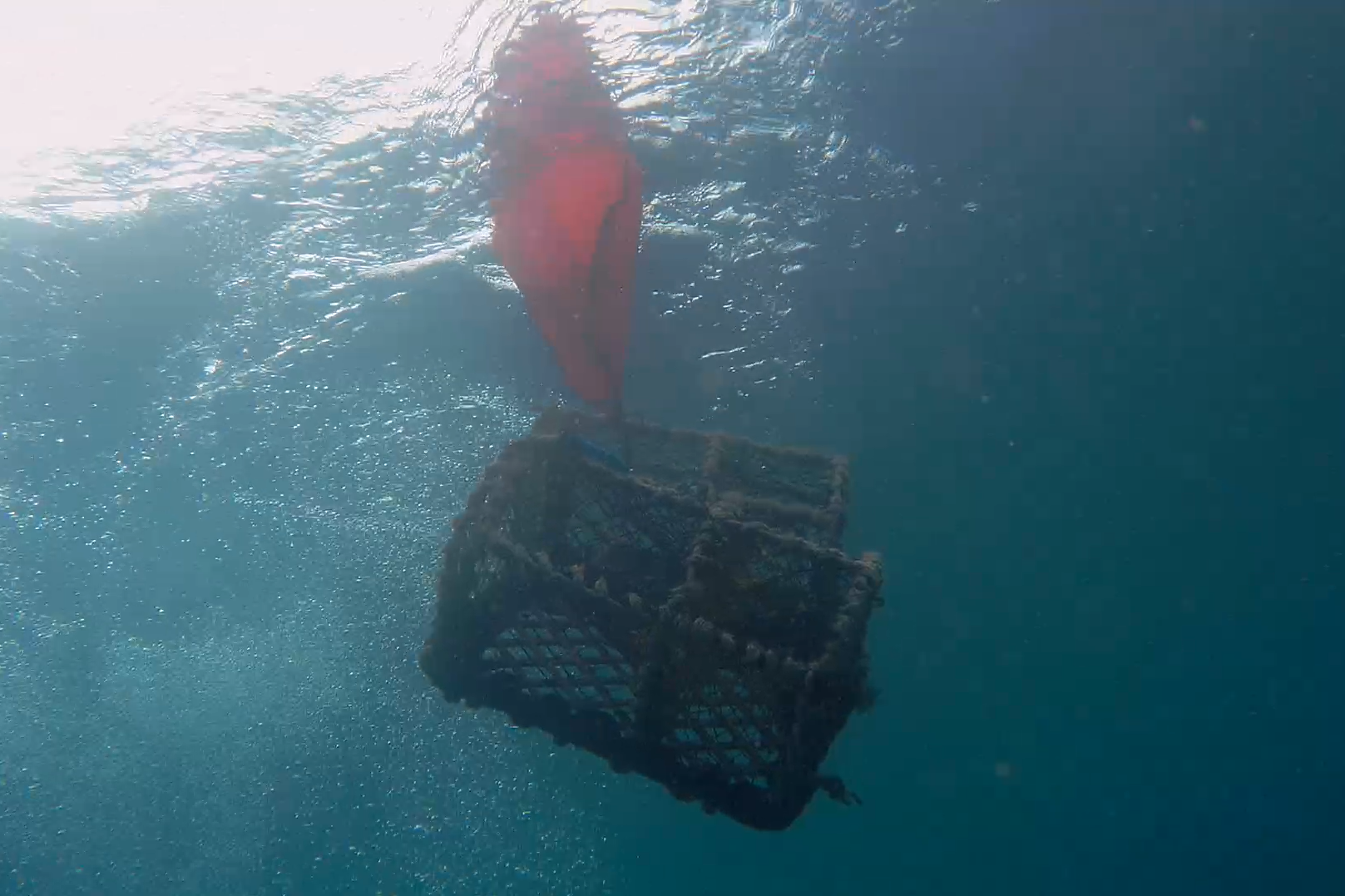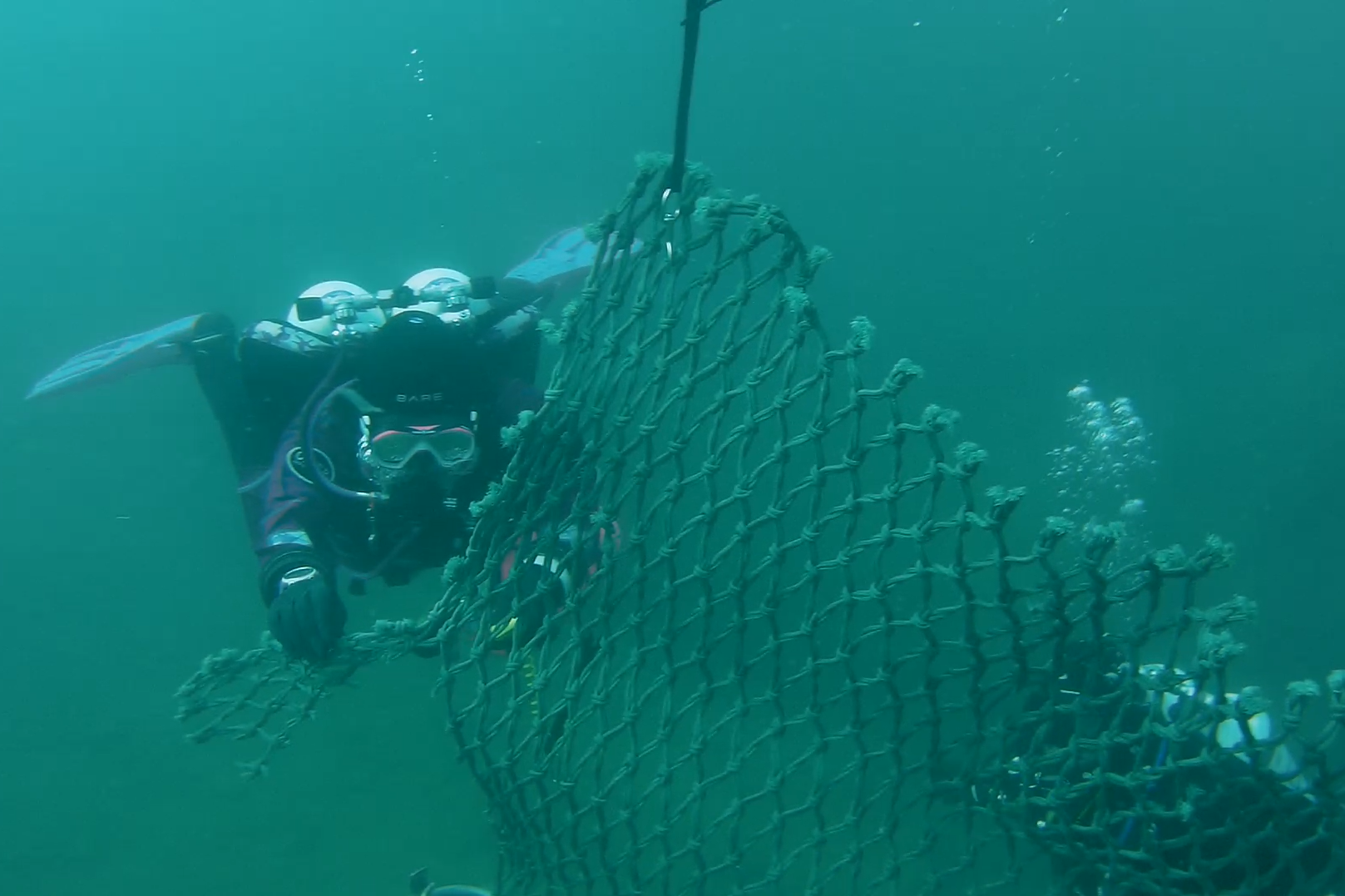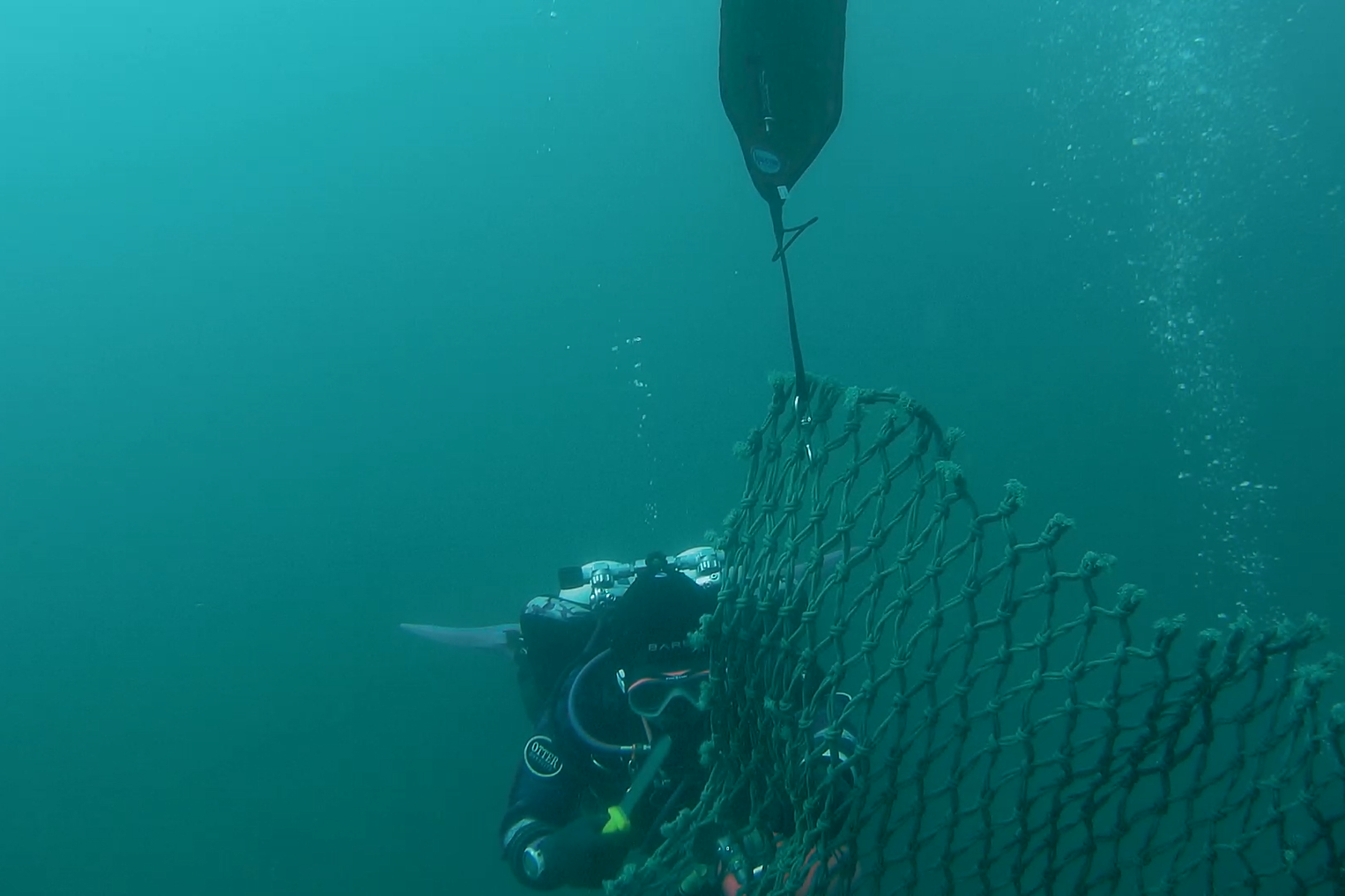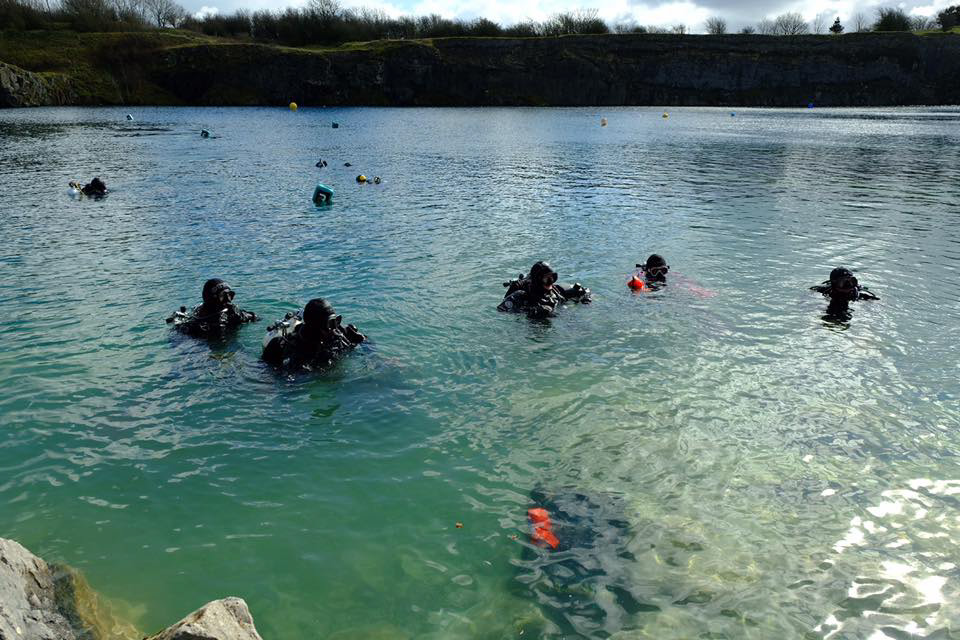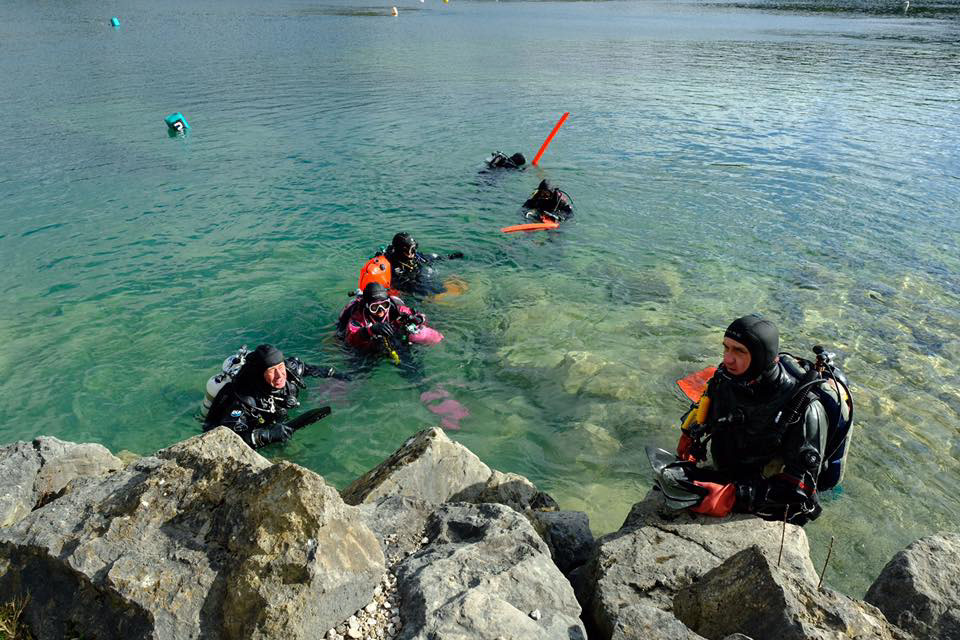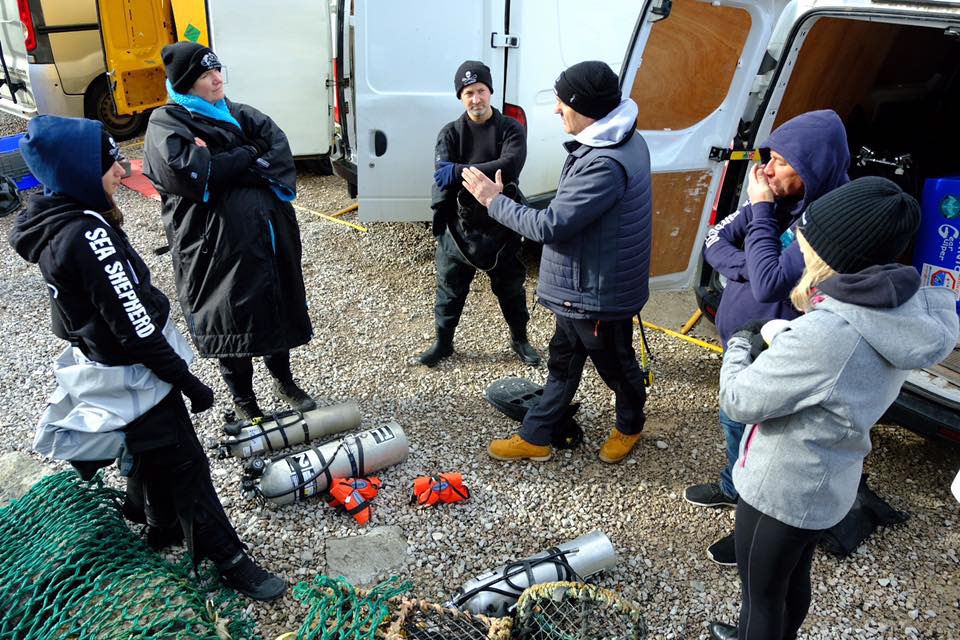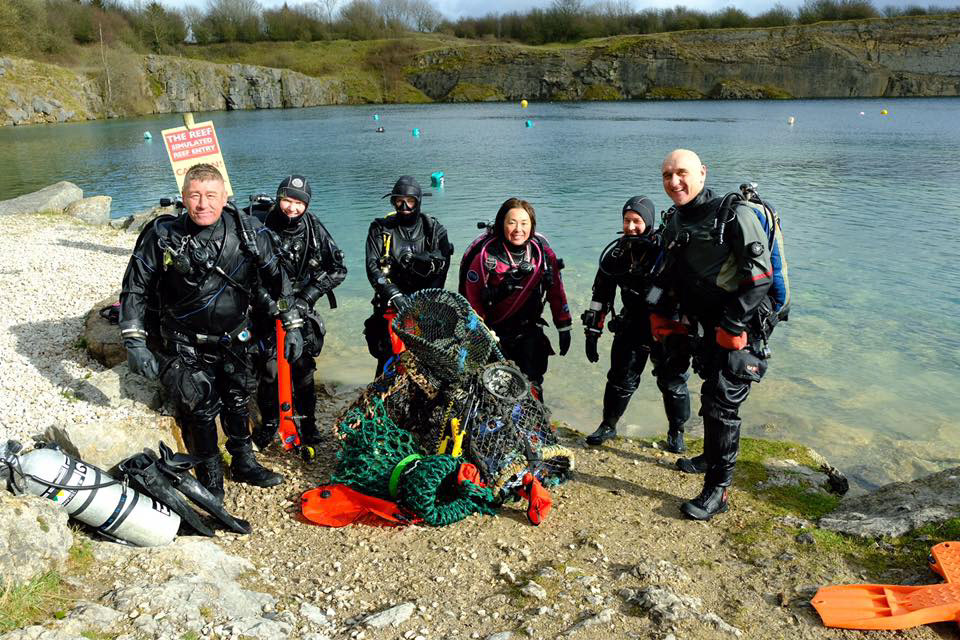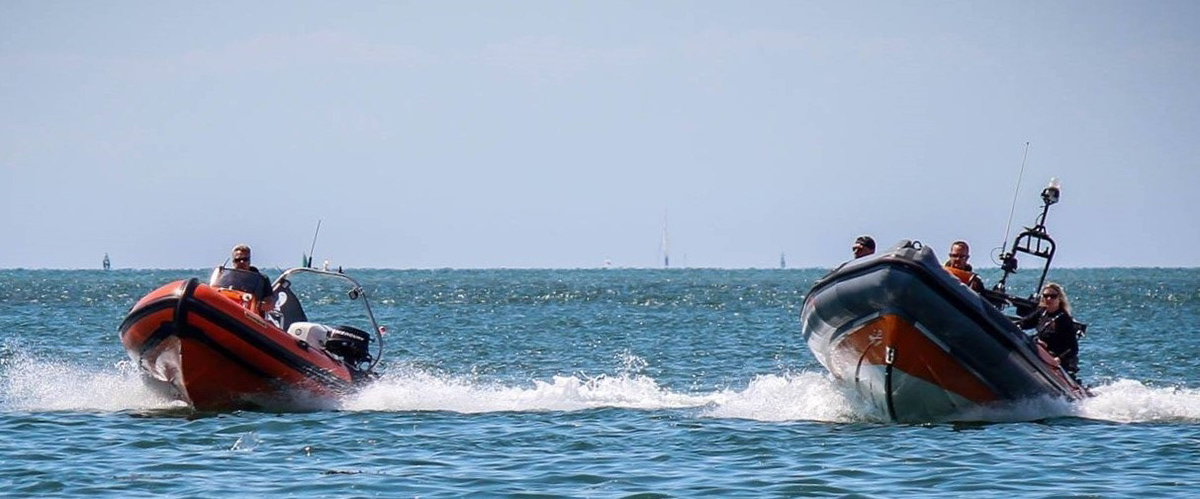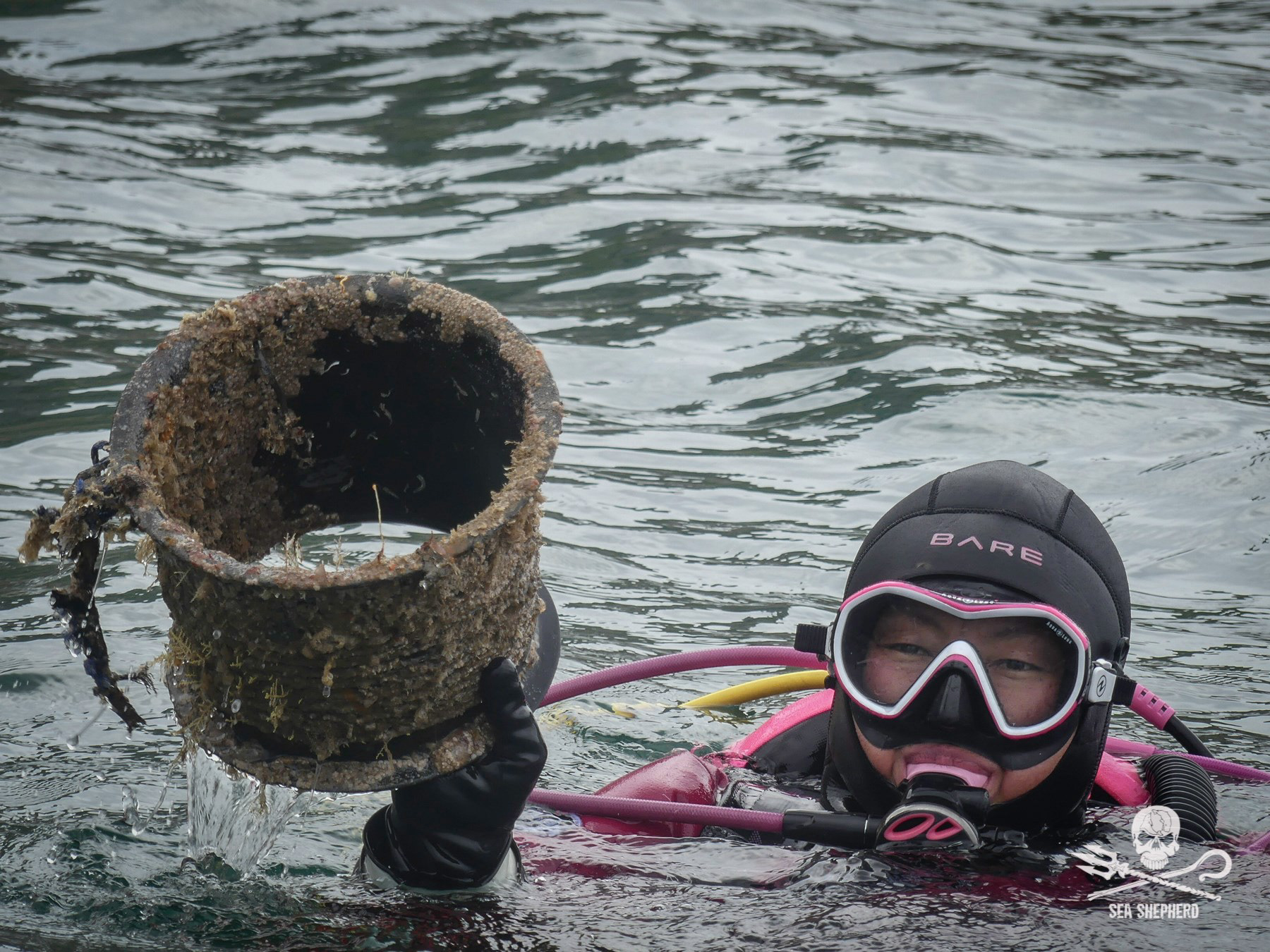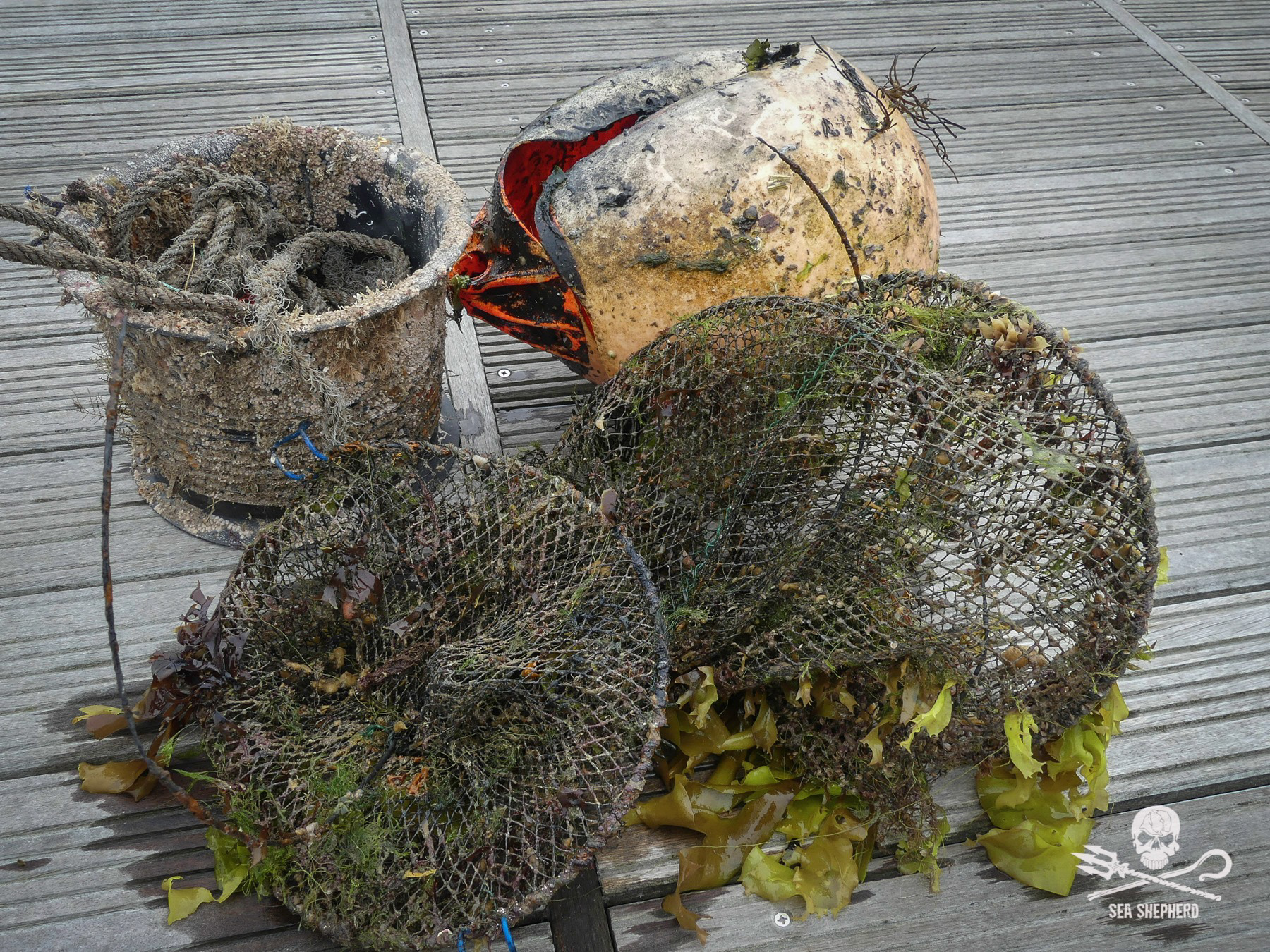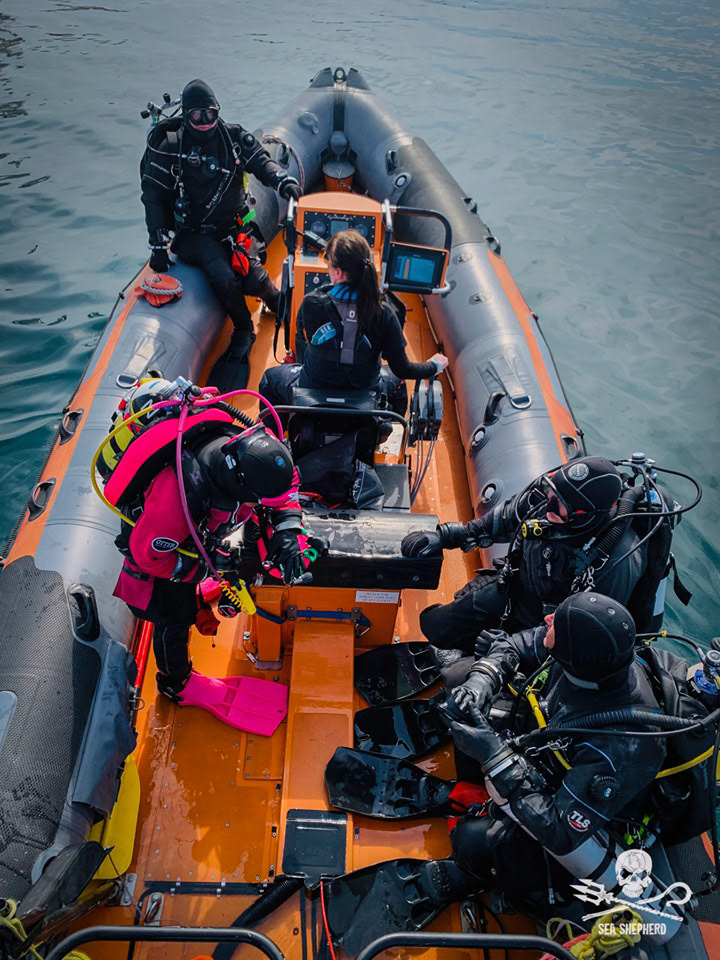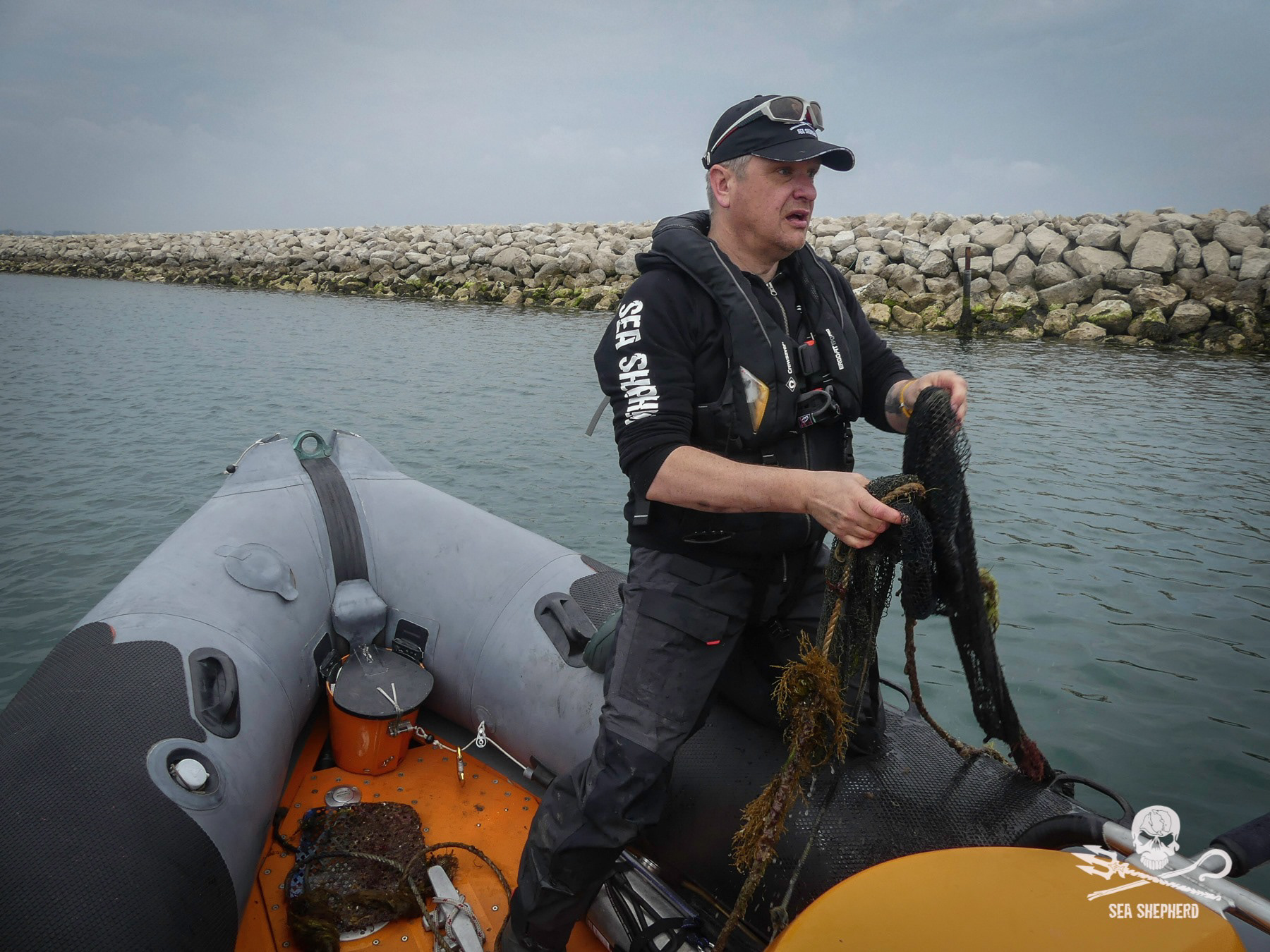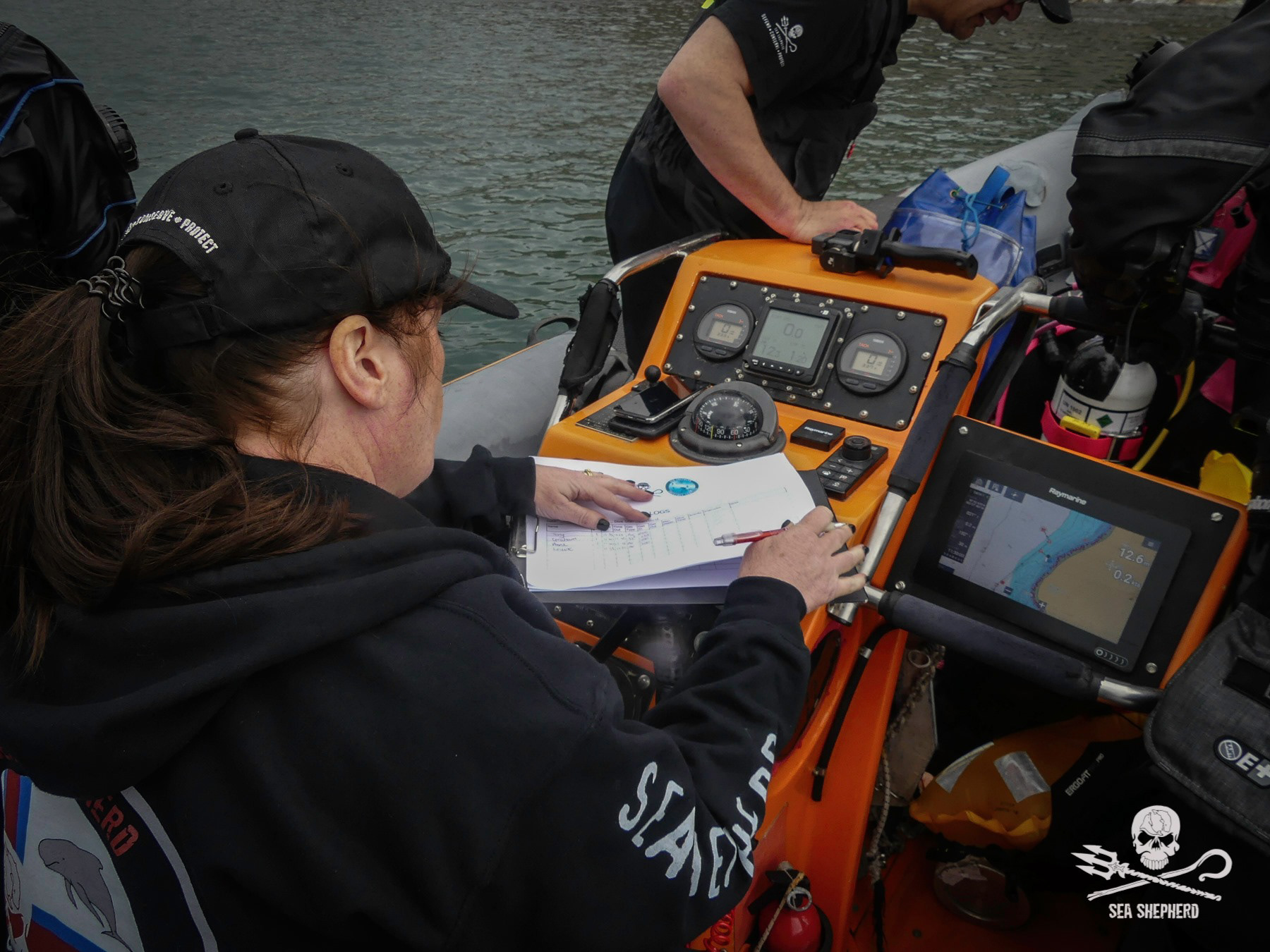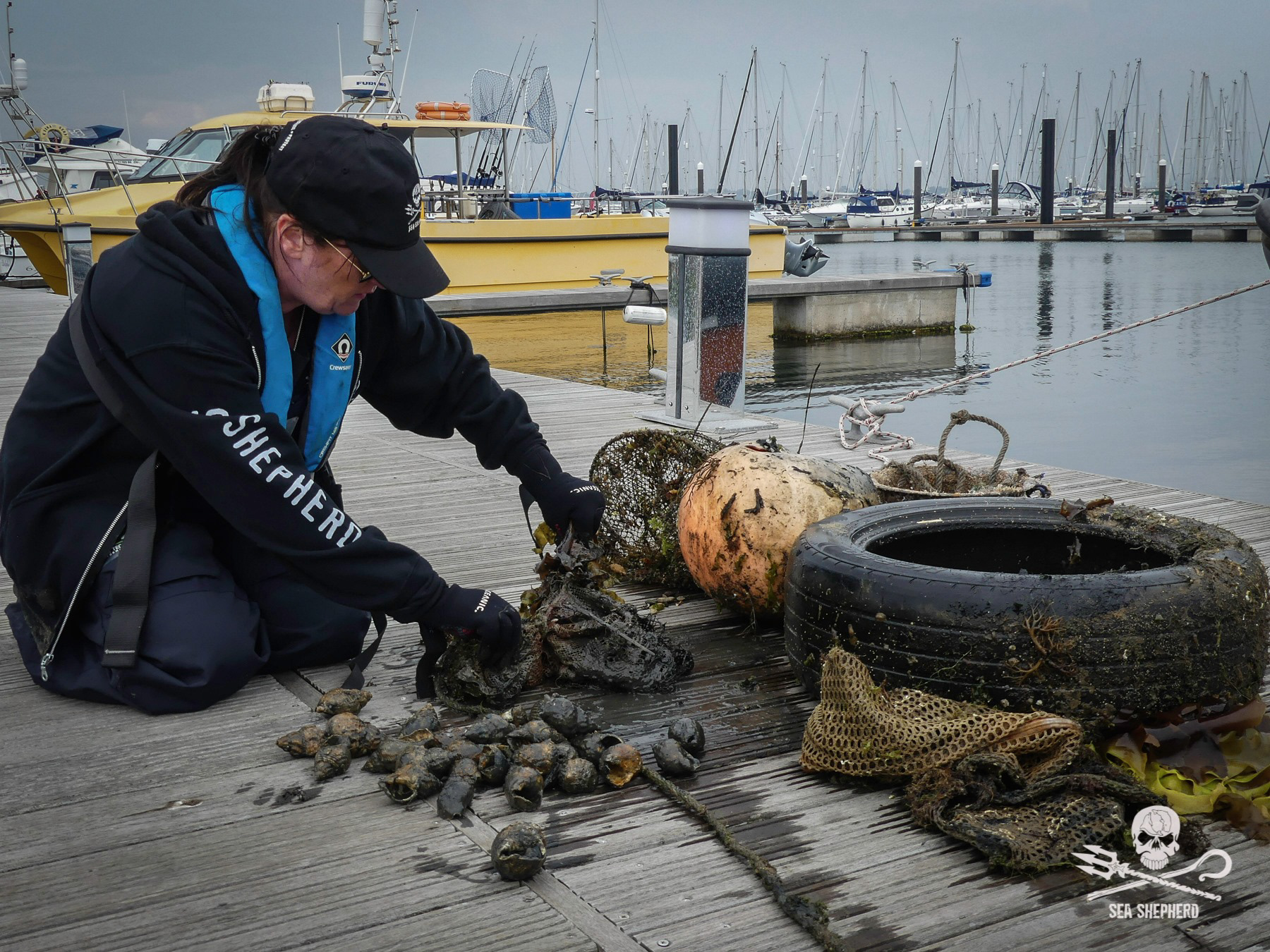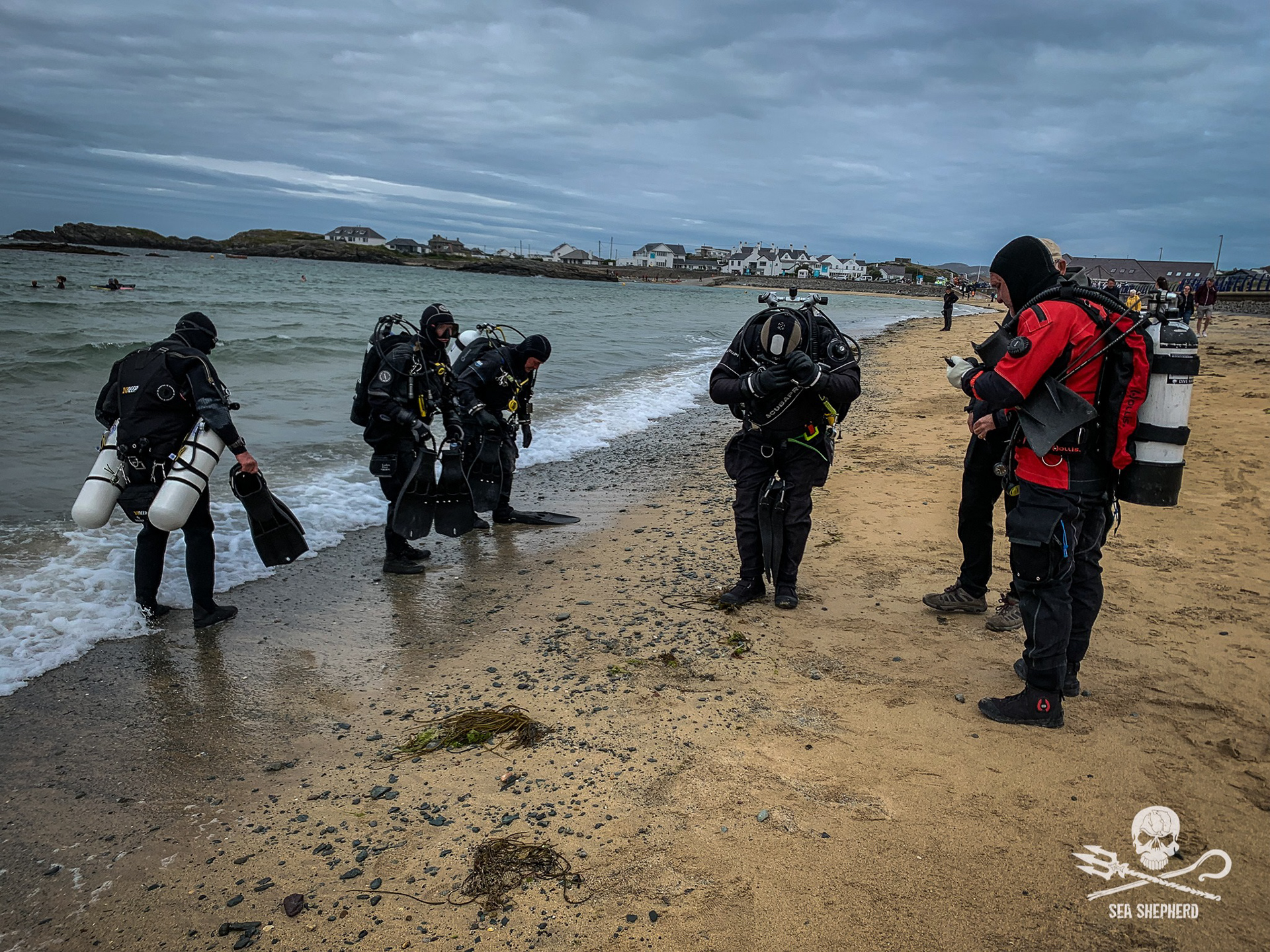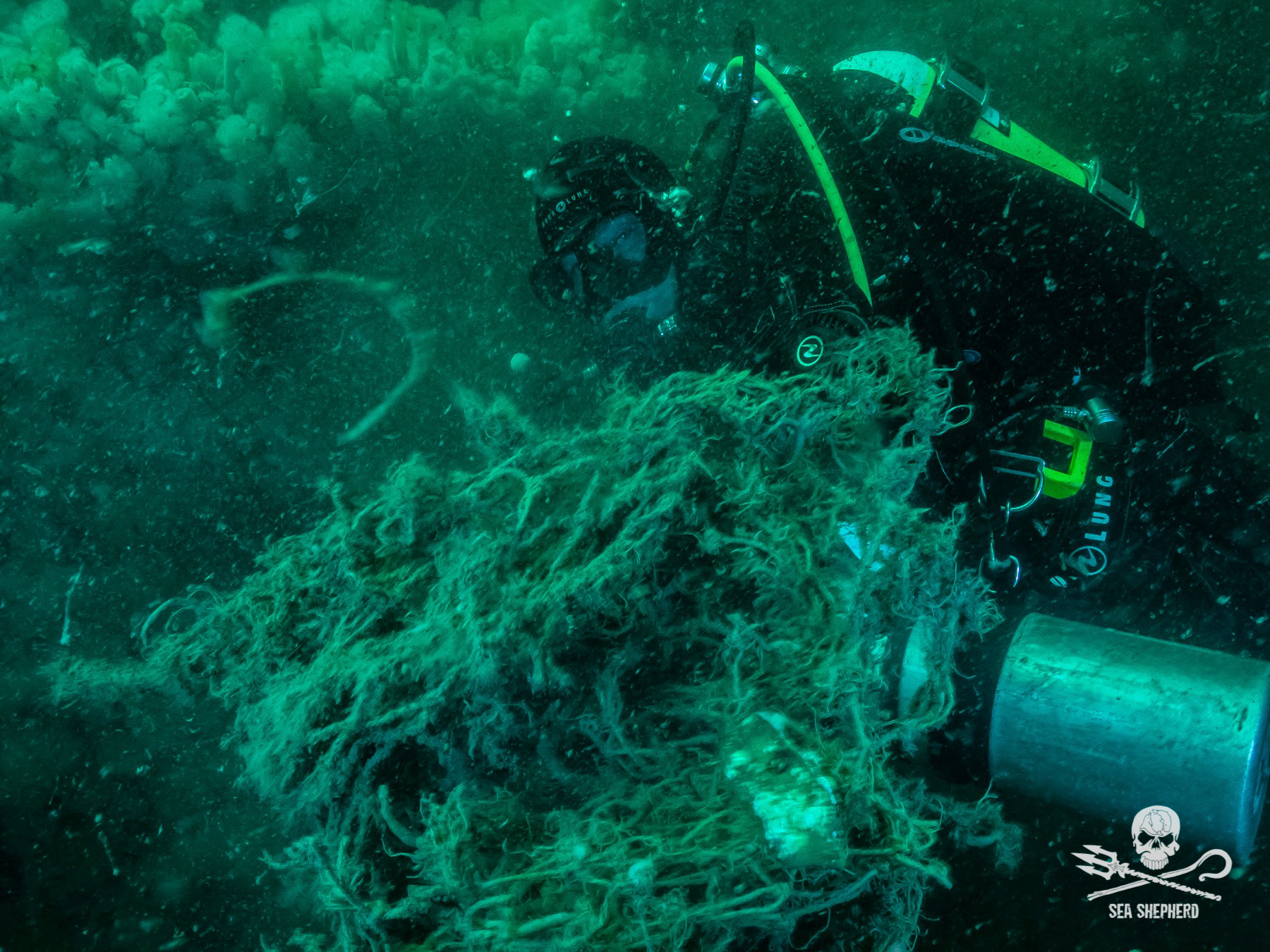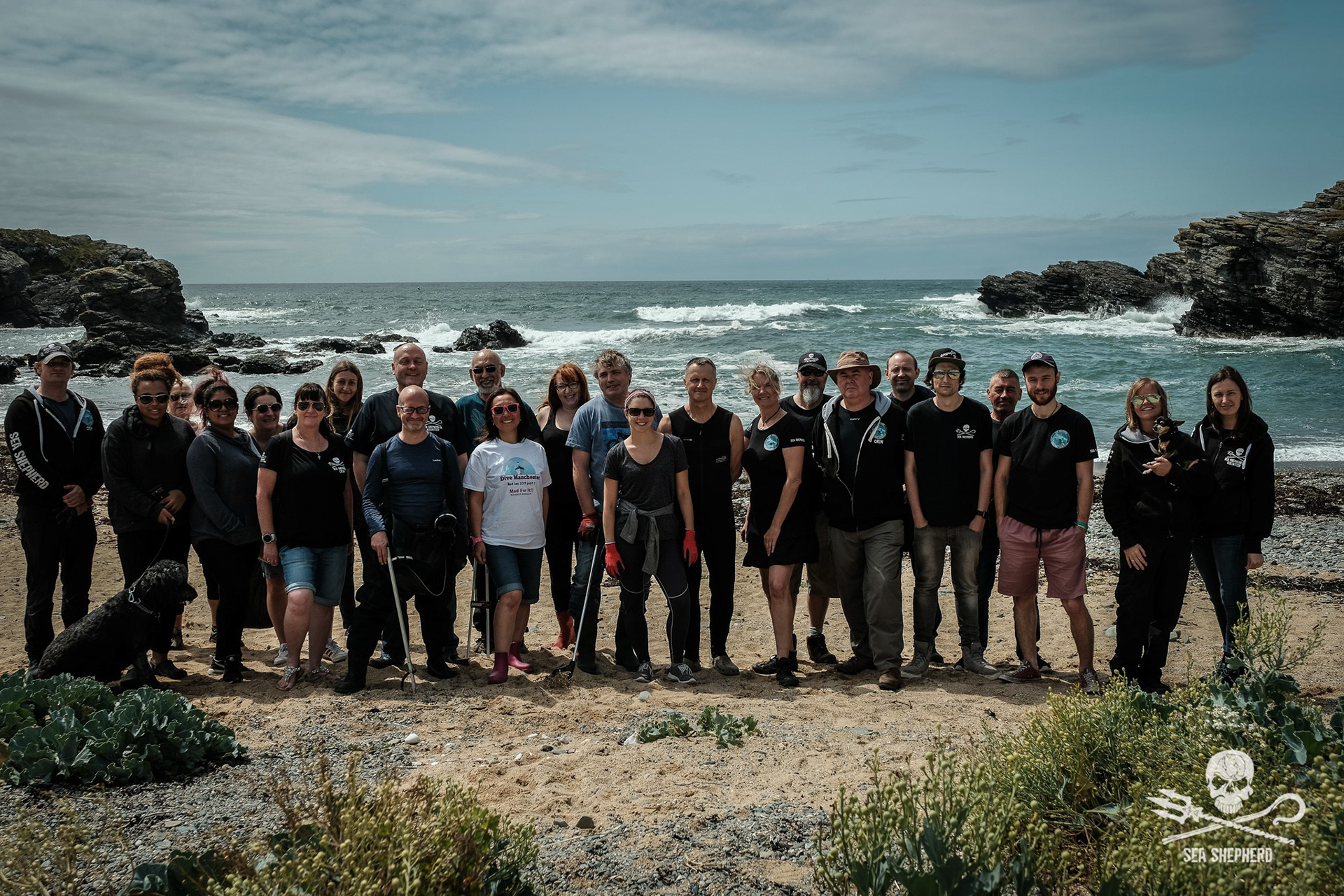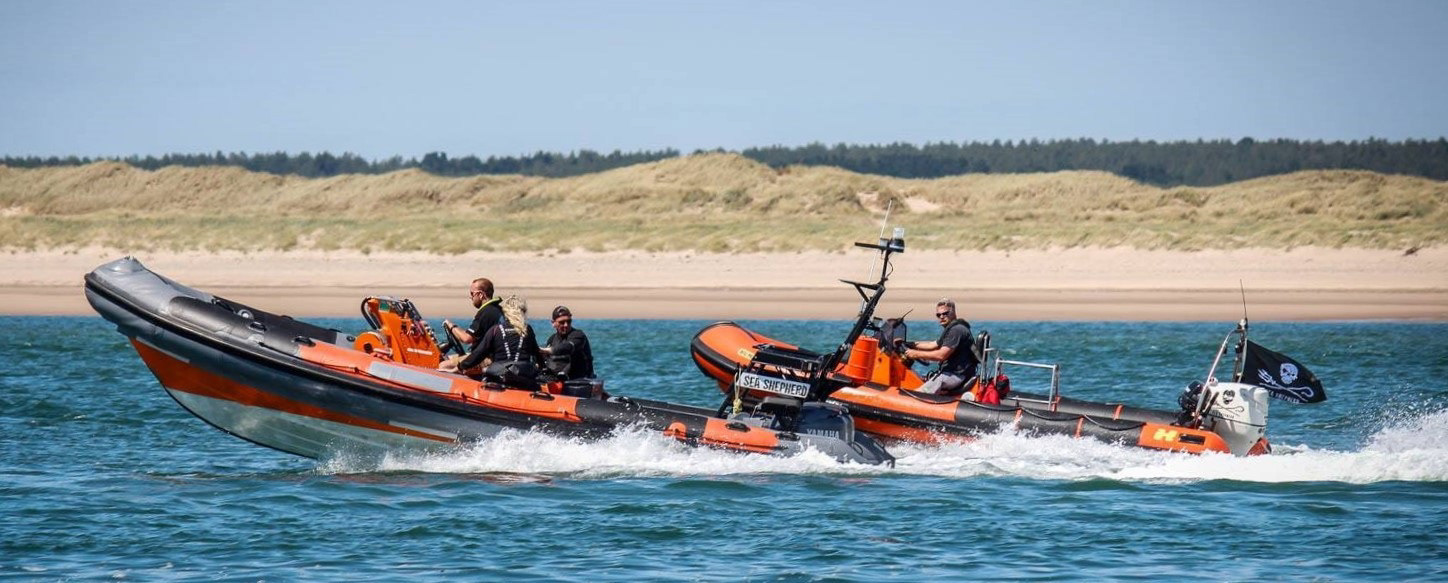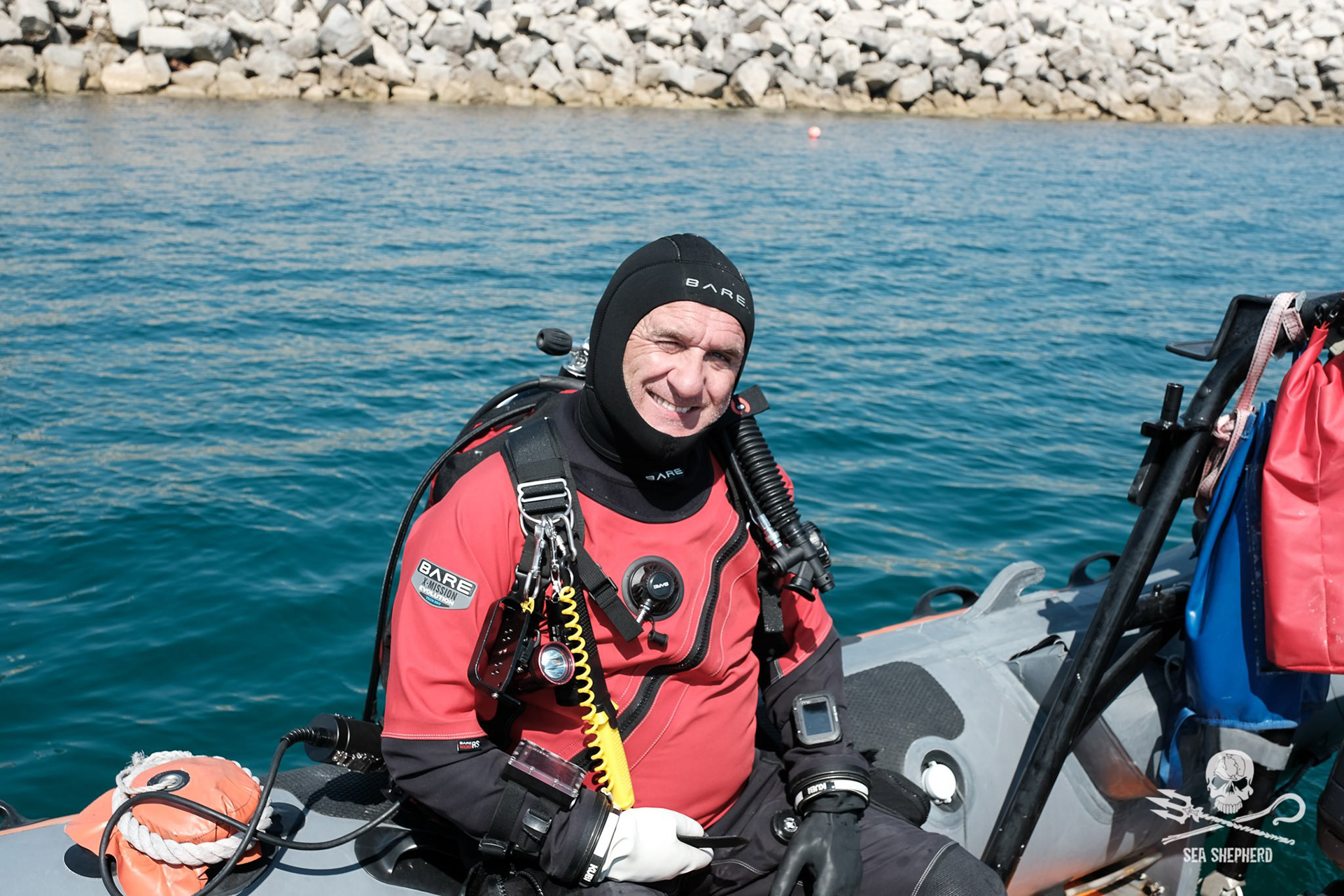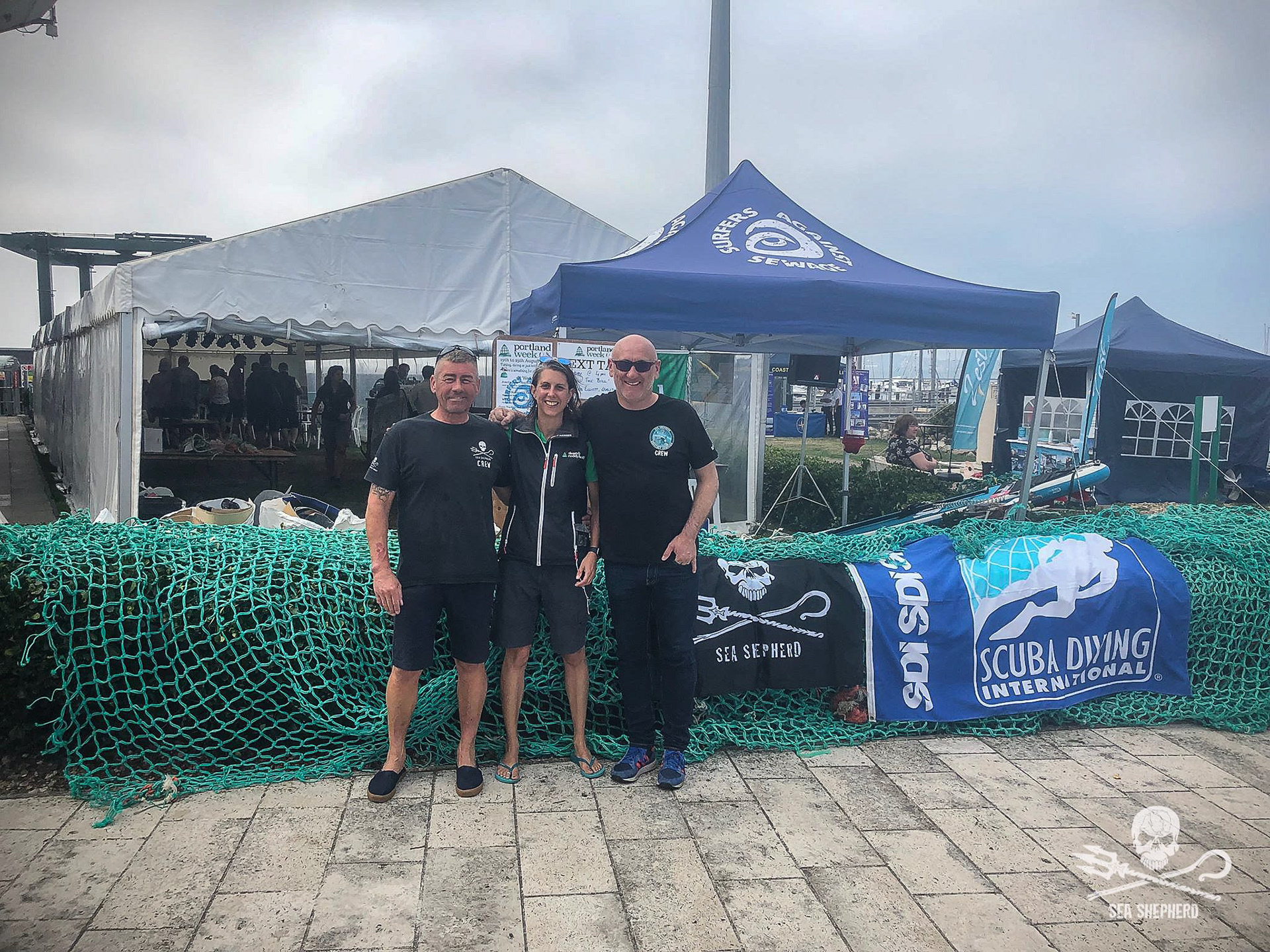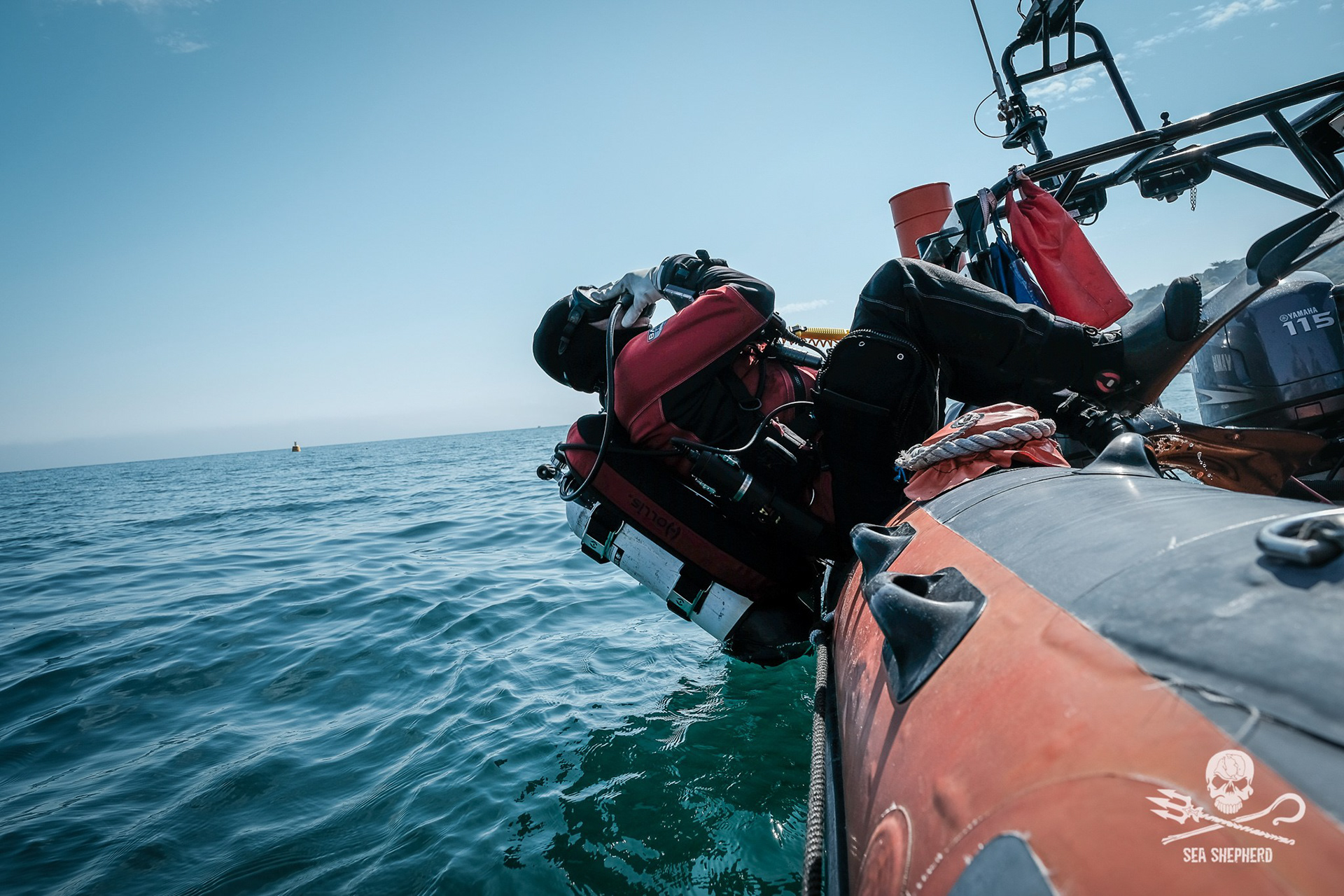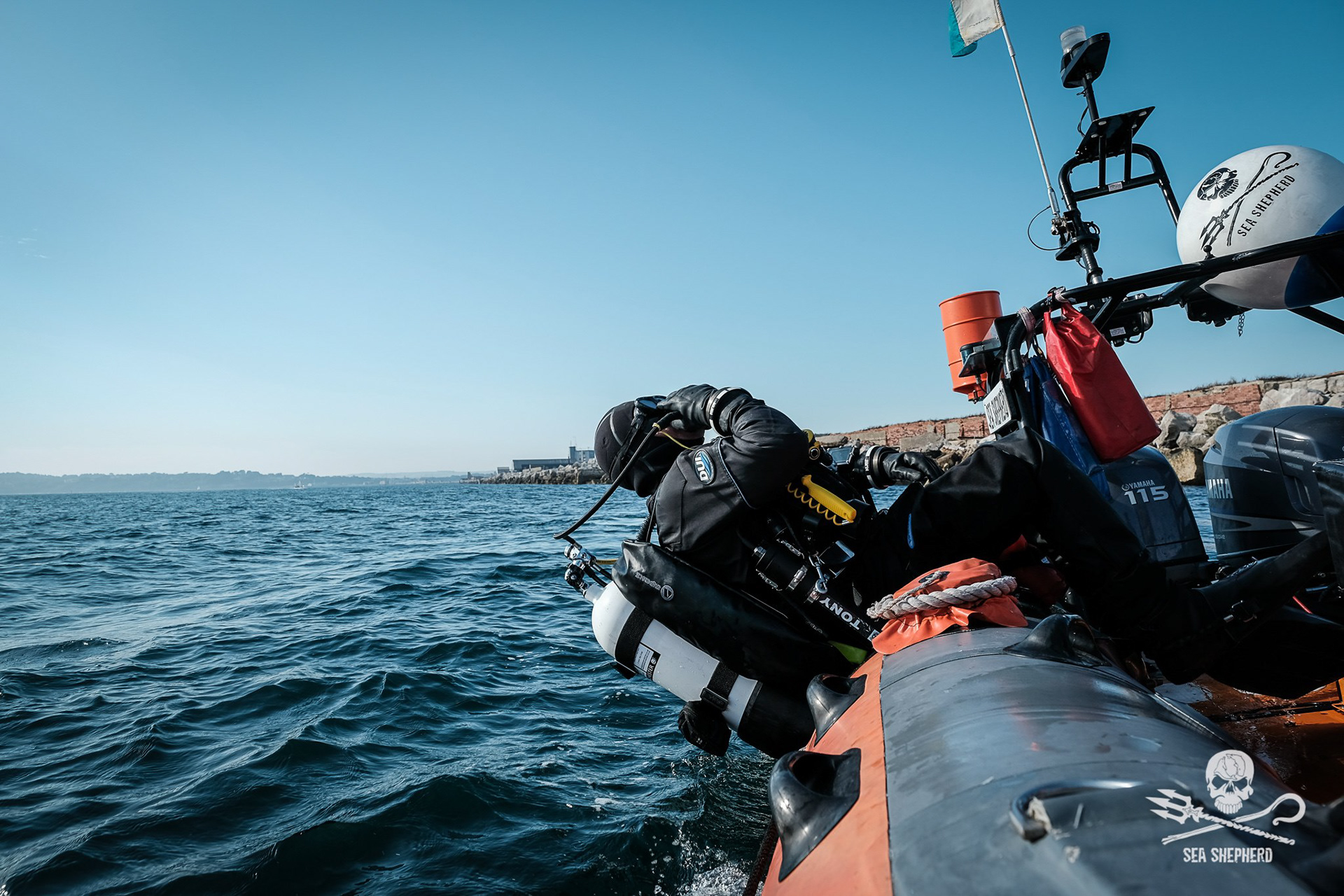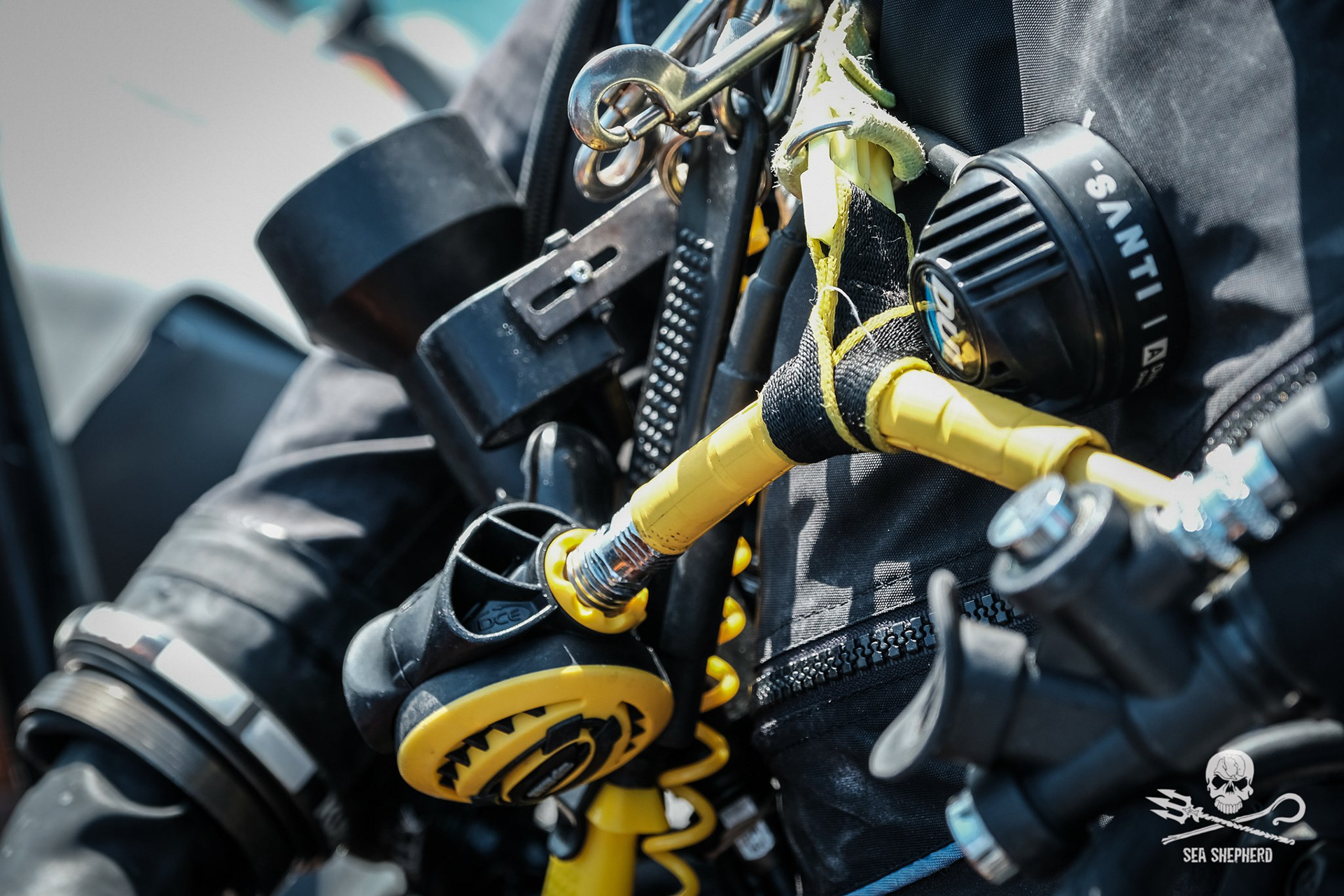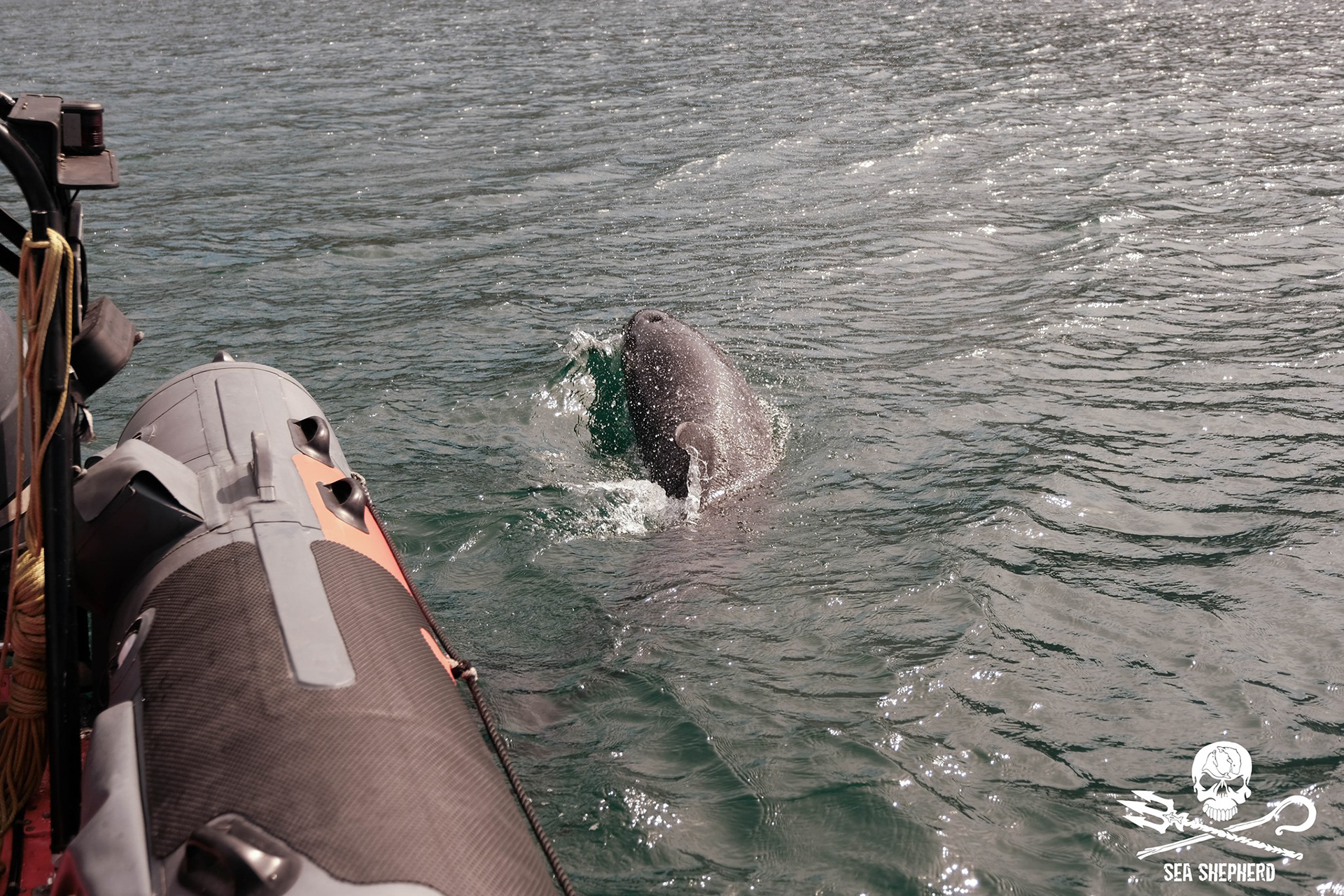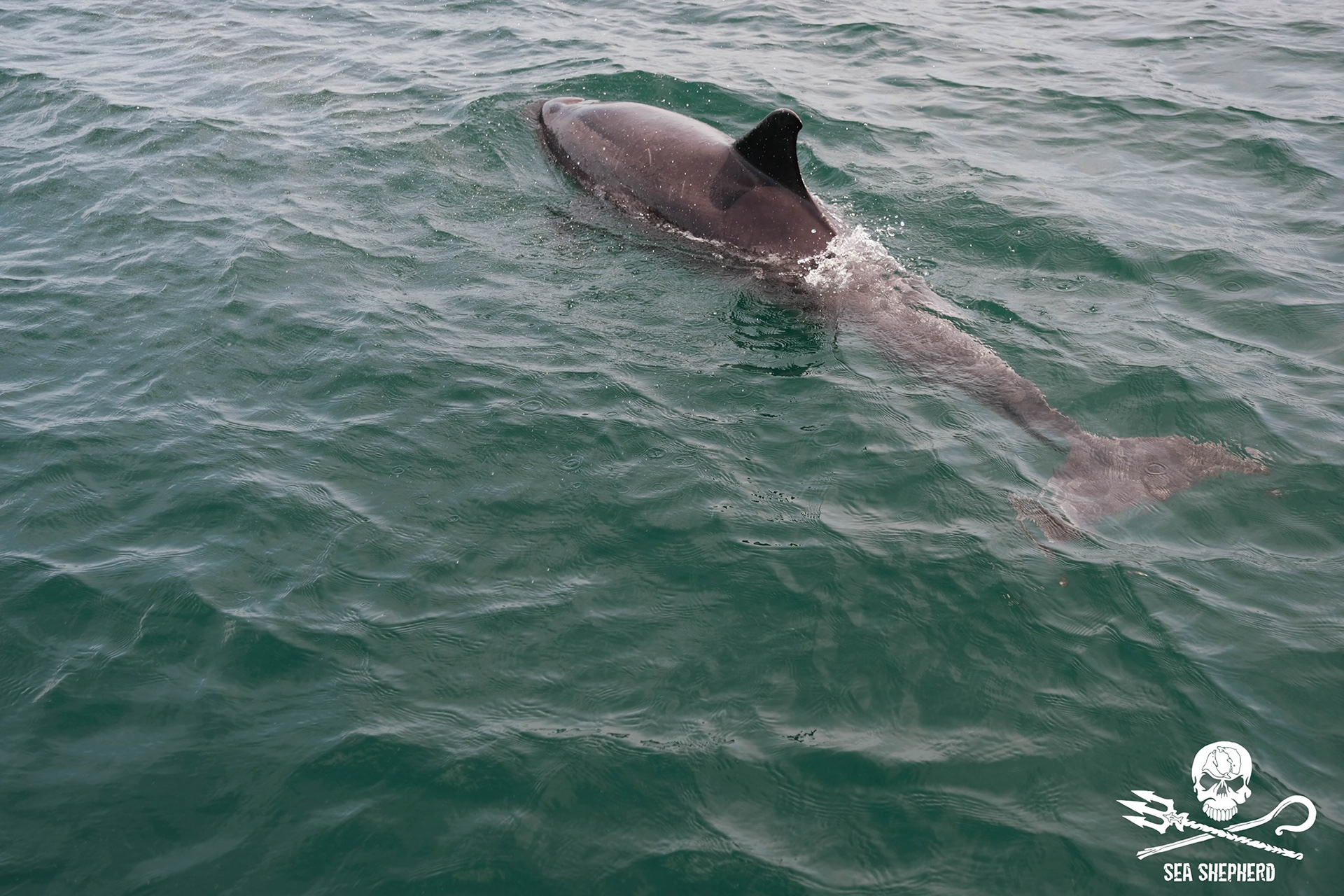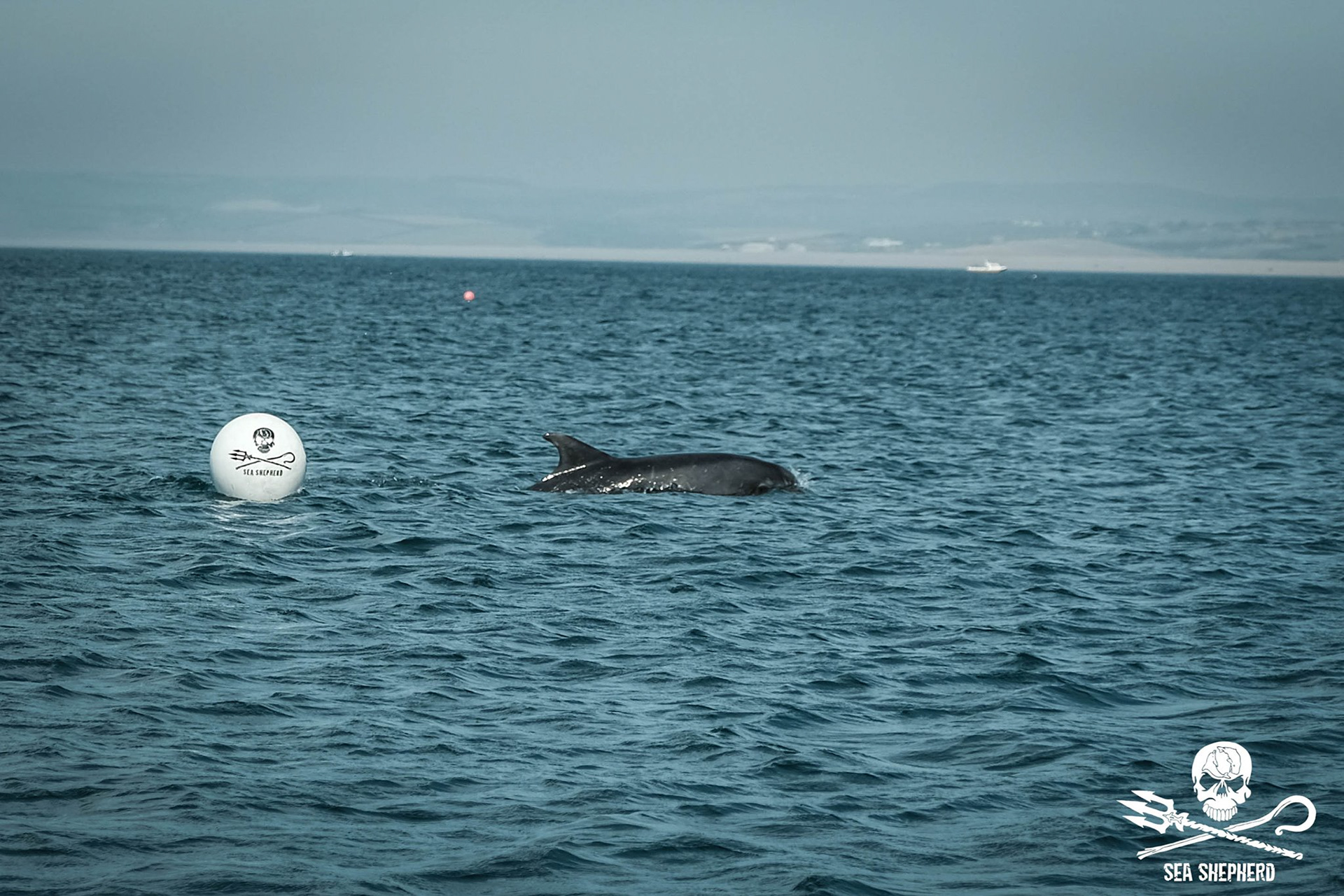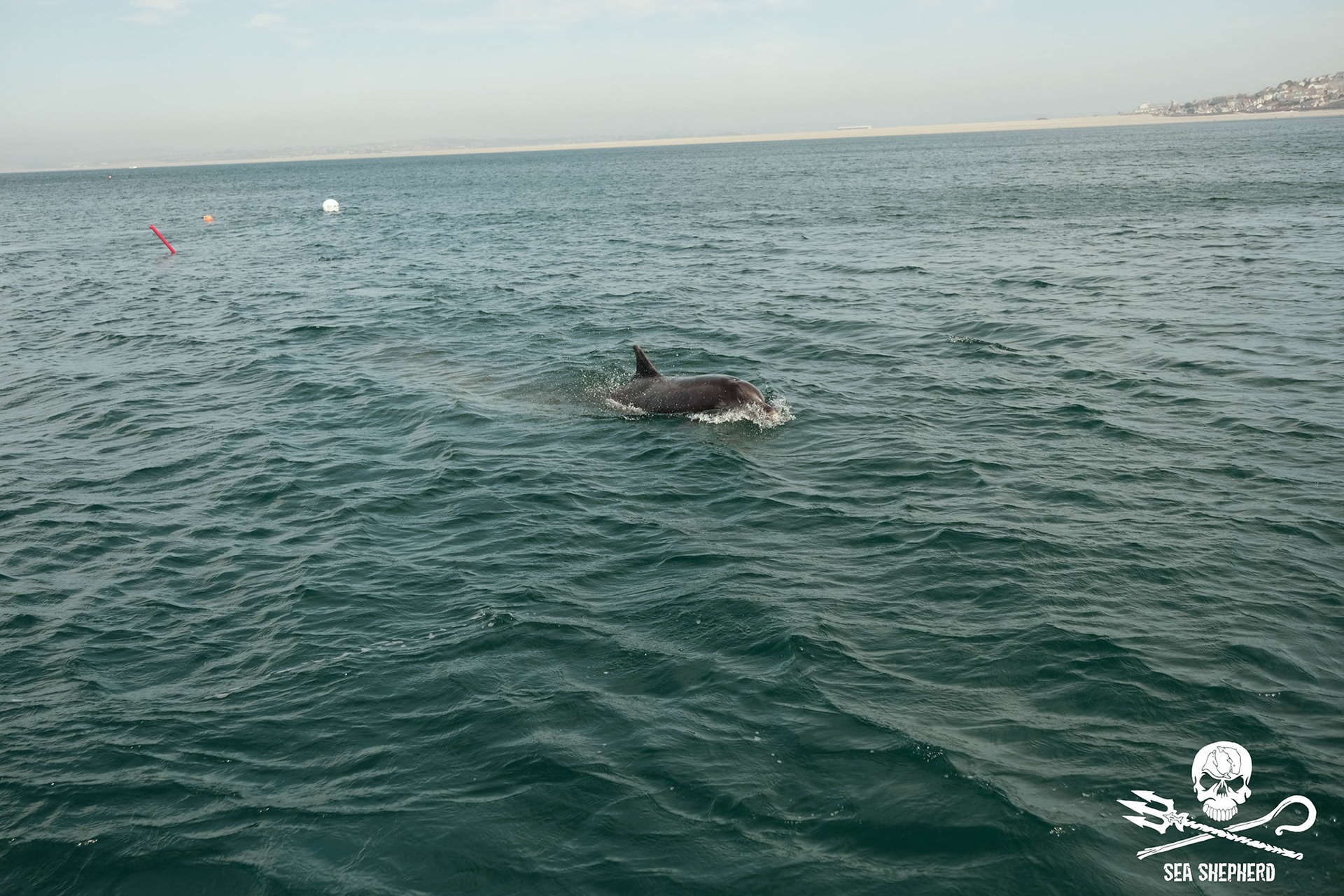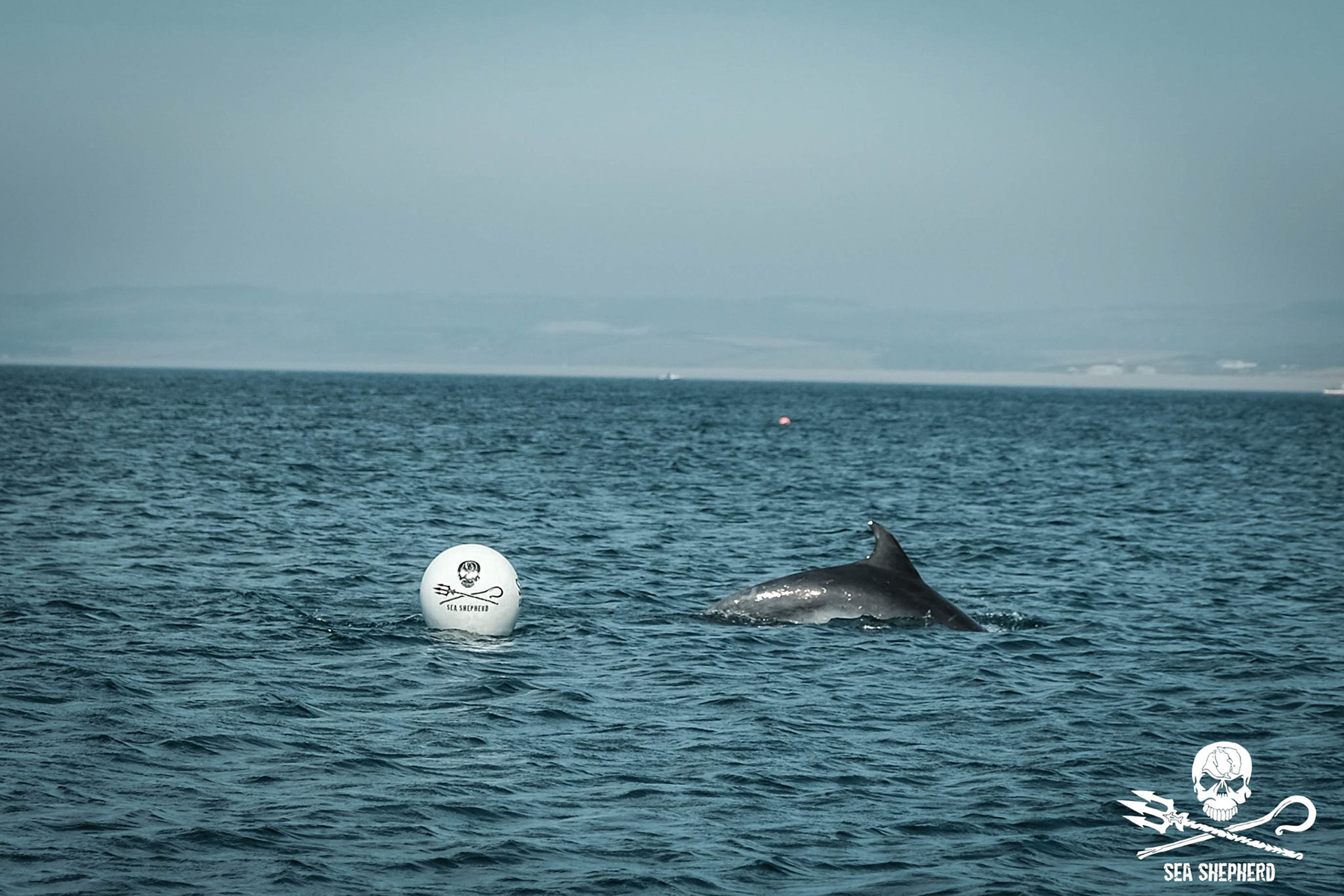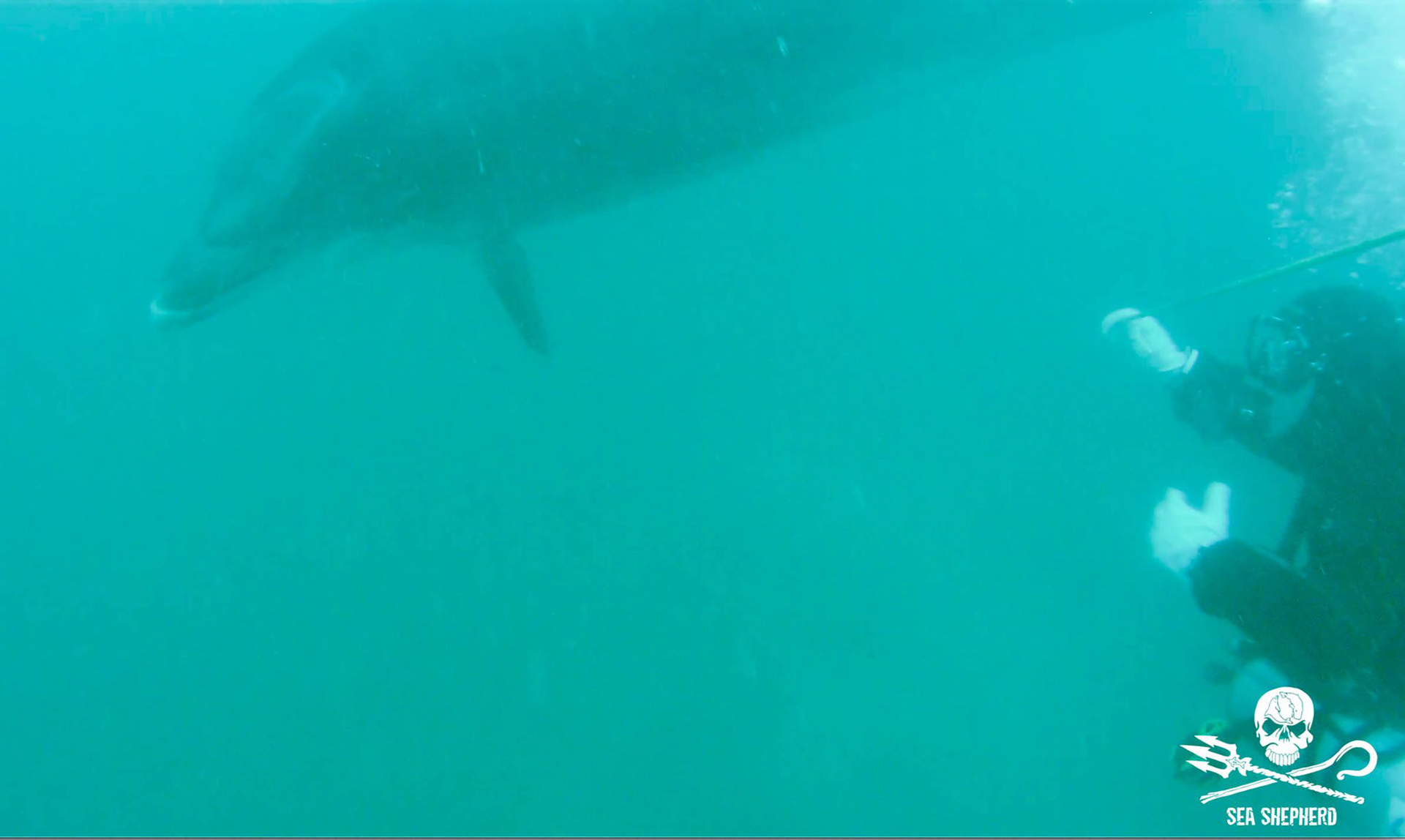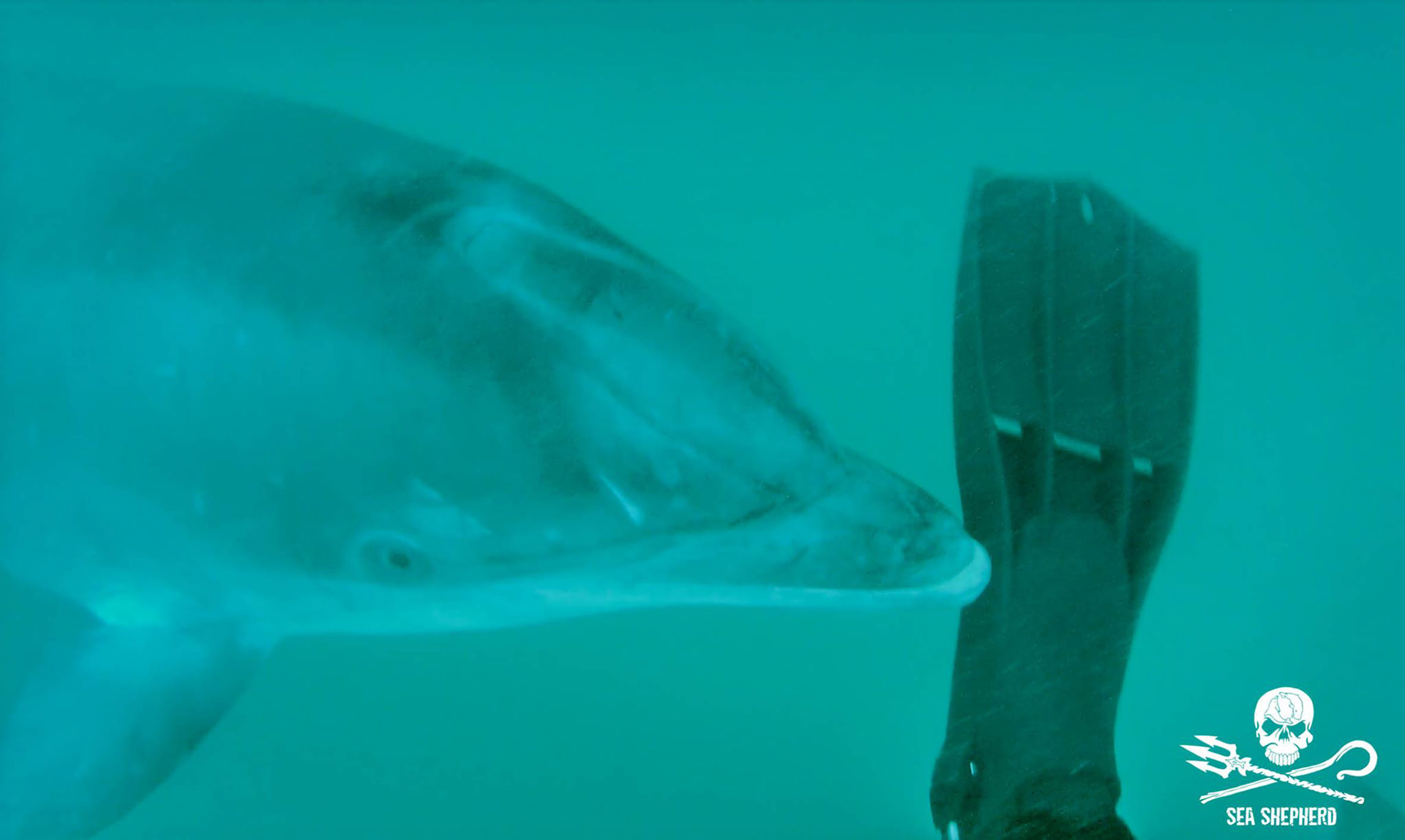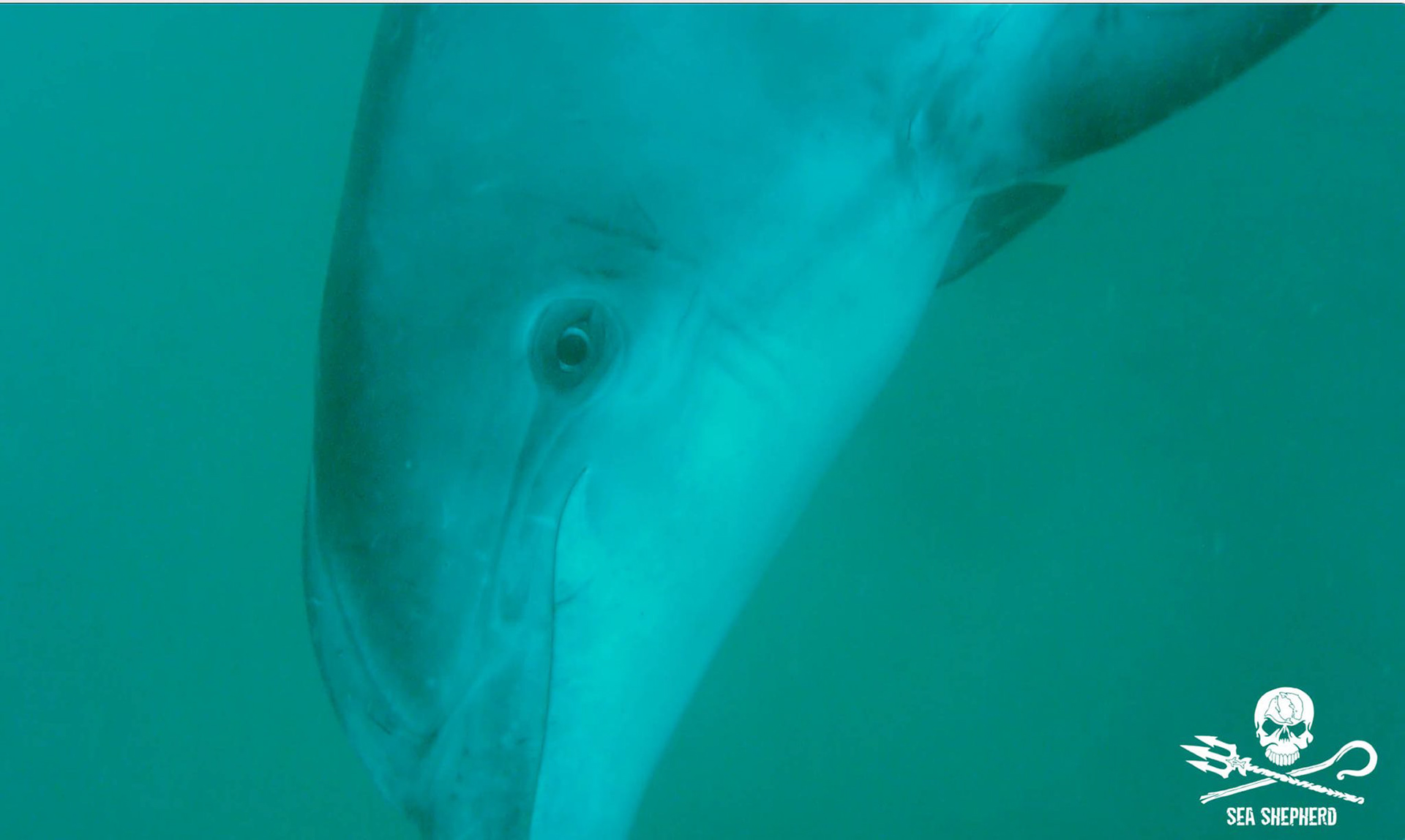 At the invitation of Shaikha Marwa bint Abdulrahman Al Khalifa, a member of the Royal Family, crew members from Sea Shepherd UK's Ghostnet Campaign recently visited the Kingdom of Bahrain. Shaikha Marwa Al Khalifa is the founder of AEPCO (
Animal & Environment Protection Charity Organization
) which she established to deal with animal welfare issues in the Kingdom as well as the extensive environmental concerns.
Bahrain ranks very highly amongst the world's most polluted countries, in spite of it's small size and in common with many countries around the world is facing an enormous problem with the issue of discarded fishing gear and the dumping of waste into the Persian Gulf by the construction, chemical and manufacturing industries.
Recently unusually large numbers of dead Turtles and Dugongs have been washed up on Bahrain's beaches.
Our initial visit was to survey several underwater areas to try to establish the extent of the problem and develop a plan to assist Shaikha Marwa and AEPCO tackle it. We conducted several dives at a number of sites where we encountered large numbers of discarded fishing pots, nets and dumped construction materials.
We are planning a further visit to survey and remove debris from around Hawar Islands, an archipelago of desert islands close to Qatar. The islands have large populations of Green Turtles (Chelonia mydas), the endangered Indo-pacific humpbacked dolphin, Dugongs, Flamingos, Spiny Tailed Lizards (Dhub), Arabian gazelles and Oryx as well as the world's largest colony of Socotra Cormorants, all of which are under threat from continued marine pollution.
It is hoped that the work carried out by AEPCO and Sea Shepherd UK will lead to tighter environmental regulations and a willingness on the part of the Bahrainian Government to enforce them. Future visits will include talks with local divers, helping them to understand what contribution they can make to resolving and reporting these issues.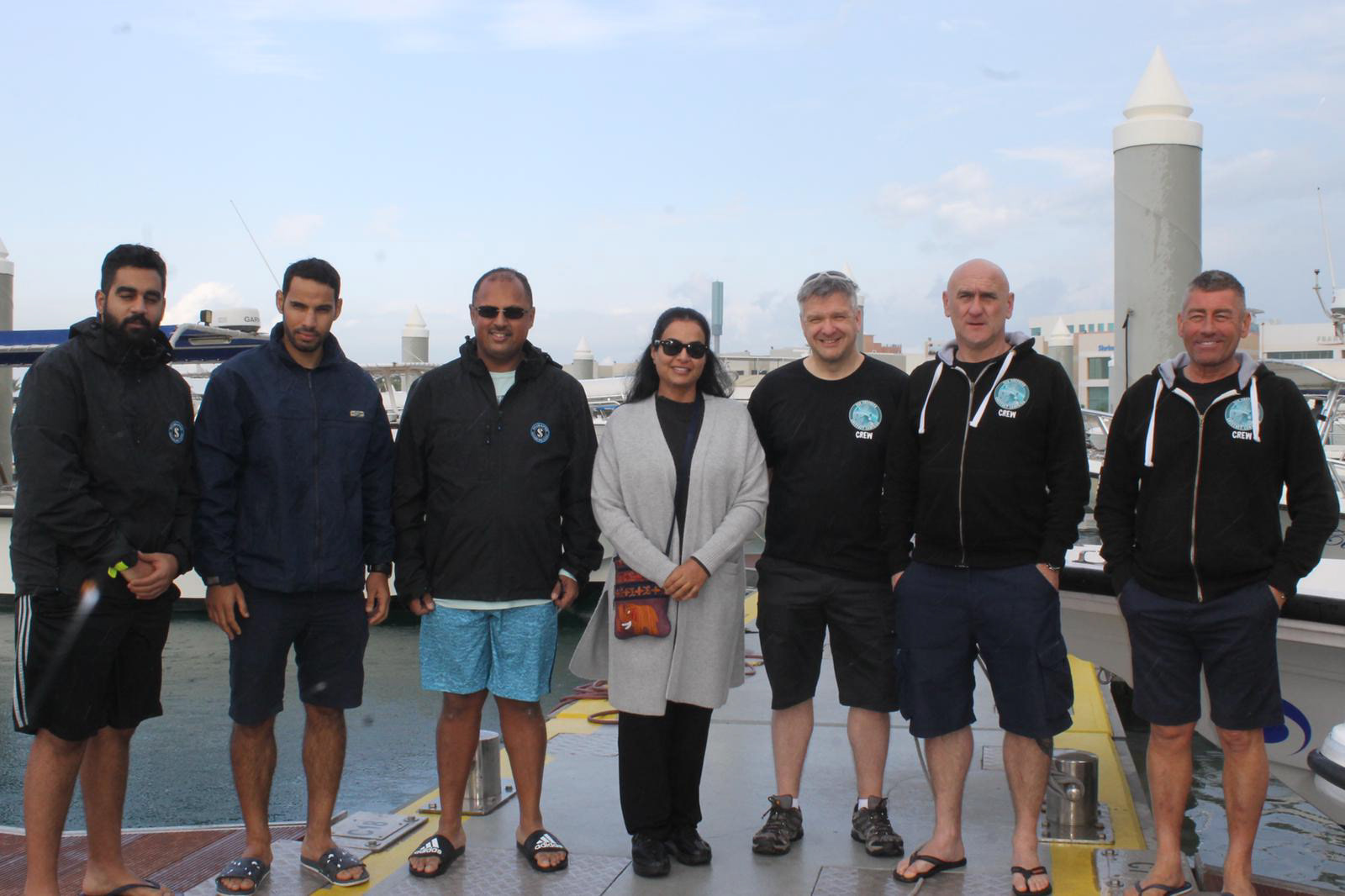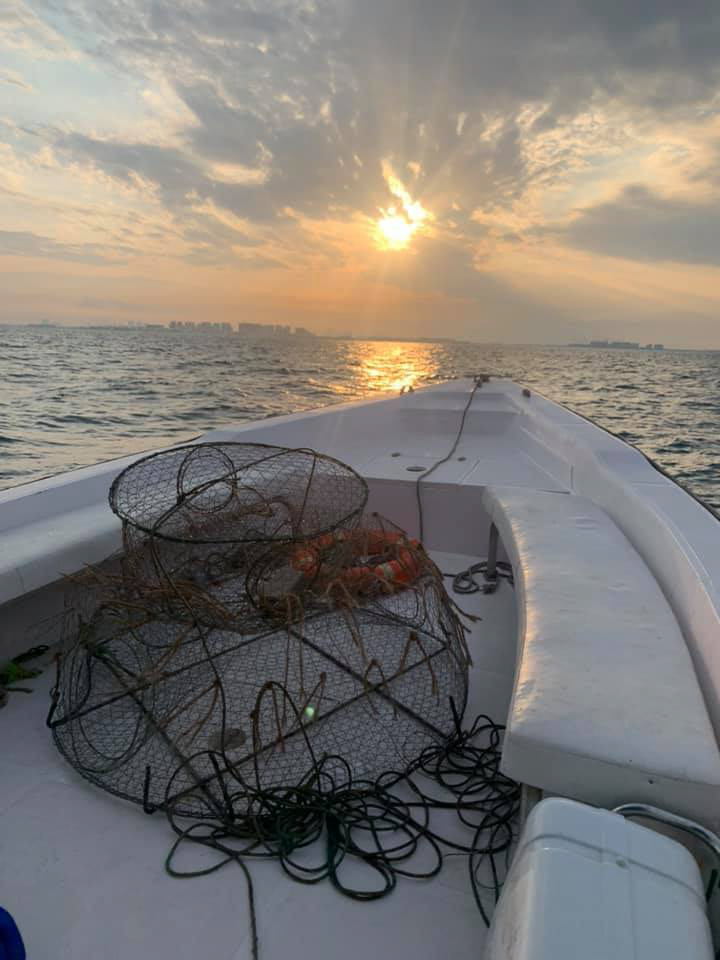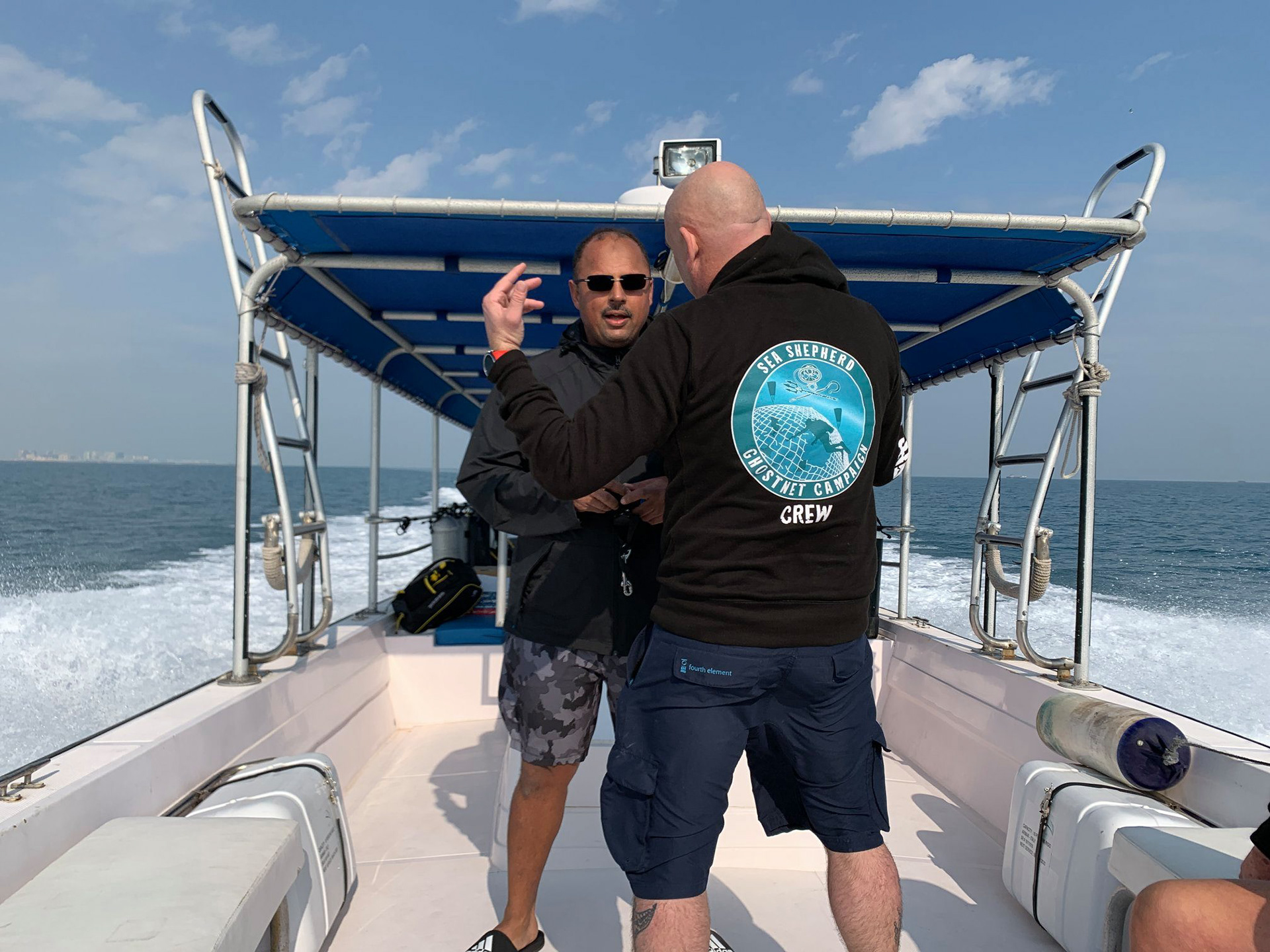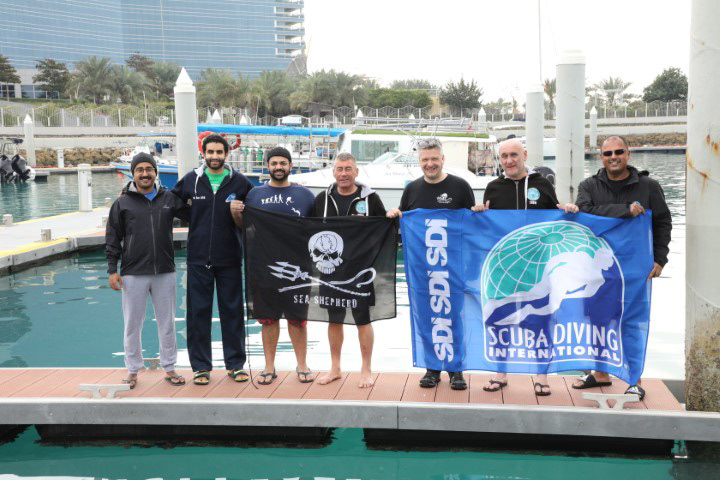 Press Release - 16 August 2019
Scuba Diving International (SDI) and Sea Shepherd UK team up to develop and launch
the first accredited 'GHOSTNET RECOVERY' speciality course
Scuba Diving international are very proud to work with Sea Shepherd UK to develop a' Ghostnet Recovery' speciality course. Ghostnets are a huge problem in our oceans. Fishing nets, lines and pots are often lost by fisherman as part of their daily operations. These continue to catch fish and other marine life long after they have been lost. As divers we see the problems that this lost gear causes but we also have the opportunity to get involved in trying to clean up at least some of these lost nets.
The Sea Shepherd UK Ghostnet campaign has been incredibly successful in recovering large amounts of Ghostnets and gear as well as engaging in outreach and education on the issue. More and more divers want to get involved in the project - but there are significant risks in lifting Ghostnets and it is essential that proper training is provided before anyone attempts to lift a net or other lost/discarded fishing gear. By Sea Shepherd teaming up with SDI this allows specially trained instructors to provide a recognised training program which covers all of the surveying, lifting techniques and safety considerations required to perform this activity.
The SDI Sea Shepherd Ghostnet Recovery course has been developed with Sea Shepherd and active SDI instructors involved in the project and formalises the training program that has been delivered to already Sea Shepherd UK's volunteer divers.
SDI is recognised worldwide and is a member of the WRSTC, RSTC-US, RSTC-Europe. It is accredited by the EUF as meeting all relevant EN and ISO standards. In addition, SDI was heavily involved in the creation of the new ISO standards on 'Requirements for training on environmental awareness for recreational divers' and 'Requirements and guidance on sustainable practices in recreational diving'.
-----------------------------------------------------------------------------------------
 "Sea Shepherd is thrilled to be partnering with Scuba Diving International on this world's first accredited 'Ghostnet Retrieval' speciality course. Our thanks goes especially to Tony Land (Sea Shepherd UK's Ghostnet Campaign coordinator, dive instructor and technical diver), John Crawshaw (owner of Dive Manchester, SDI/TDI/PADI instructor) who have been working in cooperation with the renowned Mark Powell of DIVE-TECH who is a TDI Instructor, a member of TDI's Global Training Advisor Panel, represents TDI on the British Diving Safety Group and on the HSE's Recreational Diving Industry Committee – and is also a member of the Diver Training and Breathing Apparatus committees at the British Standards Institute" - said Robert Read, Chief Operating Officer at Sea Shepherd UK
-----------------------------------------------------------------------------------------
The student pre-requisites for the SDI Sea Shepherd Ghostnet Retrieval speciality course are:
SDI Advanced Adventurer (or equivalent)
Documented proof of 100 logged dives
------------------------------------------------------------------------------------------
Read more about Scuba Diving International (SDI), the Scuba training and certification agency at:
Follow the new campaign page on Facebook at: